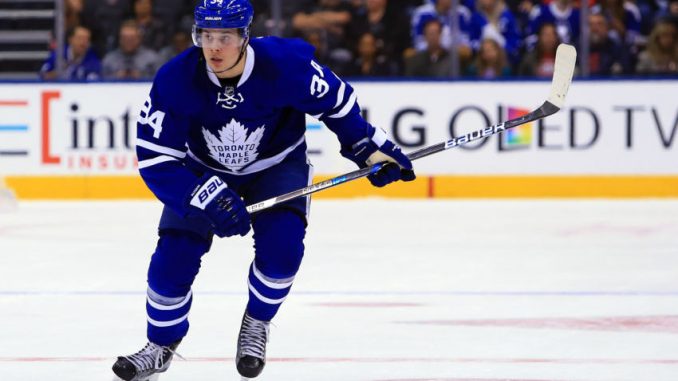 Toronto Maple Leafs easily beat Buffalo Sabres 5-2. Here is the summary for the game played on Monday, April 2, 2018.
| | | | | | |
| --- | --- | --- | --- | --- | --- |
| | 1 | 2 | 3 | OT | FINAL |
| BUFFALO | 0 | 1 | 1 | – | 2 |
| TORONTO | 1 | 3 | 1 | – | 5 |
GAME SUMMARY | EVENT SUMMARY | FACEOFF SUMMARY

ON THE SCORESHEET
Andreas Johnsson put the Maple Leafs on the board at 5:44 of the first period and later had an assist on Auston Matthews' second period goal. Tonight's game is Johnsson's first career multi-point game. His second period assist was the first of his NHL career. Both of his goals have come on home ice this season.
Auston Matthews scored Toronto's second goal of the night on the power play at 5:44 of the second period and recorded the primary assist on William Nylander's first of two second period goals before scoring the fifth Maple Leafs goal of the game on the power play at 6:29 of the third period. Matthews has points (5-5-10) in seven consecutive games and assists (3) in three consecutive games. With two goals tonight, Matthews has scored the most goals by a Maple Leaf over his first two seasons in the League (73), surpassing Wendel Clark's 71 combined goals scored in the 1985-86 and 1986-87 seasons, according to Elias Sports Bureau.
William Nylander scored the Maple Leafs' third goal of the game at 7:39 of the second period and later added Toronto's fourth goal of the night at 10:32 of the second period before picking up the primary assist on Matthews' third period goal. Tonight's game is Nylander's third multi-goal game and 10th multi-point game of the season. His three points tie his career-high for points in a game, which he has equaled on seven occasions.
Morgan Rielly recorded the primary assist on Matthews' second period goal. His 45 assists are tied for the eighth-most among NHL defencemen.
Jake Gardiner had the secondary assist on Matthews' third period goal. The assist gives Gardiner 50 points in 2017-18 (5 goals, 45 assists).
With
Jake Gardiner
(5-45-50) joining
Morgan Rielly
(6-45-51) as the second Maple Leafs defenceman with 50 points this season, 2017-18 marks the 10th time in franchise history the club has had two defencemen reach the 50-point plateau (Previous: 1975-76, 1976-77, 1977-78, 1978-79, 1980-81, 1981-82, 1989-90, 2005-06, 2006-07). They are the first pair to reach the mark since Tomas Kaberle (11-47-58) and Bryan McCabe (15-42-57) both surpassed 50 points in 2006-07.
Tomas Plekanec recorded the primary assist on Johnsson's first period goal. Plekanec has two assists over his last three games played.
Roman Polak picked up the secondary assist on Johnsson's first period goal. Polak has two assists in three games against Buffalo this season. The Maple Leafs are 6-2-2 when Polak records an assist this season.
Zach Hyman registered the lone assist on Nylander's second goal of the night. Hyman ranks fourth on the Maple Leafs in even-strength assists (24).
Curtis McElhinney made 32 saves to earn the victory. He ranks second in wins (11) among NHL goaltenders to appear in less than 20 games this season.
SHOTS FIRED
The Maple Leafs had a 36-34 lead in shots on goal in all situations and a 30-25 edge in shots on goal at 5-on-5.
Buffalo had a 68-56 lead in shot attempts in all situations and a 52-46 lead in shot attempts at 5-on-5.
Auston Matthews recorded a team-high six shots on goal.
James van Riemsdyk recorded a team-high eight shot attempts.
SHOTS ON GOAL
| | | | | | |
| --- | --- | --- | --- | --- | --- |
| | 1st | 2nd | 3rd | OT | TOTAL |
| BUFFALO | 9 | 10 | 15 | – | 34 |
| TORONTO | 12 | 15 | 9 | – | 36 |
SHOT ATTEMPTS
| | | | | | |
| --- | --- | --- | --- | --- | --- |
| | 1st | 2nd | 3rd | OT | TOTAL |
| BUFFALO | 18 | 21 | 29 | – | 68 |
| TORONTO | 20 | 19 | 17 | – | 56 |
NO PLACE LIKE HOME
With tonight's win the Maple Leafs reach 103 points on the season, tying the franchise record for points in a season set in 2003-04.
The Maple Leafs are 28-10-2 at home this season.
Toronto's all-time record is 77-104-18-11 in 210 games against the Sabres and 47-40-12-5 in games played in New York.
Toronto is 29-16-5 against the Eastern Conference this season and 16-8-3 against the Atlantic Division.
Tonight's attendance is 18,846.
The Maple Leafs play their final road game of the season on April 5 at 7 p.m. when they visit the New Jersey Devils at Prudential Center.
MAPLE LEAFS LEADERS
| | |
| --- | --- |
| Faceoff Wins | 12 (Kadri) |
| Faceoff Win Percentage | 100% (Brown, Martin) |
| Hits | 6 (Polak) |
| Blocked Shots | 3 (Hainsey) |
| Takeaways | 2 (Marner) |
| TOI | 24:02 (Gardiner) |
| Power Play TOI | 2:42 (Four players tied) |
| Shorthanded TOI | 7:59 (Hainsey) |
| Shifts | 27 (Gardiner, Hyman, Polak) |
| 5-on-5 Shot Attempt Percentage | 64.3% (Bozak – 18 for, 10 against) |
RECORD WHEN…
The Maple Leafs were 3-for-5 on the penalty kill and 2-for-3 on the power play tonight. Toronto is 5-4-0 when allowing multiple power play goals this season and 9-2-0 when scoring multiple power play goals.
Toronto is 38-7-3 when scoring the first goal of the game.
The Maple Leafs are 30-4-1 when leading after one period and 31-3-2 when leading after two periods.
Toronto has a 15-11-4 record when outshooting their opponent.
The Maple Leafs are 6-5-2 in Monday games.
OF NOTE…
At 2:53 of the second period in tonight's game, the Referee initiated a video review to further examine a play at the Toronto net. Video review confirmed that the puck became lodged under the skirt of the net and did not cross the Toronto goal line. No goal Buffalo.
At 13:34 of the third period in tonight's game, the Referee informed the Situation Room that he had killed the play before Buffalo's Zemgus Girgensons kicked the pad of Toronto goaltender Curtis McElhinney, which caused the puck to cross the goal line and the net to become dislodged. No goal Buffalo.
Toronto's line of Tyler Bozak, Connor Brown and James van Riemsdyk were the lone Maple Leafs to not start a 5-on-5 shift in the offensive zone.
Jake Gardiner and Morgan Rielly each recorded a team-high 19 shot attempts-for at 5-on-5.
Nazem Kadri won 90 percent (9 won, 1 lost) when matched up with Buffalo centre Jack Eichel.
UPCOMING GAMES:
Thursday, April 5 at New Jersey Devils, 7:00 p.m. (TSN4, FAN 590)
Saturday, April 7 vs. Montreal Canadiens, 7:00 p.m. (Hockey Night in Canada, TSN 1050)

POSTGAME QUOTES:
HEAD COACH MIKE BABCOCK
On Andreas Johnsson:
I thought he was good. He works real hard and he's ultra-competitive. He shows up every day with a great attitude and he's got energy in him — you can't say enough about that, people like that make people around them better and he's one of those guys. The guys from the Marlies were here and said you don't have to negotiate with him every day, he finds it every single day. That's a real positive thing. I thought he was on the penalty kill, I thought he was good on the power play, I thought he played hard.
On Jake Gardiner reaching 50 points:
He's a good player. I think tonight's game was a little looser than I'd like it. In saying all that though, those guys – [Rielly] and him – really get the puck going for us from the back. Jake is one of those guys who can just make plays. Real good hockey sense, knows where the puck is going next, a way better defender than people think as well. He's a good hockey player.
On using different pairs on defence tonight:
We wanted to play Hainsey and Zaitsev together anyway – that's why we did it, for no other reason than that. We wanted to see it and how that looks if we need to do that. The rest of the pairs, we're going to get [Dermott] back, he's going to skate tomorrow and then we'll get back to doing what we normally do. We wanted to check it out and see how it looked.
On the Matthews power play group scoring in recent games:
Obviously, Bozak's power play has been really good for us all year, very dynamic to say the least. The other group didn't have much puck speed and were frustrated and in their own way. Now their puck speed is way up and they seem to have it going and have got confidence. Good for us, obviously. You want to be real dangerous on the power play and that's important. Now, our penalty kill since we took all these guys out isn't as good. We have to get that back to where it was.
On if there's a correlation between finishing well and playoff performance:
That's a great question. I'm not 100 percent sure the answer. I do know that it's way better to go in playing well so you don't have to answer any questions about not playing well.
JAKE GARDINER (1 ASSIST)
On both him and Rielly reaching 50 points this season:
Yeah, that's pretty cool, I didn't know that. Morgan has had a great year for us but I think just as a team it's been a pretty good year, 103 points like you said. We've still got a couple games to go and the most important thing is playoffs coming up here.
On the importance of playing well and being healthy in the next two games before starting playoffs:
Yeah, definitely want to be healthy but I think these next few games – tonight I don't think we had our A-game. We were giving up quite a lot, especially in the second period. Definitely need to get better in some areas and buckle down, especially when we have a lead. It's going to be good next week to get a couple days before we play our first game.
More on closing out the end of the regular season:
The biggest thing is staying healthy and then playing good hockey and keeping your good habits and just be ready to go.
AUSTON MATTHEWS (2 GOALS, 1 ASSIST)
On his chemistry with William Nylander:
I feel like we've had that since we started playing with each other last year and especially with Hyman as well. The more you play with somebody, obviously, you build more chemistry and get to know them and have a feel for where they're going to be in certain areas. We definitely showed that tonight.
On if his power play unit is building more confidence with the recent production:
Yeah, [The Athletic reporter] Jonas [Siegel] was giving it to me this morning why we've been so bad this year and then we were able to score twice so… I mean, rightfully so. It's nice. You score a couple of power play goals and it gives you some confidence moving forward. I think the last, maybe three, four, five games we've had some good opportunities and scored some goals just being simple and getting the puck to the net. Like I said, it always gives you some confidence.
On Andreas Johnsson's play:
He's been good for us. He's fast, he's skilled, he's smart. He makes plays. He definitely adds another dilemma on that line with his speed and skill. He's a smart player. He can score and can beat you in different ways.
On what the team did well tonight:
I think the first 10 minutes probably wasn't our best. We knew they were going to come out to play and they kind of got us back on our heels but we regrouped. A couple of big saves from [Curtis McElhinney] and we were able to get the puck back in their end. Just keep it a little bit simple and not trying to make too make cute plays and just getting the puck to the net, getting guys there and capitalizing on chances.
CURTIS McELHINNEY (32 SAVES)
On how his season has gone:
I've obviously enjoyed the winning. That's always fun. The run support was there again tonight and makes my job a lot easier so anytime you get a little bit of breathing room it's a nice way to play the game.
On getting to start the last two games on home ice:
I think the first half of the year there weren't a lot of games here so it was nice to get a couple in the second half, especially late. They've been fun games.
On the games heading into the playoffs:
I think we've just been building, trying to form some good habits. Sometimes when you get stuck in a spot and you're sitting there, you can get a little lackadaisical about some of your habits. I think the biggest thing for us in the next two games is just to continue to build and really make sure we're fine-tuning things.
WILLIAM NYLANDER (2 GOALS, 1 ASSIST)
On his pair of goals tonight and the work him and Auston put in after practice:
Yeah, it's nice when you're able to get those plays – from the tight pass for the breakaway so it was a great pass from [Matthews] and I mean some stuff you don't work on and some stuff you do. When it works, it's nice.
On if he knew Matthews was looking for him on the breakaway pass:
If there is an opening he's going to try and get me the pass so that's why I kind of jumped to get it there.
On trying to reach the 20-goal mark:
It would be nice, but I think 20 is just a number. It would be nice to hit 20.