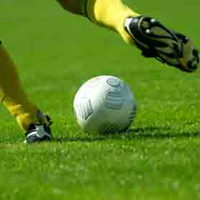 Canada's men's U-17 team fell 1:2 to host Mexico in the first of two international friendly matches played in Morelia, Mexico. Canada drew even in the 72nd minute of the Wednesday 20 April match, but then gave up the winning goal nine minutes later to Mexican forward Marco Bueno.
It was Sadi Jalali who scored for Canada in the 72nd minute, his second international goal of his young career. Mexico's Bueno scored both goals for the FIFA U-17 World Cup host, once in the 17th minute and then again in the 82nd minute. Both Canada and Mexico are preparing for this summer's FIFA U-17 World Cup Mexico 2011. The two sides will meet again this Sunday morning on 24 April.
"I was very impressed with how we kept the ball for some good possession," said Canadian national head coach Sean Fleming.coach Sean Fleming. "We still need to get better and the heat was taxing on our players. As expected, Mexico is a great side, but there were lots of positives for our team."
Match Report
Mexico was the stronger team for the first quarter of an hour, creating chances from the onset and eventually scoring in the 17th minute off a corner kick. Striker Bueno headed home the Jorge Espéricueta corner kick for a 1-0 lead.
The Canadians settled down after the Mexican goal, but they were then nearly down 2-0 in the 29th minute when a Julio Gómez header hit the crossbar. Alfonso Gonzalez provided the cross before Gómez directed it with his head.
Midway through the second half, Canada was looking dangerous with a couple of good rushes and crosses to the middle. First it was a Tyler Pasher run down the left side with a cross that was intercepted by the Mexican goalkeeper Richard Sánchez.
A minute later, Pasher made another rush down the left side, this time feeding it into the centre where Keven Aleman nearly connected to gain control. Once again, Sánchez was there to scoop up the play.
On the third rush, this time down the right side by Yassin Essa, Canada got the ball on target and past Sánchez. Essa fed the ball into the middle for Jalali who out-hustled his defender and then evened the score.
On the third goal, it was a nice play by Bueno to give Mexico the definitive 2-1 lead. Bueno took a long pass before quickly lobbing it from just outside the box over the onrushing Canadian goalkeeper Maxime Crépeau.
Canada's starting XI featured Maxime Crépeau in goal, Tyler Pasher at left back, Matteo Pasquotti and Luca Gasparotto at centre back, Shadrack Mmunga at right back, and Alex Halis, Moses Danto, Samuel Piette, Yassin Essa, Omari Morris and Keven Aleman from the midfield up through to the attack.
In the second half, coach Fleming made five substitutions from his bench of 12 players. Morris was replaced by Chris Nanco (46′), Halis and Danto were replaced by Jalali and Camargo (60′), Essa was replaced by Carreiro (81′), and Mmunga was replaced by Samuel (89′).
Mexico's starting XI featured Richard Sánchez in goal, Jorge Caballero at left back, Antonio Briseño and Jair Zacarias at centre back, José Abella at right back, Jorge Espéricueta at left midfield, David Carmona at centre midfield, Julio Gómez at right midfield, and Alfonso Gonzalez, Carlos Fierro and goal scorer Marco Bueno up front.
In the second half, Mexican coach Raúl Gutiérrez made four substitutions from his bench of 15 players. Fierro was replaced by Marcelo Gracia (46′), Gonzalez was replaced by Giovanny Casillas (60′), José Abella was replaced by Francisco Flores (71′), and Espéricueta was replaced by Daniel Hernández (81′).
Attendance for the match was approximately 40, although tickets were not sold to spectators. As such, the match was played in the near empty Estadio Morelos, the 41,000-seat stadium that will be used in June and July for the FIFA U-17 World Cup Canada 2011.
Of note from the Canadian side, starters Pasher and Danto as well as substitute Samuel all made their international debut for Canada.