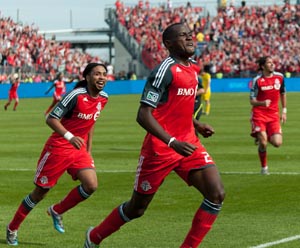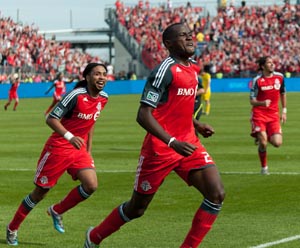 Tony Tchani (centre) celebrates his
first goal for TFC
Tony Tchani Scores 1st Goal with TFC But Hurts Team with Red Card
One step forward and two steps back.
This seems to be the kind of progress Toronto FC is making this season. Once again a series of incidents and referee's questionable calls have led to more lost points at home.
On Saturday afternoon, TFC fans left BMO Field with a sour taste in their mouth as the Reds settled for a 1-1 draw with Columbus Crew. Toronto remains winless against Columbus in their four plus years of existence. A stretch of 12 games that has seen TFC post a record of 0-5-7.
After last week's awful 3-0 loss to DC United, players and coaches all preached once again that they need to start games well and not surrender any early goals.
This week the team heeded the call and kept a clean sheet in the first half while outplaying the Crew. The Reds even scored the first goal of the game for only the second time this season.
However, the strong start was all undone by a couple of questionable calls by rookie referee David Gantar and unnecessary actions by TFC midfielder Tony Tchani.

Both teams push and shove each other
late in the first half
In the 36th minute, defender Danleigh Borman was tackled recklessly by the Crews' Kevin Burns. Javier Martina took exception to the play and grabbed Burns while Tchani ran into the melee as well. He got in the face of Burns but did not push or shove. Gantar, who was refereeing just his third MLS game, saw things differently and issued Tchani with a yellow card, much to the surprise of the midfielder.
"It wasn't me, I didn't push the guy it was my teammate," said Tchani. "I didn't want to snitch on my teammate but it was my teammate who pushed the guy. Then the ref called me and gave me the yellow card, I was shocked."
Minutes later, Julian de Guzman put a ball over top of Crew defenders and Tchani ran down the ball in behind the defence. He then nailed a left-footed volley past Crew keeper William Hesmer to give TFC a 1-0 lead. The goal was his first as a Red and only the second of his MLS career.
Clearly excited, the 22-year-old then leapt into the crowd to celebrate the goal to show his appreciation to the fans. However, Gantar did not see the celebration the same way and issued Tchani with his second yellow card, ejecting him from the match.
TFC were suddenly down to ten men as the team and fans were equally in shock. The crowd began shouting expletives and booing the referees as they walked off the pitch at halftime.
Coach Aron Winter was not impressed with the officiating but admitted that Tchani was not very smart with his actions considering he had already been booked.
"It was stupid because he had his first yellow card, and you know that when you leave the pitch to jump in the crowd you are going to get your second yellow," said Winter. "At that moment he was emotional because it was his first goal for TFC, and he forgot, but it was not clever."
Tchani mentioned that Winter spoke to him after the incident and wasn't very pleased.

Tchani, Gordon and Martina hug
a fan in celebration of the goal
"He was mad, he thought it was stupid, but I didn't think it was stupid because I have seen games before that (players go into the crowd) all the time," Tchani said. "I thought that for my first goal I had to give that to the fans."

Consistently Inconsistent
MLS referees have not been consistent this season with post-goal celebrations in the stands, especially at BMO field. Gordon celebrated in a similar manner without incident when he scored his first goal as a Red in the home-opener against Portland. Last week, MLS leading goal scorer Charlie Davies was not booked either for his celebration in DC United's 3-0 win.
"That's also strange," added Winter. "Not only Alan Gordon but also DC United, Vancouver (season-opener) and all those guys are jumping into the crowd and didn't get a card. Either you give everyone a card or nobody."
In the second half, Columbus took advantage of the extra man and equalized early. In the 49th minute, Sebastian Miranda crossed the ball into the box where Emilio Renteria directed a header past a diving Stefan Frei and just inside the left post to level the match at 1-1.
Columbus ramped up the pressure inside the Toronto half and came close on a couple of occasions as time wound down, but the shots went either slightly high, wide or directly at Frei.
Substitute Joao Plata, who replaced captain Maicon Santos in the 77th minute, came close for TFC as soon as he came into the game. However, his shot sailed over top of the goal. Despite four added minutes, the deadlock remained as the whistle blew to end the match.
De Guzman was confident that his team would have had three points if they had eleven men for the entire match.

Referee Gantar shows a yellow
card to both Burns (left) and
Tchani (centre) in the first half
"I believe if we finished the first half with eleven men, we probably would have walked off with goal up because I don't think Columbus was at their best today and it was only us that allowed them back into the game with the red card."
Despite the draw and red card, Winter was impressed how his team played the first half.
"Yes, again it is a pity that we tied, because after last week how we started, compared to now, it was a very good start," said Coach Aron Winter. "Not only the start, but the way we played the first half, it was very good because we were dominating the game at that time."
With a tough stretch of games ahead in the next five weeks, Winter removed Gordon at the half, especially coming off an injury. Down to ten men, Gordon would potentially overexert himself.
"In the second half we made some changes because we have a very hard period in the coming weeks, and you have to be careful with some players, so we made some changes to at least get one point."

Looking Ahead

Peterson (left) argues with Referee
Gantar over red card while Gordon is
held back by Maicon
Every year, both teams play for the Trillium Cup, a contrived rivalry created by MLS between the two clubs. The trophy is awarded to the team that has the best head-to-head regular season record. The games between the two teams don't quite have the tension that is typically associated between clubs that are at odds in a rivalry. Perhaps, it has to do with the fact the outcomes are mostly one-sided.
Looking ahead, Toronto will travel to Edmonton to play the team's first match of the Nutrilite Canadian Championship at Commonwealth Stadium on Wednesday. TFC will host tournament debutantes FC Edmonton in the return leg at BMO Field on May 4.
In league action, the Reds will close out the month of April on the road with a stop in Seattle to take on the Sounders at Qwest Field on Saturday.

Game notes:
Jamaican international Dicoy Williams made his first start for TFC replacing Ty Harden who was suspended after his red card last Saturday… Defender Richard Eckersley made his TFC debut in the second half replacing Javier Martina. Eckersley arrived last week and is on loan from Burnley…Adrian Cann was back in the lineup after leaving last game with a pectoral contusion… Alan Gordon was also back in the lineup after missing the last two games because of adductor tightness…After seeing action last week, Nana Attakora was unavailable due to an injury as was Alen Stevanovic who missed the game with an adductor strain.

Scoring Summary:
TOR — Tony Tchani 1 (Julian de Guzman 1, Alan Gordon 1) 41′
CLB — Emilio Renteria 1 (Sebastian Miranda 1) 49′

Tchani gets set to volley his first half goal
Columbus Crew — William Hesmer, Rich Balchan, Julius James, Chad Marshall, Sebastian Miranda, Robbie Rogers, Emmanuel Ekpo (Tommy Heinemann 46′), Kevin Burns (Dejan Rusmir 63′), Dilly Duka, Emilio Renteria (Andres Mendoza 74′), Eddie Gaven.
Substitutes Not Used: Jeff Cunningham, Andy Iro, Korey Veeder, Andy Gruenebaum.

Toronto FC — Stefan Frei, Dan Gargan, Dicoy Williams, Adrian Cann, Danleigh Borman, Tony Tchani, Maicon Santos (Joao Plata 77′), Julian de Guzman, Javier Martina (Richard Eckersley 63′), Alan Gordon (Mikael Yourassowsky 46′), Jacob Peterson.
Substitutes Not Used: Oscar Cordon, Nick Soolsma, Nathan Sturgis, Milos Kocic.

Misconduct Summary:
CLB — Kevin Burns (caution; Reckless Tackle) 37′
TOR — Tony Tchani (caution; Unsporting Behavior) 37′
CLB — Emmanuel Ekpo (caution; Dissent) 39′
TOR — Tony Tchani (caution; Unsporting Behavior) 42′
TOR — Tony Tchani (ejection; Second Caution) 42′
CLB — Julius James (caution; Reckless Foul) 80′
CLB — Dejan Rusmir (caution; Fails to Respect Distance) 90′

Attendance:
20, 145
To follow me on twitter click
HERE
Download or stream
the 500 Level podcast with co-hosts Aman Dhanoa and Ben Trattner as they discuss news, opinions, and views on Toronto sports from the Upper Deck. Leafs, Raptors, Jays, Argos, TFC – nothing is off limits. It's good to be a fan!
Also available on iTunes
Photos below courtesy of Wilson Lo
Contact Aman Dhanoa at aman@oyetimes.com

Article viewed at: Oye! Times at www.oyetimes.com