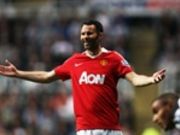 Manchester United ranked as 'world's most valuable club'
Friday, April 22, 2011
Barclays Premier League giant Manchester United has been named as the world's most valuable football club for the seventh consecutive year by Forbes magazine.
Taking into account income, profitability and debt levels, the American business publication's valuation of United has risen slightly to US$1.86 billion. The Premier League leader, on course for a record 19th domestic league title, is followed by Real Madrid ($1.45 billion) and Arsenal ($1.19 billion). In February, Real Madrid was ranked as soccer's top revenue-generating club by accountancy firm Deloitte, with Barcelona second and United ranked third.
According to Forbes, the average value of the 20 clubs on the list increased by 1.3% over past year to $640 million. However Barcelona's valuation dropped below the $1 billion mark to $975 million, behind Bayern Munich on $1.05 billion.
Forbes executive editor Mike Ozanian said Barcelona's decline was due to "a combination of high debt, a stronger US dollar and uncertainty surrounding the financial stability of the media company that broadcasts their games".
Source: SoccerEx Business Daily
World Cup '98 chief to lead France's Euro 2016 preparations
Friday, April 22, 2011
Jacques Lambert, the man who led France's preparations to host the 1998 FIFA World Cup, has been installed as head of the steering committee and president of the organising committee for UEFA Euro 2016.
Lambert, a former director general of the French Football Federation (FFF), will act as chairman of the eight-member steering committee, which will comprise four representatives from UEFA. Michel Platini, president of European football's governing body, unveiled the board for Euro 2016 in France on Thursday, with the tournament being the first European Championship to be entirely funded by UEFA.
FFF chairman Fernand Duchaussoy, French Sports Minister Chantal Jouanno and a representative of the nine host cities – yet to be confirmed – will also make up the board for the first European Championship to have 24 teams. "This will be the political arm of Euro 2016, where all the decisions are made," said Platini. "There will be no financial risk for the French Federation."
A joint stock company called Euro 2016 S.A.S, which will be 95% owned by UEFA and 5% owned by the FFF, will be created as the operational body responsible for the event. The expenses will be funded entirely by UEFA and a CEO of the organising committee will be appointed in the coming weeks.
Source: SoccerEx Business Daily
Bayern Munich extends Adidas kit partnership
Friday, April 22, 2011
German sportswear manufacturer Adidas has retained the right to supply Bundesliga giant Bayern Munich's kit through to 2020.
The new deal will extend the partnership between the second-largest sportswear company in the world and the Bavarian club to 50 years. The new home shirts will be on sale from May 13, according to Adidas, which owns 9.4% of FC Bayern Muenchen AG, the club-controlled company that operates the commercial soccer department.
"I'm delighted and proud – this is unique in football," said Adidas chairman Herbert Hainer. "The partnership is founded on trust and mutual support and I'm delighted we're adding another chapter to this 50-year success story."
Bayern president Uli Hoeness added: "It's more than just a business relationship. There is a powerful bond, and friendships have been formed. You can always talk to Adidas and Herbert Hainer." Bayern is currently third in the 1.Bundesliga, 14 points adrift of table-topping Borussia Dortmund.
Source: SoccerEx Business Daily
Blatter makes $1B development pledge in election manifesto
Thursday, April 21, 2011
FIFA president Sepp Blatter vowed on Wednesday to spend US$1 billion on global football development projects and insisted that the world game's governing body needs "evolution not revolution" as he stepped up his campaign for re-election on June 1.
In setting out his manifesto for a fourth term at the helm of FIFA, Blatter said that the organisation needed "stability, continuity and reliability" in "challenging times". Blatter is up against Asian Football Confederation president Mohamed Bin Hammam, who has pledged to overhaul FIFA's structure if he wins the vote.
"I have all the motivation, experience, ideas and energy needed to complete my mission," stated Blatter in a letter to FIFA's 208 associations. "I have decided to stand for my fourth and final term as president because in these uncertain times FIFA needs stability to secure all that we have achieved so far and to make essential changes to our beautiful game."
Blatter promised to apply "zero tolerance and fair play" throughout the game and added that "the biggest enemies of football are corruption, match-fixing and doping". He also insisted he would "fight those enemies" by developing tools such as the "early-warning system" to identify irregular betting
Source: SoccerEx Business Daily

Liverpool strikes Warrior kit deal – reports
Tuesday, April 26, 2011
Liverpool has reportedly secured the biggest kit deal in the history of English football after sealing a contract with Warrior Sports worth 25 pounds million per year.
The deal is worth at least double the value of Liverpool's current agreement with Adidas and also surpasses the previous 23.3 million-pound record deal between Nike and Manchester United.
Warrior – a subsidiary of New Balance, which is based in Boston, United States – is traditionally associated with lacrosse, but the company has attempted to branch out into other sports in recent years. New Balance recently sealed a major sponsorship deal with Major League Baseball's Boston Red Sox.
According to widespread reports, Warrior will take over before the 2012-13 Barclays Premier League campaign.
Source: sportbusiness.com
IFA announces Premier League Soccer launch
Tuesday, April 26, 2011
The Indian Football Association (IFA) has announced the launch of Premier League Soccer, a new tournament that will take place in the first three months of next year.
It is hoped that the competition, which will follow a similar format to the hugely successful Indian Premier League Twenty20 cricket tournament, will help to develop the sport's infrastructure in the region. The six franchises will be based in Kolkata, Howrah, Barasat, Asansol, Midnapore and Siliguri.
"The unique selling point will be each team will have one icon player and three quality overseas players," read an IFA statement. "An icon player will be…preferably someone who has represented his country in international matches. Each team can sign a maximum of 25 players."
Each squad will have a maximum three overseas players, one overseas player of Asian origin, a minimum of five players from the local catchment area, a minimum of six players under the age of 21 and a maximum of 10 players from anywhere in India.
Source: sportbusiness.com