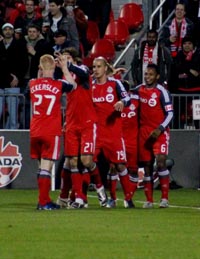 Toronto FC celebrate Alan
Gordon's goal
Alan Gordon Lifts Reds to 1-0 win in Return Leg
The way Toronto FC dispatched FC Edmonton with such relative ease in back-to-back weeks makes some fans wish they could play them every week.
Unfortunately, that is not the case. TFC has seen the last of FCE by advancing to the final of the Nutrilite Canadian Championship with an aggregate score of 4-0. Toronto will now take on their Major League Soccer (MLS) rivals, Vancouver Whitecaps, after its thrilling extra-time victory over the Montreal Impact in Vancouver.
After last week's easy 3-0 victory in Edmonton, Toronto were once again the dominant team in a 1-0 win in the return leg at BMO Field. Striker Alan Gordon scored in the 21st minute and the team never looked back.

TFC head coach Aron Winter
"If you speak about both matches that we play, away and now, we were the better team," said TFC coach Aron Winter. "Also, today we had a lot of opportunities but only scored once.
But it was a good result."
The Reds were able to keep Edmonton's chances to a minimum while they were able to create numerous opportunities at the opposite end. It's hard to find too much fault with the performance but TFC lacked the finish on a few chances. TFC forced FCE keeper Lance Parker to only make a couple of difficult saves while other balls were just wide of the target.
"Yeah we did (create chances), that being said it is a second division team and maybe that is why," said forward Jacob Peterson. "But compared to Seattle when we had six shots the whole game something that is definitely not acceptable at this level. I think going forward if we could be a little more clinical in front of the goal, when we get those chances we will be alright."
To FCE's credit the team played nearly 70 minutes of the previous match down to ten men. However, even with the full XI Edmonton was still no match for the Reds on Wednesday night.
This is a bold statement since TFC are struggling in league play so far this season and speaks volumes as to how far FCE need to improve.

FCE coach Harry Sinkgraven
"I think when you go to a higher level, the space is smaller and everything is quicker and I think for our players it was a good lesson," said FCE coach Harry Sinkgraven. "They have to think I have to play quick or otherwise they will press us again and we will lose the ball and I think for the development of our players it is important to play those games."
Founded in 2010, this is Edmonton's first foray into the NCC. Being a new club FCE will still need a lot of time to develop its players before it can dress a team that can compete and win against a Major League Soccer team. The team is 2-0-2 in the North American Soccer League (NASL), a tier II league, but was thumped 5-0 by the Montreal Impact in its home opener on Saturday. So the team is having its growing pains playing in the NASL as well.
"I think that last year we saw more than 100 players that we had on trial. Every week we had another two players to get a big picture of the players that we have in Canada," added Sinkgraven.
"My opinion is that if you look at the players, on the technical side it's good but we can develop a lot with the young players. It's also with our team, sometimes we talk about technical things. Sometimes you have three or four solutions and what's important is that everybody on the team thinks the same. That is what we are working on every day."

Plata & Gordon Shine for Reds

TFC forward Joao Plata dribbles ball
past a FCE defender
Joao Plata played very well for Toronto as he brought abundant energy to the frontline and attacking the Edmonton defence. His ability to dribble past defenders at lightning quick pace and find open space gave FCE fits. The diminutive Plata not only set up Gordon's goal but he nearly scored one himself in the second half but was robbed by Parker.
"Well, he's a dynamic player, at five feet, maybe. He's got some good qualities, different qualities than a lot of players in this league," said Peterson of Plata.
"He's a young player, he has his moments. When he doesn't do very well maybe he needs the experience, but he's a good player and definitely an asset to us. And hopefully he continues to progress."
Gordon was another standout for the Reds and was a constant threat as well in his productive 65 minutes of action. He had the team's first three chances and buried the third one to open the scoring. Plata cut inside with the ball just outside the penalty area before chipping a great pass through to an open Gordon on the right side. From the six-yard box, the TFC forward collected the pass before drilling the ball past Parker who came running out to challenge. Gordon looked to be offside on the play but no flag went up and TFC were up 1-0. The goal was his second in the NCC having scored last week in Edmonton as well.

TFC forward Alan Gordon
watches his strike enter the net
In the 65th minute Gordon suffered an injury and was substituted out of the game being replaced by captain Maicon Santos. The Reds faced more injury trouble when Julian de Guzman also went down with an injury a few minutes later. He was replaced by Matt Gold in the 72nd minute. There is no official statement about either player's injury other than that they will be re-evaluated on Thursday.
In the 77th minute, Nick Soolsma made a great run dribbling past four FCE defenders before being knocked off the ball. The ball then came loose to Plata just outside the 18-yard box and he fired the ball on goal but was stopped by outstretched Parker. Stefan Frei was barely tested in goal and earned the cleansheet.
Toronto and Vancouver will now meet in a home and away series in the NCC final scheduled for May 18 in Vancouver and the return leg May 25 in Toronto. TFC are the two-time defending champions and are now unbeaten in seven–straight NCC games dating back to 2009. The Reds have also not allowed a goal in six-straight matches dating back to last year.
However, Vancouver leads the head-to-head meetings with a record of two wins, three draws and one loss in NCC play. The winner will win the Voyageurs Cup and represent Canada in the CONCACAF Champions League club tournament.
Toronto will now have a couple of days off at home before they host the Houston Dynamo in league play on Saturday night with kickoff at 7pm.
To follow me on twitter click
HERE
Download or stream
the 500 Level podcast with co-hosts Aman Dhanoa and Ben Trattner as they discuss news, opinions, and views on Toronto sports from the Upper Deck. Leafs, Raptors, Jays, Argos, TFC – nothing is off limits. It's good to be a fan!
Also available on iTunes
Pictures are courtesy of Annandi Merhai.
Contact Aman Dhanoa at aman@oyetimes.com

Article viewed at: Oye! Times at www.oyetimes.com