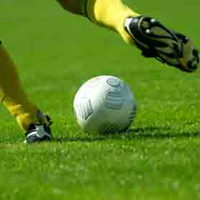 English Premier League to make record TV pay-outs
Tuesday, May 10, 2011
The Premier League will pay out record sums in TV money to its clubs this season with the bottom club guaranteed to receive at least 37 million pounds.
Lucrative new overseas television deals will see top-flight clubs earn an average of nearly 5 million pounds more per year than last season, with the title-winner set to pocket more than 57 million pounds. Although the Premier League has never confirmed the overall value of the overseas TV rights sales, Press Association Sport has calculated that they have doubled from 625 million pounds during 2007-10 to around 1.2 billion pounds over the next three seasons.
The total of approximately 1.2 billion pounds is about 10 times the amount Germany's Bundesliga receives for foreign TV rights, five times what Italy receives and three times the amount Spain's La Liga earns.
The Premier League distributes broadcast rights income based partly on performance and the number of times a team's matches are screened live on domestic television on top of a basic equal share. This season, each club will receive 13.8 million pounds as the equal share of domestic TV rights and 17.7 million pounds as the equal share of overseas TV rights revenues, while every place in the Premier League table is also worth 752,000 pounds.
Source: SoccerEx Business Daily
Qatar Football Association slams "false" allegations
Wednesday, May 11, 2011
The Qatar Football Association (QFA) has categorically denied fresh allegations that FIFA Executive Committee members received payments to vote for the country's successful bid to host the 2022 World Cup.
Issa Hayatou of Cameroon and Jacques Anouma of the Ivory Coast were allegedly paid US$1.5 million to vote for Qatar, according to evidence submitted to a British parliamentary inquiry by The Sunday Times newspaper. The inquiry also heard from the former head of England's 2018 bid, Lord Triesman (pictured left), who described the conduct of executive committee members Jack Warner, Nicolas Leoz, Ricardo Teixeira and Worawi Makudi in the World Cup tender as "improper and unethical".
"The Qatar Football Association is disappointed by the publication today on the UK Parliament's Culture, Media and Sport Committee website of evidence provided to the Committee by The Sunday Times which contains serious and baseless allegations against us. We categorically deny these allegations," read a QFA statement released on Tuesday evening. "As The Sunday Times itself states, these accusations 'were and remain unproven'. They will remain unproven, because they are false."
In October, The Sunday Times published details of an undercover investigation that led to two of FIFA's 24-man Executive Committee members – Amos Adamu of Nigeria and Reynald Tamarii of Tahiti – being suspended. FIFA president Sepp Blatter (pictured right) said he would forward any allegations to the FIFA ethics committee for investigation. "I cannot say they are all angels or they are all devils," he said of the Executive Committee members. "We must have the evidence and then we will act immediately against all those (who) would be breach of the ethical code rules."
Source: SoccerEx Business Daily
FIFA pledges Eur20 million towards new anti-corruption unit
Tue, 10/05/2011
FIFA pledged to donate Eur20 million to Interpol to help fight match-fixing on Monday as leading police officials warned world football's governing body about the possible extent of corruption in the sport.
FIFA president Sepp Blatter, who is seeking re-election to the helm of the organisation on June 1, told reporters the money would be used to set up a dedicated anti-corruption unit in Singapore. "It is crucial for us to go together with political authorities, with police authorities to fight those who want to destroy our game," Blatter said, according to Reuters.
"I'm a sad president because, after 36 years in FIFA, I thought we would be at the end of a wonderful development of the game," he added. Interpol secretary general Ron Noble said that match-fixers used "false and violent" methods to move money around the world.
"I'm not surprised by the efforts of trans-national crime," Noble told reporters. "It's a high profit with a low risk of getting caught and with online bets there is the opportunity to make huge amounts. It's a perfect mixture of elements for transnational crime." Noble added that Asia is a "hotbed" of betting and match-fixing, but Singapore, as one of the "least corrupt countries on the planet", is an ideal base for the new unit.
Source: www.sportbusiness.com
MLS Cup to return to Los Angeles
Wednesday, May 11, 2011
Home Depot Center, the home of the Los Angeles Galaxy, will stage this season's MLS Cup on November 20, Major League Soccer (MLS) has confirmed.
This year will be the third time the stadium has hosted the showpiece match following previous editions in 2003, 2004 and 2008, when a capacity crowd of 27,000 saw the Columbus Crew defeat the New York Red Bulls 3-1.
"We are proud and excited to bring Major League Soccer's championship event back to the city of Los Angeles and the Home Depot Center, one of the finest sports venues in the United States," said MLS commissioner Don Garber. "MLS Cup has grown into a four-day celebration of the world's game in North America. We believe that Los Angeles and the Home Depot Center will be a superb stage for MLS Cup 2011."
Tom Payne, president of the Los Angeles Galaxy, added: "We are extremely pleased to be able to once again host MLS Cup, our league's most important game, in the premier soccer stadium in this country, the Home Depot Center. We would like nothing more than to be playing in MLS Cup 2011 at home in front of our fans."
Source: SoccerEx Business Daily