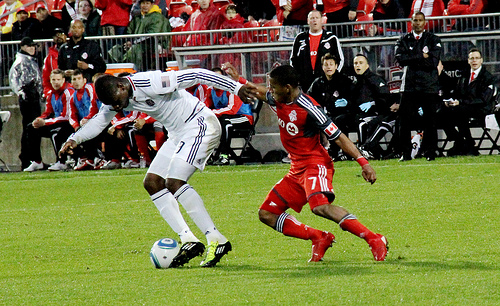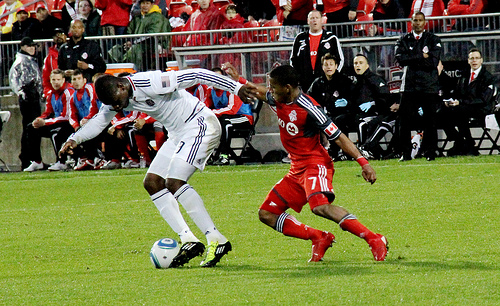 TFC forward Joao Plata (right) battles for
the ball with Fire's Yamith Cuesta (left)
Reds Settle for Point in 2-2 Draw in Rain-soaked BMO Field
Starting games well has been a constant problem for Toronto FC so far this season but that wasn't the case on Saturday night. In fact, the Reds came out to a great start scoring an early goal and even building a 2-0 lead early in the second half.
Sadly, TFC (2-4-5) squandered a two-goal lead to the Chicago Fire (1-3-5) and the game ended in a 2-2 draw. Suddenly three points turned into one. The inability to finish the game and lack of killer instinct surely reminded many fans of the heartbreak and disappointment of years past.
Despite the way the game ended, many positives can be taken from the match – especially how the team played right up until the second goal. Speedy youngster Joao Plata continued to impress on the pitch, earning another start and scoring his second goal of the season. Captain Maicon Santos found the back of the net as well as he blasted a shot past former Red backup keeper Jon Conway.
Meanwhile, Marco Pappa and Orr Barouch replied for the Fire in a gutsy second half comeback performance in heavy rain.
"I did have a good feeling," said TFC coach Aron Winter when asked how he felt when his club was up 2-0. "But now I have a bad feeling that we have given away 2 points. It's a pity, because in the first half we showed that we were improving every week in our play. So it was a pity that we gave up the 2-0 lead to tie in the end."
Winter summed up the team's play succinctly after they had built the 2-0 lead.
"I think in the second half we didn't want to play anymore," added Winter. "That's why I think we lost, because in the first half we were chasing up and pushing up and putting pressure in the front. Then in the second half after the second goal we didn't do that anymore, and that's why I think we have given away 2 points."

TFC keeper Stefan Frei gets set for a goal
kick in the 2nd half rain
Players were obviously disappointed afterwards and expressed their frustration – namely Frei who watched everything fall apart in front of him.
"In general, after about 60 minutes we packed it in and thought the game was over," said Frei. "Offensively and defensively we got lazy. We didn't show for the ball anymore, didn't go for runs, didn't cover each other defensively, just those extra things. We thought it was 2-0, the game is winding down, now I hope everybody knows that the game in 90 minutes, not 60."
Midfielder Julian de Guzman was equally disappointed.
"We just sat back too deep, and we weren't the same as we were in the first half," said de Guzman.
"We couldn't take control of the game and go forward with the ball. Every third pass we made after the hour mark was easily given away, or no one wanted the ball anymore. That's why I think Chicago was able to come back into the game, and almost win the game. We had three points in our pocket, it was a terrific opportunity to keep ourselves in the standings, but we blew it thanks to ourselves."

Plata Shines Again
Plata seems to have cemented his spot in the starting lineup with his inspired play and he was once again in the thick of the action creating plays for TFC. After scoring his first MLS goal in the previous home match on a penalty, he found himself back on the scoresheet but this time during game action. In the 9th minute, Plata received the ball in the middle and dribbled the ball easily past Fire defender, Jalil Anibaba, as if he were a pylon. The 19 year-old then drilled the ball past Conway, into the low right corner of the net giving TFC a 1-0 lead.
After the impressive goal, Chicago paid more attention to the diminutive forward, targeting him whenever they could.

TFC celebrates Plata's goal
"The whole game I felt that they were trying to catch me by tackling me, hitting me or just getting physical," said Plata who was recently named MLS Player of the Week. "I just need to be smarter and quicker to avoid those tackles and to avoid those hits."
Plata nearly had another great chance on goal in the 36th minute. Dan Gargan made an uncharacteristic run down the left side sliding in a great pass to Plata deep in the box but his shot was blocked.
Frei made a great save to end the first half when Gaston Puerari's shot deflected off defender Adrian Cann. The ball changed direction but the TFC keeper just managed to get a hand on the ball as it was going inside the left post.
After raining all day in Toronto, the rain stopped just before the game began but that all changed in the second half. Light drizzle soon turned into torrential rain making the pitch very slick.
With the rain starting to fall, Toronto wasted no time in adding to its lead in the second half. In the 47th minute, Maicon from long range unleashed a hard strike that slipped through Conway's legs to give 2-0 advantage. Perhaps the ball was wet but even then the shot should have been stopped by the former Red.
Less than a minute later, Jacob Peterson was called for a reckless tackle at the edge TFC's box setting up a freekick. Pappa calmly stepped up and hit it with perfection, floating it over the wall, skimming the crossbar and dropping down behind Frei. Frei barely moved on the shot, perhaps thinking it was going to go over or hit the crossbar flush and rebound outwards. Instead the ball dipped at the right moment and he had no chance to make the save.

Former Red goalkeeper Jon Conway
in goal for Chicago Fire
TFC had a chance to increase its lead in the 70th minute when Tony Tchani put a ball ahead to Alen Stevanovic, who came on for Plata a few minutes earlier. He was able to get a step ahead of Anibaba and drilled a shot on goal but Conway redeemed himself by charging out to make a great save.
In the 76th minute, Fire's Corben Bone was able to get a step ahead of Gargan and de Guzman, putting a cross into the goal area. Frei dove to his right, getting a hand on the ball but it was knocked off substitute Orr Barouch and into the net. Barouch seemed to slip and fall while running towards goal and the ball bounced off him to tie the game at 2-2.
The play happened so quickly, but it looked as though it was knocked in with his arm but the referee awarded the goal. It was Barouch's first MLS goal, not exactly highlight worthy but definitely memorable.
The Fire didn't stop there and kept attacking. In the 83rd minute, a great ball was played through to Dan Paladini, sending him on a breakaway but Frei made a huge save to keep the game tied. Paladini attempted to flick the ball over Frei who came out to cut the angle, but the TFC keeper used his quick reflexes to swat the ball out the air with his left hand. TFC were almost fortunate to come away with a draw.
Toronto will now shift its focus to the Nutrilite Canadian Championship Final as the team heads to Vancouver to take on the Whitecaps in the first leg on Wednesday. Kickoff is at 10pm ET.
The Reds' next league game is on Sunday in Colorado against the defending MLS Cup champions. TFC and Rapids will kickoff at 7pm ET.
(Click above to watch Stefan Frei's game saving stop late in the 2nd half)
Game Notes:
Scoring Summary:
TOR — Joao Plata 2 (Nick Soolsma 2) 9
TOR — Maicon Santos 3 (Joao Plata 2) 47
CHI — Marco Pappa 4 (unassisted) 63
CHI — Orr Barouch 1 (Corben Bone 1) 76

Toronto FC — Stefan Frei, Richard Eckersley, Dicoy Williams, Adrian Cann, Dan Gargan, Tony Tchani, Julian de Guzman, Jacob Peterson, Nick Soolsma (Matt Gold 87), Maicon Santos (Javier Martina 84), Joao Plata (Alen Stevanovic 61).
Substitutes Not Used: Oscar Cordon, Ty Harden, Nathan Sturgis, Milos Kocic.

Chicago Fire — Jon Conway, Gonzalo Segares, Cory Gibbs, Yamith Cuesta, Jalil Anibaba, Corben Bone, Gaston Puerari (Orr Barouch 58), Marco Pappa, Dan Paladini, Diego Chaves (Baggio Husidic 89), Dominic Oduro (Bratislav Ristic 89).
Substitutes Not Used: Josip Mikulic, Dasan Robinson, Kwame Watson-Siriboe, Alec Dufty.

Misconduct Summary:
CHI — Gonzalo Segares (caution; Reckless Foul) 19
TOR — Julian de Guzman (caution; Reckless Tackle) 25
CHI — Dan Paladini (caution; Dissent) 28

Time of Game: 1:51

Weather:
Showers and 61 degrees
To follow me on twitter click
HERE
Download or stream
the 500 Level podcast with co-hosts Aman Dhanoa and Ben Trattner as they discuss news, opinions, and views on Toronto sports from the Upper Deck. Leafs, Raptors, Jays, Argos, TFC – nothing is off limits. It's good to be a fan!
Also available on iTunes
Photos below courtesy of Annandi Merhai of Devi Designs
Contact Aman Dhanoa at aman@oyetimes.com

Article viewed at: Oye! Times at www.oyetimes.com