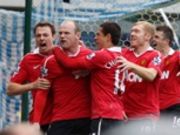 EPL champ ManU reports big increase in commercial revenues
Monday, May 16, 2011
Manchester United's latest quarterly financial results have revealed an impressive 30% increase in commercial revenues.
Turnover for Manchester United Ltd in the three months to the end of March increased by 1% to 75.2 million pounds compared to the same period last year. Commercial revenues for the period totalled 24.9 million pounds, taking the nine-month total to 75.3 million pounds.
The latest figures have suggested that the new Barclays Premier League champion could break the 100 million pounds mark for the first time when the full-year results are released, particularly as the team has a UEFA Champions League final with Barcelona to look forward to on May 28. "The strength of the new commercial strategy is demonstrated in very strong revenue growth," a United spokesman told Reuters.
"The combination of global partnerships and deals that relate to individual countries has delivered a significant rise in income," the spokesman added. United became English football's most successful team on Saturday when a 1-1 draw at Blackburn Rovers secured a 19th domestic title, edging ahead of Liverpool, which has been stuck on 18 championships since 1990.
Source: SoccerEx Business Daily
Bin Hammam blames Blatter for "sullying" FIFA
Monday, May 16, 2011
FIFA presidential candidate Mohamed Bin Hammam has launched a blistering attack on rival Sepp Blatter, accusing the Swiss head of world football's governing body of sullying the organisation "beyond compare".
Bin Hammam, the president of the Asian Football Confederation, criticised Blatter's decision last week to allocate Eur20 million of FIFA money for a new anti-corruption taskforce run with Interpol without, he claims, having consulted with the members of the Executive Committee. The FIFA presidential election will take place on June 1. "It has become clear yet again in recent days that something urgently needs to be done to improve and enhance the image of FIFA," the Qatari stated.
"The name of our great sport and its leading institution has been dragged through the mud once more," he added. "I will happily and unreservedly restate that I firmly believe FIFA, as a decision-making body and as an organisation, is not corrupt." Bin Hammam's comments came after allegations emerged last week that six members of FIFA's executive committee had requested favours ahead of the votes for the 2018 and 2022 World Cups last December.
Bin Hammam, who has rejected any suggestion of corruption in Qatar's successful bid for the 2022 World Cup, added that under Blatter's regime "it is impossible to deny that the governing body's reputation has been sullied beyond compare and it is time for that to change". He added: "Currently, the president has taken on too much of an executive role, as evidenced by the recently announced initiative to donate Eur20 million to Interpol."
Source: SoccerEx Business Daily
England FA can't change FIFA on its own, claims Bernstein
Monday, May 16, 2011
Football Association (FA) chairman David Bernstein has played down talk of leading a campaign to reform FIFA after allegations of corruption emerged in relation to global football's governing body last week.
Lord Triesman, the former FA and England 2018 World Cup bid chairman, told a British parliamentary committee that there had been "improper and unethical behaviour" by several senior FIFA officials in the bidding process for the 2018 and 2022 World Cups. The FA has pledged to back an independent review of the allegations, while FIFA general secretary Jerome Valcke has called for full details of the claims to be sent to the organisation as a matter of "urgency".
"There are over 200 nations in FIFA and we're one of them. People talk to the FA as though we can change FIFA ourselves," Bernstein told BBC Radio 5 Live's Sportsweek programme on Sunday. "We are around half a percent of the voting population within FIFA, so we will use what influence we have but we have to talk and we have to work with FIFA as well."
He added. "It's a very difficult balance to try and push for reform, to push for change, and at yet the same time be inside the tent and not outside. There clearly are issues with FIFA. We would like to see greater openness, both financially and decision-making."
Source: SoccerEx Business Daily
Castrol aims to fuel MLS interest through Index
Thursday, May 12, 2011
Castrol has announced that its renowned Castrol Index has become the official performance index of Major League Soccer (MLS) in North America.
The system uses the latest technology to objectively analyse and rank performances by logging an average of 1,800 player movements per match. The Castrol Index will give MLS fans statistical data and insight into performances of players.
The Castrol Index also takes into consideration whether every move on the field has a negative or positive impact on a team's ability to score or concede a goal. Each player will be awarded a score out of 10 in every game to determine the best performing players in MLS over the season.
"Castrol has a long-standing relationship with soccer throughout the world and we are extremely excited to bring this technology to Major League Soccer," said Tracy Drelich-Knauer, the company's associate promotions and sponsorship manager. "The Castrol Index builds on our more than 100 years of technology leadership. Castrol is focused on creating the best products and experiences for our consumers."
Source: SoccerEx Business Daily
German football association targets Asia for coaching programmes
Thursday, May 12, 2011
German Football Association (DFB) international relations director Markus Weidner believes German coaches have an opportunity to make a mark in Asia.
Weidner, who was speaking on a visit to the headquarters of the Asian Football Confederation (AFC), met AFC deputy general secretary and education director Hasan Al Sabah as well as AFC coach education director Jim Selby to discuss coaching and education matters. According to Weidner, Asia is the continent to be "reckoned with" and the DFB is aiming to have its coaching qualifications recognised by the AFC.
"This move will be a boost to the international coaching programme the DFB is running in the European country and increase the image of German coaches in Asia," Weidner told the AFC website. "The AFC and DFB will define in more detail this arrangement. We would also like to invite friends from the AFC to attend our coach education programme in Germany in the future to boost our ties and improve the professionalism of our coaches."
Weidner added: "There is plenty of high-level football in Asia now whether at the national or club level and this will be both an opportunity and challenge for German coaches to excel here. If a German coach is to work in Asia or anywhere else for that matter, he has to be aware of the local mentality and be able to adapt to this. If he knows this, he holds the key to success."
Source: SoccerEx Business Daily
Galaxy-Union Game Draws Record Crowd, Even With No Beckham
A PPL Park-record crowd of 19,178 attended last night's MLS Galaxy-Union game despite Galaxy MF David Beckham's absence from the lineup. Galaxy coach Bruce Arena let Beckham stay behind in L.A. "to rest up for a Saturday home game." The PHILADELPHIA INQUIRER's Bob Ford writes Beckham's "promise to do everything within his power to help grow American professional soccer doesn't always include playing three games in 10 days." Ford: "The league deserves to be more than a diversion between social engagements" (PHILADELPHIA INQUIRER, 5/12).
Source: www.sportsbusinessdaily.com