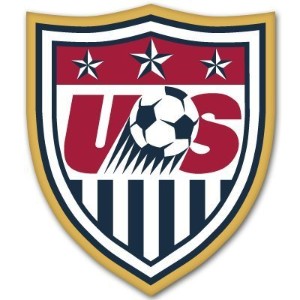 U.S. U-17 WNT VYING FOR GROUP B TITLE: The U.S. Under-17 Women's National Team has advanced to the semifinal stage of the 2012 CONCACAF U-17 Women's Championship and will be looking to finish first in its group when it faces Mexico on Monday, May 7 (6:30 p.m. ET/4:30 p.m. local). With a win or a draw, the U.S. wins Group B and would then face the Group A runner-up on Thursday, May 10. Mexico would need a win against the USA to win the group stage as the U.S. holds the advantage in goal difference. All the matches are being played on an artificial surface at the Estadio Cementos Progreso, home to popular Guatemala professional side C.S.D. Comunicaciones.
USA IN DRIVER'S SEAT FOLLOWING SECOND WIN: The U.S. is coming off a 5-0 victory against Trinidad & Tobago on Saturday that featured five different goal scorers and four second-half tallies. Summer Green had a goal and two assists, and Emily Bruder and Joanna Boyles both had a goal and an assist. Green leads the tournament with six goals, five of which came during the USA's 10-0 victory against the Bahamas on Thursday, May 3. She now has seven goals and seven assists this year, leading the USA in both categories. The U.S. U-17 team's plus-15 goal differential easily leads Group B ahead of Mexico (plus-8), which is coming off a 6-0 victory on Saturday against the Bahamas. The USA and Mexico have both advanced to the semifinal stage of this tournament. The tournament semifinal winners and third-place game winner qualify for the 2012 FIFA U-17 Women's World Cup in Azerbaijan.
U.S. ROSTER BY POSITION

GOALKEEPERS (2): 1-Jane Campbell (Concorde Fire South; Kennesaw, Ga.), 18-Cassie Miller (Sereno FC; Cave Creek, Ariz.)
DEFENDERS (6): 3-Brittany Basinger (FC Virginia; Purcellville, Va.), 5-Maddie Bauer (Slammers FC; Newport Beach, Calif.), 16-Mandy Freeman (Lady Renegades SC; Royal Palm Beach, Fla.), 6-Gabbi Miranda (Colorado Rush; Highlands Ranch, Colo.), 2-Lizzy Raben (Colorado Rush; Greenwood, Colo.), 20-Morgan Reid (Chelsea Ladies; Cary, N.C.)
MIDFIELDERS (5): 10-Morgan Andrews (FC Stars of Mass.; Milford, N.H.), 12-Joanna Boyles (Chelsea Ladies; Raleigh, N.C), 14-Lauren Kaskie (Heat FC; Las Vegas, Nev.), 17-Sarah Robinson (MVLA Lightning; Los Altos, Calif.), 11-Morgan Stanton (Colorado Rush; Lakewood, Colo.)
FORWARDS (7): 9-Emily Bruder (Utah Avalanche; Sandy, Utah), 8-Summer Green (Michigan Hawks; Milford, Mich.), 13-Darian Jenkins (Sparta SC; Riverton, Utah), 4-Amber Munerlyn (So Cal Blues; Corona, Calif.), 19-Toni Payne (Concorde Fire; Birmingham, Ala.), 15-Margaret Purce (Freestate Soccer; Olney, Md.), 7-Andi Sullivan (Bethesda SC; Lorton, Va.)
U.S. ROSTER NOTES
Seven different U.S. players have scored the 15 goals for the U.S. team in this tournament. Nine different players have assists.
The USA has out-shot its opponents 72-6 over the two games.
USA VS. MEXICO SERIES
In the lone meeting between the U.S. and Mexico in the CONCACAF U-17 Women's Championship, the USA edged Mexico 1-0 on July 24, 2008, in the semifinals to book a ticket to the 2008 FIFA U-17 Women's World Cup.
U.S. defender Crystal Dunn provided the heroics in that 2008 semifinal victory in Macoya, Trinidad. In the second minute of stoppage time, Dunn slotted the game-winner off of a Kristen Mewis corner kick that went to Samantha Mewis and then was redirected to Dunn for her first U-17 tally.
Mexico U-17 head coach Leonardo Cuellar was at the helm for that 2008 match, and he currently manages Mexico's national team women in addition to the U-17s.
BY THE NUMBERS
3: Goals per game by the U.S. U-17 WNT this year
7: Goals by Summer Green to lead the team in 2012
25: Number of U.S. U-17 players to see action in a game this year
IN FOCUS: MEXICO
Mexican Football Federation (Federacion Mexicana de Futbal Asociacion)
Founded: 1907 (Joined FIFA in 1929)
Head Coach: Leonardo Cuellar