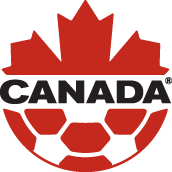 Canada's women's U-17 team played to a 1:1 draw against host Chile in an international friendly match today. Canada opened the scoring in the 53rd minute before Chile countered in the 80th minute. Both goals were scored following free kicks, with Chantale Campbell scoring the lone goal for Canada.
This was the first of two international matches between Canada and Chile. The match was played at the Complejo Deportivo Quilín of the Federación de Fútbol de Chile. The next match will be played on Sunday 1 August.
Three Canadian teams are in action this week, with the women's U-17 team in Chile, the men's U-17 in Laval, QC, and the Para Soccer team in Milton, ON. Canada's women's U-15 team opens camp this weekend in Sunrise, FL, USA.
"The 1-1 draw was a fair result for both teams," said Canadian women's U-17 head coach Bryan Rosenfeld. "We were not, however, as sharp as we needed to be for an international match. We will need to prepare and focus for our next match on Sunday."
Canada's starting XI featured Sabrina D'Angelo in goal, Vanessa Kovacs, Alison Clarke, Charléne Achille and Yazmin Ongtengco-Hintzen at defence, Chantale Campbell, Nicole Setterlund and Diamond Simpson at midfield, and Kinley McNicoll, Nour Ghoneim and Caroline Beaulne up front.
Midfields Nicole Setterlund and Chantale Campbell controlled the play well throughout the first half, although Canada was not able to generate a goal. The score was 0-0 after 45 minutes.
Before the start of the second half, coach Rosenfeld made four changes. Coming off were Setterlund, Ghoneim, Beaulne and McNicoll; coming on were midfielder Jade Kovacevic and forwards Haisha Cantave, Abigail Raymer and Haillie Price.
With a new offensive unit up front in the second half, Canada was able to get behind the Chile defence. Chile countered, though, with a spurt of its own which led to the tying goal. Canada's goal came in the 53rd minute on a free kick by Campbell from 20 metres out. The kick went directly from Campbell's boot into the net.
The Chile goal was less direct. The free kick deflected off the wall and a rebound deceived D'Angelo after it bounced off the post. Chile pounced on the second rebound for a tying goal of the match.
Late in the match, coach Rosenfeld made two changes. In the 81st minute, he replaced Simpson with the young Ashley Lawrence. Four minutes later, he switched Price for Zakiya McIntosh.
Canada, whose title sponsor is BMO Financial Group, is currently preparing for the FIFA U-17 Women's World Cup Trinidad and Tobago 2010. The Canadian team is training in Santiago, Chile from 25 July to 3 August.