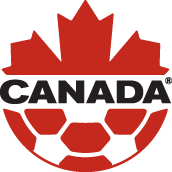 Canada lost 0:2 to Brazil on Monday night at the FIFA U-17 Women's World Cup Trinidad and Tobago 2010. Brazil's Paula opened the scoring in 20th minute and Thais sealed the win with a second for Brazil in the 51st minute at the Mannie Ramjohn Stadium in Marabella, Trinidad. With the loss Canada is eliminated from Trinidad and Tobago 2010.
"We made some mistakes today on which Brazil was able to capitalize," said head coach Bryan Rosenfeld. "We took a chance by playing a little bit more direct and tried to play a faced pace game. We had some good opportunities but didn't capitalize on them. We needed to be more possession orientated."
All four Group D teams came into the final day of group play tied on three points knowing that a win would be enough to see them through to the knockout stage of the competition. The incredibly even group had looked difficult heading into the tournament and was quickly been dubbed the "group of death" after two matches.
Canada, for its part, started the match showing the urgency it lacked in its opening two matches, pressing the Brazilians high up the field. Coach Rosenfeld had spoken before the match that Canada would "go for it" and the urgency in the squad was evident from kick off.
FIFA U-17 Women's World Cup debutant Zakiya McIntosh was particularly active for Canada in the opening stages as she used her speed and guile to attack the Brazilian defence at every opportunity. She almost had Canada off to a perfect start three minutes in after Chantale Campbell had played a beautiful weighted ball into the path of fullback Ally Courtnall racing through the right channel. Courtnall beat her defender before cutting a pass back to McIntosh who was alone in the Brazil penalty box but she mishit her first time effort and the chance was gone.
Although Brazil stood a good chance of advancing with a draw they showed plenty of attacking endeavour early on making for an entertaining fast paced opening to the match. Sabrina D'Angelo needed to be alert in the Canadian goal as Brazil repeatedly shot from distance.
Brazil took a 1-0 lead in the 20th minute as the Canadian defence suffered a momentary lack of concentration. Brazil was allowed time and space on the right to measure a cross into the Canadian box. Brazilian forward Paula did well to direct a volley toward goal but was fortunate to see it bounce off the ground and over D'Angelo in the Canadian goal.
The pace of the match slowed considerably following the goal for Brazil. For its part, Brazil was content to play the ball around the midfield while Canada defended deep and looked to counterattack.
With Canada sitting back, Brazil elected to try its luck with long range shots from distance, 16 in total in the first half.
Brazil started the second half well and quickly doubled its lead in the 51st minute. Some slack defending from Canada allowed the ball to reach Thais on the far side of the Canadian box and she made no mistake slotting the ball past D'Angelo from 15 yards out.
Second half substitute Charlene Achille had a great chance to pull Canada back into the match in the 74th following some excellent build up play from Cantave and Simpson. Unfortunately for Canada Achille rushed her shot and fired high and wide of the goal.
"I don't think we ever played to our potential, compared to the quality of some of the games we played prior to the World Cup," said Rosenfeld. "I think this team is much stronger (than the team in 2008) but we made errors here in this competition that we didn't make in 2008 and that cost us, especially in this tough group. Technically, tactically, and physically I saw far better teams than we saw two years ago and I think the quality of the women's game is getting better all the time. I think Trinidad and Tobago has done a great job (hosting). Everybody has been gracious to us here during our stay in Trinidad and Tobago."
For this match, coach Bryan Rosenfeld's starting XI featured Sabrina D'Angelo in goal, Ally Courtnall, Nicole Setterlund, Alison Clarke, and Yazmin Ongtengco right to left in defence, Jade Kovacevic, Diamond Simpson, Chantale Campbell, and Caroline Beaulne across the midfield and Zakiya McIntosh and Haisha Cantave up front at forward.