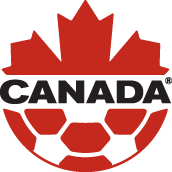 Canada has returned to the top-10 on the FIFA/Coca-Cola Women's World Rankings. On the heels of five consecutive wins and a second CONCACAF championship, Canada has moved up four places to ninth on the world ranking. It marks the fourth time Canada has ranked as high as ninth in the world.
The FIFA/Coca-Cola Women's World Rankings looks at each country's international results from the last four years. The ranking takes into account the result, the importance of the match, the strength of the opponent, the regional strength, the time period, and the number of matches per year. The ranking comes out four times a year.
Canada gained 28 points after winning all five matches at the 2010 CONCACAF Women's World Cup Qualifier. Canada jumped ahead of Australia (Asia champions), Italy, Denmark and England. England gained six points on the ranking, but is now one point behind Canada (1973 to 1974) in 10th place.
Canada's 28-point jump was the biggest from any top-25 nation. Equatorial Guinea (48 points and eight places up to 62nd in the world) made the biggest jump. Peru took the biggest drop at 72 points, but the world's number-one ranked USA made a significant drop of 42 points. USA, Germany and Brazil remain the top-three nations in the world. Within CONCACAF, the top-three nations are USA, Canada and Mexico (still 22nd in the world).
FIFA/Coca-Cola Women's World Rankings
1 USA 2,185
2 Germany 2,153
3 Brazil 2,116
4 Sweden 2,063
5 Japan 2,036
6 Korea DPR 2,005
7 Norway 2,002
8 France 1,998
9 Canada 1,974
10 England 1,973