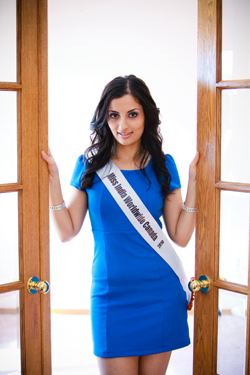 Amin Dhillon, the current Miss India Worldwide Canada, is set to represent Canada at the Nineteenth Annual Miss India Worldwide Pageant taking place on March 27, 2010 at the International Convention Center in Durban, South Africa.
Amin, 25 years old, made history as the first woman from Manitoba to win the prestigious title of Miss India Worldwide in the pageant's history. Since winning Miss India Worldwide Canada in April 2009, Amin has spent her reign working with various organizations and charities to encourage youth involvement and cultural diversity. This year, Amin selected Folklorama as her official pageant charity and will continue to work with the organization.
Aside from her charity and community work, Amin has been featured in numerous publications from around the world including being named as one of sixteen most promising Indian youth by the prestigious magazine "India Today".
The Miss India Worldwide pageant is the only international Indian pageant with over 30 countries participating. Previous winners have achieved success in Bollywood, business and politics.
Previously, there have been two former Miss India Worldwide Canada winners to win the Miss India Worldwide crown: Poonam Chibber in 1997 and Melissa Bhagat in 1998.
Amin would like to thank the following sponsors for providing the support needed to prepare for Miss India Worldwide: Kamp Photography, Stephanie Ash Photography, Angie Zachary, 17th Market Jewelry, Hilary Druxman, Lakewood Dental Centre, Murray Chevrolet Hummer, Entegra Credit Union, Sharma Auto Service, Guyanese Association of Manitoba, Tim Hortons, and India Palace Restaurant. As well, thank you to the countless individuals who provided individual private sponsorships of Amin.
CKLY Fashion is the official dress sponsor and Amin will be wearing one of their gowns during the Evening Wear segment. Fans and supporters can visit Amin's official website (www.amindhillon.com) to keep in touch with Amin and to follow her journey. Official photos of Miss India Worldwide Canada 2010 are available for media print, upon request.
To arrange interviews, press contact:
Susan Smith, Publicist
2010 Miss India Worldwide Canada Committee
www.amindhillon.com
contactus@amindhillon.com