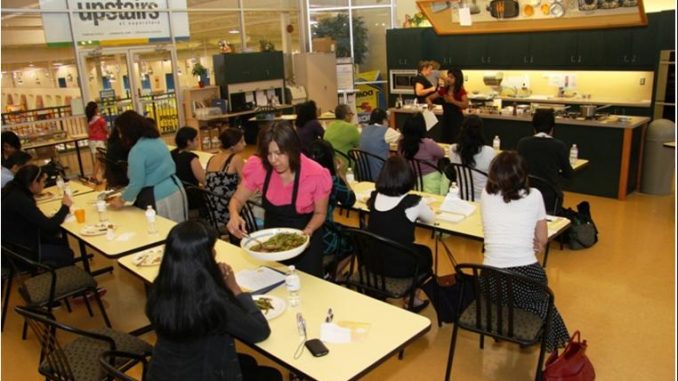 On June 2, the South Asian Professional Network for Health Awareness (SAPNA) took over 20 people on a journey through Malaysian and Indian cooking at the President's Choice
Cooking School in the Real Canadian Superstore on 3050 Argentia Road in Mississauga.
Led by the SAPNA cooking team and Holistic Nutritionist and Homeopathic Doctor Sunita Mohan, participants had a chance to sample delicious food, while learning about the nutritional value of key ingredients on the menu, such as coconut oil, brown rice, and asparagus.
"It's important to use ingredients that will not only add flavour to the recipe, but are also healthy for your body," said Mohan.
"As an example, coconut oil, a prime ingredient in most of the dishes that were prepared, can help a healthy person lower their bad cholesterol while raising their good cholesterol."
The cooking demo began with a savoury Indian style rice dish (Nasi Biryani), followed by a refreshing yogurt dish mixed with okra and curry leaves (Bendi Pachadi).
Other dishes included spicy asparagus (Sambal Asparagus), and chicken satay (Malay Satay) served with a spicy malay peanut sauce.
"The food was absolutely delicious and the demonstration was very informative," said Neerja Goyal, Chair of the Operations Committee at SAPNA, and a participant at the event.
The event ended with a crunch –a coconut crunch that is. This dessert was a frozen yogurt treat sweetened with agave nectar and sprinkled with coconut, cardamom and pistachios.