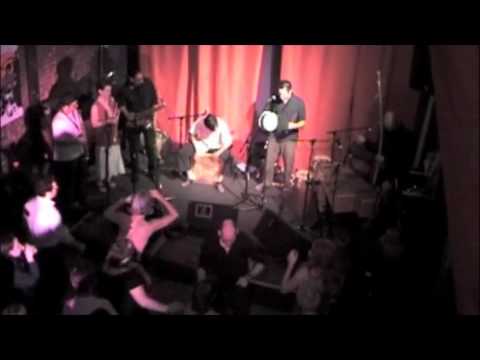 DRUMHAND: A RHYTHMIC FEAST HEADING EAST
– CANADIAN EAST COAST TOUR APRIL 18 – AUGUST 6, 2012
"After years of honing their pan-continental rhythmic vibrations in a live setting… MOVING STILL is a treat for drum lovers out there." ~
Exclaim Magazine
Toronto-based DRUMHAND is a rhythmic experience not to be missed. Fortunately for fans from Toronto, Hamilton, Ottawa, a few cities in Quebec and Canada's east coast, the band will be touring their alternately funky and ethereal
world music and jazz works
from April through to August. For more information please visit www.DRUMHAND.ca
DRUMHAND has a sound as big as its name and their reputation is following on the same path. Hot on the heels of their debut release MOVING STILL, the Toronto-based five-piece band is gaining increasing recognition for their innovative orchestrations and upbeat vibe. The critically-acclaimed recording, "amalgamates Latin, African and jazz music to create an album that's sure to get anyone on to their feet," says Kat Dornian of !earshot (where the CD has been charting since January 2011). And that's just what this group does in their live performances. Like a New Orleans parade band in summer heat, DRUMHAND uses rhythmic frenzy and passionate, punchy horns to drive the music. Drawing inspiration from the circuitous rhythms of hot climates, DRUMHAND engages audiences of all ages who find themselves dancing, singing, chanting and drumming along.
Founded in 2008 by percussionists David Chan (Shoot the Cameraman), Larry Graves (Mr. Something Something) and Steve Mancuso (PHD), DRUMHAND features the horn work of Marcus Ali (Cruzao/Jason Wilson) and Rebecca Hennessy (Woodshed Orchestra, Hobson's Choice).
Utilizing unusual percussive instrumentation from around the globe, such as the one-stringed berimbau of Brazil and the box-shaped gome foot drum of West Africa, the group also explores more melodic composition on the atenteban flute of Ghana with saxophones, brass and vocal work in several different languages. The result is an edgy, accessible and sometimes haunting musical experience that sometimes draws comparisons to the Dirty Dozen Brass Band, Charles Mingus, Weather Report and Fela Kuti
DRUMHAND is:
Marcus Ali: Saxophones/Flutes/Voice
David Chan: Percussion/Voice
Larry Graves: Percussion/Voice/Artistic Director
Rebecca Hennessy: Trumpet/Voice
Stefano Mancuso: Percussion/Voice
UPCOMING PERFORMANCES:
April 18: Lula Lounge, LulaWorld Media Launch Party
–
Toronto, ON
April 21: The Pearl Company Theater
–
Hamilton, ON
April 26: MASC School Performances – Arnprior, ON
April 27: Plan B
–
Moncton, NB
April 28: Danspace-on-Grafton
–
Halifax, NS
April 29: Drumming Workshop, Danspace-on-Grafton
–
Halifax, NS
May 1: Bridge Street Café
–
Sackville, NB
May 2: Red Herring – St. Andrews, NB
May 3: The capital Complex – Fredericton, NB
May 4: La Brûlerie D'ici
–
Rimouski, QC
May 5: Upstairs Jazz Club
–
Montréal, QC
May 6: Le Petit Chicago
–
Hull, QC
May 7: MASC School performances
–
Ottawa, ON
May 26: East St. Station
–
Goderich, ON
May 31: The Mansion
–
Kingston, ON
June 1: Le Cagibi
–
Montréal, QC
July 6-8: Northern Lights Festival
–
Sudbury, ON
August 3-6: Blue Skies Music Festival
–
Clarendon, ON
***DRUMHAND gratefully acknowledges the generous support of the Ontario Arts Council.
"As their name suggests… an amalgam of international hand percussion traditions from which the album's many free-flowing displays of harmonious vocal and instrumental touches erupt like spurts of unleashed emotion…a treat for drum lovers out there." ~ Kevin Jones –Exclaim! Magazine
" Des trompettes de Jazz et des percussions dans un feu roulant d'énergie: un mélange idéal pour les amateurs de danse! DRUMHAND, groupe de Toronto, s'inspire de musiques venant de partout et utilise des instruments issus de nombreuses traditions à travers le globe." ~ Ottawa Jazz Festival
"DRUMHAND amalgamates latin, African and jazz music to create an album that's sure to get anyone on to their feet… the interplay between musicians keeps the album phenomenally interactive." ~ !earshot
"Way Cool!" ~ CKCU Radio FM Ottawa
WHO: DRUMHAND
WHAT: Canadian East Coast Tour
WHERE: Toronto to Halifax
WHEN: April 18 – August 6, 2012
http://www.youtube.com/watch?v=OOCA-UljcwQ