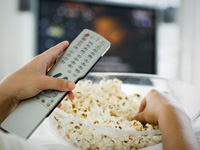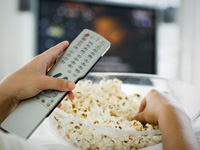 Over the next 12 months, as much as 10 percent of U.S. households could cancel their cable or satellite TV, according to the latest surveys from the Consumer Electronics Association and Credit Suisse. And if a rumored Apple-made HDTV is released, pay TV subscription losses could be even greater, investors said.
An Apple-made flat panel, speculated about in the blogosphere for a while now, gained a bit of credence this week after a note from UBS technology analyst Maynard Um.
"We expect Apple to enter the TV set market and if it achieves similar success as in the handset and PC markets, we see potential for an incremental $50 billion to $100 billion market value," said the analyst in the report. "Apple's ecosystem can bring it differentiation in an otherwise commoditizing market. The television set is the one screen where the company is still lacking."
Even before an Apple-made TV set began getting some chatter, Credit Suisse conducted a survey last September showing a faster than expected "cord-cutting" trend based on the popularity of Netflix and other streaming services. In a note this week, the firm pointed out the surprising CEA survey from this summer as validation of their earlier analysis and current bearish thesis on media stocks.
"Our prior work suggests that a 10 percent reduction in traditional pay TV subscribers could result in a 10 percent decline in cable networks revenue, all else being equal," said Spencer Wang, consumer Internet and entertainment analyst for Credit Suisse, in a note Monday. "However, the impact on cable networks EBITDA (cash flow) would be even greater (20 percent to 25 percent), given the high fixed cost leverage in the business."
The firm also noted figures from JD Powers' Residential Pay TV study, which showed that six percent of customers between ages 17 and 34 have already cut their Pay TV subscription.
"The first adopters will bite no matter what and for regular folks, Apple needs to demonstrate the value proposition of a la carte pricing (paying by channel or even by season of show)," said Josh Brown, money manager and author of The Reformed Broker blog (link here: thereformedbroker.com). "It may take a while or could be instantaneous like iPhone. Either way, if I were Comcast or Cablevision I'd be quaking though."
Along with its design prowess and existing content and device ecosystem, Apple's advantage in entering this market would be its $65 billion in cash. Netflix changed its subscription plan make-up Tuesday in response to rising content costs, offering a streaming-only plan, a DVD-only plan or option to get both.
"Apple could use its cash position to secure a large amount of digital video content from studios or even purchase its own original content for a service similar to Netflix," said UBS's Um, who does not believe the Apple-connected TV set will come until next year. "The service could offer unlimited streaming capabilities of catalogued and premium content to subscribers for a monthly fee."
To be sure, not all analysts and investors believe this is the death knell for cable TV, in fact, Apple's entry into the "Over the Top" market, along with Amazon and Microsoft, will only increase costs for the consumer.
"The Street is getting all excited about cord-cutting, but doesn't realize that the content owners will not let it happen unless they make more," said Michael Pachter of Wedbush Securities. "If we cut the cord, it will be to pay more for greater flexibility. Imagine being able to watch all episodes of Twilight Zone, Curb Your Enthusiasm and 24 on demand. We would all pay more for that, not less."
What's more, the flat panel business has become a commoditized business with low profit margins. Samsung Electronics said at the start of the year that LCD panel prices would remain under pressure as supply far outpaces demand.
"Sony was riding high with the success of the Walkman and then through the years decided to become a major TV player," said Brian Sozzi, an analyst with Wall Street Strategies. "Now, it's stuck with too much capacity and is trying to turn a profit in TVs."
As of now, it seems it could break in anyone's favor at the moment. Shares of Apple, Time Warner and Comcast are all up about 10 percent on the year. Maybe Apple could use the novel approach of working with the cable providers?
"Apple has the best opportunity of anyone to build the interface that will connect everything in the home, Apple TV, DVR, cable, music storage, security, etc., into a seamless experience," said Scott Nations of NationsShares. "Given their expertise in design they could own a market that's been ignored for too long."
For the best market insight, catch 'Fast Money' each night at 5pm ET and the 'Halftime Report' each afternoon at 12:30 ET on CNBC.
http://www.cnbc.com/id/43713743