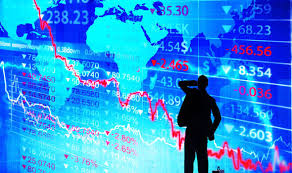 Stock markets around the world are trading down slightly, essentially treading water with US markets closed for the Independence Day holiday following a half session on Monday.
US markets were mixed Monday with the Dow rallying 0.6% and the NASDAQ falling 0.4% as national PMI reports came in well above expectations, and new orders surged. Mid-morning today, we'll see if US strength has spilled over into Canada. CAD is up slightly against USD heading into the news with USDCAD still trading below $1.3000.
Overseas stocks and crude oil are trading moderately lower today with the FTSE, Dax, Nikkei and WTI crude oil all trading down 0-0.25%. UK construction PMI came in slightly below expectations.
North Korea celebrating the 4
th
of July with a long-range missile launch has unsettled some nerves sending gold up 0.4% on the day.
The biggest action in currency markets so far today has been around central bank meetings. AUD and SEK are both under pressure as their central banks (RBA and Riksbank respectively) declined to join the hawkish shift seen at a number of other central banks lately. In this environment, neutrality is now being seen as relatively dovish.
Chart Signals: CAD under accumulation, EUR and GBP in correction mode
For the most part, world markets are steady with a number of contracts consolidating moves made on Monday. CAD remains strong while USD may be starting to rebound against EUR, GBP and JPY.
North American and European Indices
US 30 is closed for Independence Day
US SPX 500 is closed for Independence Day
US NDAQ 100 is closed for Independence Day
UK 100 has found some support near 7,300 but remains in a downtrend stuck below 7,400 the neckline of a completed head and shoulders top. Falling RSI indicates ongoing distribution.
Germany 30 has stabilized between 12,410 and 12,475, but it remains in a downtrend, trading just below its recent 12,475 breakdown point. Next downside support possible in the 12,320 to 12,330 area.
Commodities
Gold has stabilized near $1,225 but a lot of technical damage was done when it broke $1,240 and its 200-day average on Monday. Next support possible near $1,215 then $1,200.
WTI crude oil has paused for a rest near $46.70 having completed a 38% retracement of its previous downtrend. Support moves up from $46.00. Next resistance possible near $47.50 then $48.25 on trend.
FX
US Dollar Index is sitting just below 96.00 having bounced up from 95.40 Monday, but so far this appears to be a normal upward correction with the index still trading below its recent 96.30 breakdown point. RSI suggests downward pressure may be starting to ease but more confirmation required.
USDJPY has encountered resistance near 113.35, a Fibonacci level where it has stopped to rest following a rally up from 112.15. Rising RSI indicates continuing accumulation. Support has moved up toward 112.75 with next potential resistance near 113.75.
EURUSD continues to slip back in a normal trading correction after running into resistance near $1.1435. The pair has been trading between $1.1340 and $1.1380 recently with next support near $1.1285 its recent breakout point. RSI rolling over suggests upward momentum peaking and a correction starting
EURGBP is sending mixed signals. The pair recently broke an uptrend line near 0.8800 and remains stuck below that level. On the other hand, RSI holding 50 and a golden cross suggest continued underlying accumulation.
GBPUSD has dropped back under $1.3000 and appears to have completed an Evening Star candle formation that suggests potential for a correction, particularly with the RSI indicating upward momentum may have peaked for now. Initial support possible near $1.2915 then the 50-day average near $1.2865.
USDCAD is bouncing around $1.3000 trading between $1.2970 and $1.3020 consolidating recent declines and working off an oversold RSI. Trading below $1.3000 indicates ongoing distribution. Next downside tests near $1.2910 then $1.2820 with next resistance near $1.3070.
CADUSD remains well supported near $0.7700, digesting recent gains and working off an overbought RSI. The pair continues to consolidate between $0.7680 and $0.7730 a Fibonacci level.