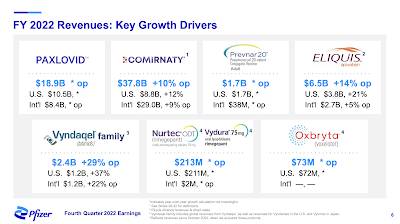 This article was last updated on May 9, 2023
Canada:

Oye! Times readers Get FREE $30 to spend on Amazon, Walmart…
USA:

Oye! Times readers Get FREE $30 to spend on Amazon, Walmart…
Pfizer's COVID-19 Vaccine 
– Projections for Future Sales
At Pfizer's Fourth Quarter 2022 Earnings Teleconference, the company provided the investing public with some interesting data on its sales and the projections for future sales.  In this posting, you'll see how important the COVID-19 pandemic has and will be to the company's past and future bottom line.
In the first slide of the presentation, the company brags about its 2022 results noting the following:
1.) it achieved historically high revenues, surpassing the $100 billion level (actually $100.330 billion, up from $81.288 billion in 2021 and $41.651 billion in 2020) for the first time in its 174-year history.
2.) it accelerated its research and development, maintaining "industry-leading clinical success rates and further improved cycle times".
This slide shows the key growth drivers for its fiscal year 2022 revenues: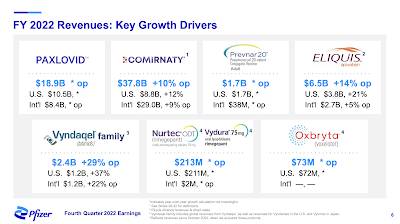 Pfizer's pharmaceutical answers to the COVID-19 pandemic, Paxlovid and Comirnaty, are responsible for the lion's share of the company's revenues in 2022 with its other drugs coming in at far lower levels as shown on this table:

Here is a breakdown of revenues by nation as a percentage of total revenues showing the company's reliance on the American market:

The ill-health of Americans and the willingness of physicians to prescribe pharmaceuticals has been a very important part of Pfizer's business model.
Revenues from operations outside the U.S. of $57.9 billion accounted for 58% of the company's total revenues in 2022. Revenues exceeded $500 million in each of 24, 21 and 8 countries outside the U.S. in 2022, 2021 and 2020, respectively. The increase in the number of countries exceeding $500 million in revenues in 2022 and 2021 was primarily driven by Comirnaty as well as, in 2022, Paxlovid.
From this table, you can see that Pfizer is facing a significant number of patent expiries in the future and that both Comirnaty and Paxlovid will become increasingly important to the company's revenues, should the COVID-19 or a future coronavirus pandemic take place:

Given the importance of the COVID-19 pandemic to Pfizer's profitability and its share price, the company obviously has to project that the use of their pandemic-related products will continue to rise.  Here is a table showing the company's projections for long-term COVID-19 vaccination levels and resultant dosage sales for the United States:
Here is a slide showing the anticipated sale of Comirnaty doses in the United States out to 2026:
Of course, since Paxlovid makes up such an important part of Pfizer's product line, here is a slide showing the anticipated number of COVID-19 symptomatic infections globally (excluding China) and the resultant use of its "oral therapy":
Here is a slide showing the anticipated global sales (excluding China) of Paxlovid out to 2026:
Now, let's look at the bad news for Pfizer.  According to the company's 2023 guidance, revenues will drop by between 29 percent and 33 percent to between $67.0 billion and 71.0 billion.  Adjusted earnings per share will drop by 48 percent to 51 percent to $3.25 to $2.45 from $6.58 per share in 2022.  This should be of great concern to investors who are always looking for increased revenues and profitability.  What is of even more concern is the fact that Pfizer has become a "one trick pony" with a great deal of its present and future revenue and profitability being linked to its COVID-19 pandemic line of products.  Without those products, unless another pandemic plagues the world, Pfizer goes back to being a modestly profitable company that suffers from a product line that has led to significant legal issues, a partial listing of which is shown here:

Let's close this posting with one final screen capture from Pfizer's 2023 Proxy Statement which puts everything into perspective:

And that, my readers, is what it is ALL about.
You can publish this article on your website as long as you provide a link back to this page.