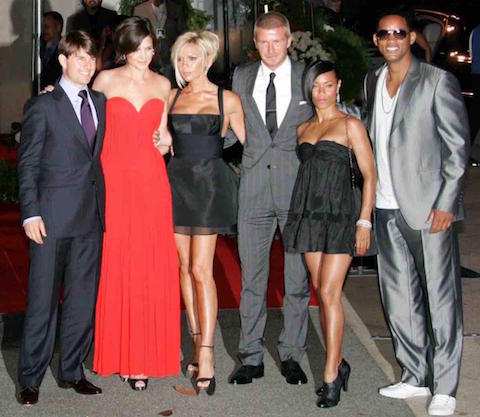 Back in 2007, Tom Cruise, his wife Katie Holmes, Victoria and David Beckham, and Jada Pinkett and her husband Will Smith were very chummy at a MOCA event in Los Angeles. Recently Leah Remini declared that Jada Pinkett was a Scientologist in those days, and still IS. We can imagine Tom and Jada working frantically to pull the Beckhams into their cult. Will Smith has always remained neutral, and we know what happened to Katie. Leah has pointed out that Jada and Will opened a Scientology school that taught the philosophy of L Ron Hubbard. Suri Cruise went there for a short time, and Jada's kids too (what kind of education do they have?) Now the school is closed. And Jada says Leah is "a liar." Sounds like a true Scientologist speaking, doesn't it?
Photo Credit: Pacific Coast News
Click HERE to read more and view the original source of this article.


Loading ...