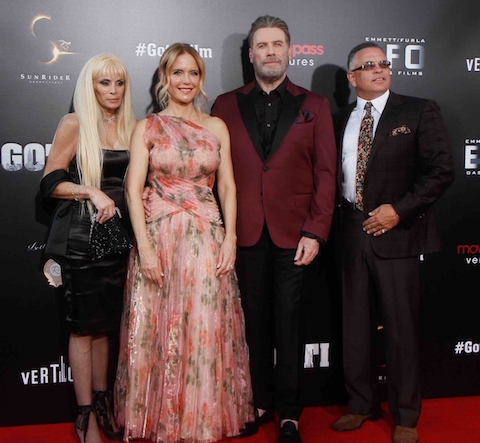 But oh, how they TRIED! It took YEARS and many changes for John Travolta to finally get his Gotti movie finished and he hoped it was his role of a lifetime. But it turned out to be a disaster – critics lambasted everything about the film (including Travolta's "gallery of wigs") and Rotten Tomatoes gave it a rare score of ZERO %! Scientologists remember the embarrassing failure of Battlefield Earth, the film they produced starring Travolta, and they vowed to do whatever they could to save Gotti. They advertised the movie with a Scientology inspired philosophy "Audiences love Gotti, but critics don't want you to see it – judge for yourself." Suddenly, numerous positive reviews appeared online praising Gotti – suspiciously written by people with new email accounts who had never written reviews before. It didn't help – once again, crime didn't pay.
Above, Victoria Gotti, Kelly Preston, John Travolta, and John Gotti Jr at premier
Click HERE to read more and view the original source of this article.


Loading ...