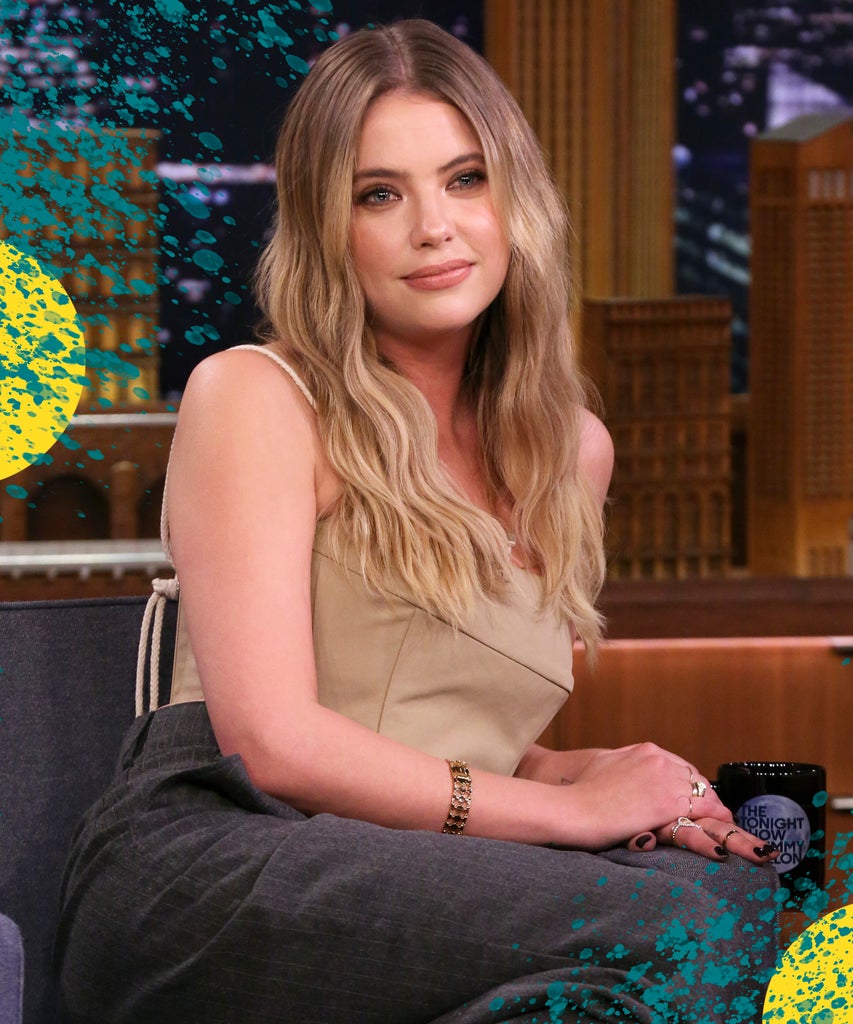 THE TONIGHT SHOW STARRING JIMMY FALLON — Episode 1049 — Pictured: Actress Ashley Benson during an interview on April 16, 2019 — (Photo by: Andrew Lipovsky/NBC/NBCU Photo Bank via Getty Images)
It's finally September, which means celebrities are flocking to their salons to find the perfect haircut and colour to usher in the fall season. While stars like Sophia Bush and Britney Spears are opting for warmer roots, others, like Lucy Liu and Lindsay Lohan, are trimming their long lengths into shoulder-grazing haircuts. Now, you can add Ashley Benson to both lists after she took her signature blonde hair several shades darker, and chopped it off for a "clavicle bob."
Late Wednesday evening, Benson took to Instagram to show off her new haircut, courtesy of hairstylist Marc Mena. "Chop chop," she wrote in the caption, showcasing the much darker, much shorter hairdo. "Clavicle bob," Mena wrote on his own Instagram post of Benson, referring to her new collarbone-length cut.
Chop chop @marcmena Got #MARCd
A post shared by Ashley Benson (@ashleybenson) on Sep 4, 2019 at 4:30pm PDT
Clavicle Bob 💇🏼‍♀️ @ashleybenson . . . #haircut #hairextensions me #marcmena #MARCd #MARCdIT #ashleybenson
A post shared by 𝙈𝙖𝙧𝙘 𝙈𝙚𝙣𝙖 (@marcmena) on Sep 5, 2019 at 4:18am PDT
Despite Mena's unique terminology, Benson's new look is essentially a long bob — or "lob." And it's a look that everyone — and we mean everyone — is opting into this fall, including Mandy Moore and Priyanka Chopra.
Although this cut is a celebrity favourite, this change is a bit more drastic for Benson, considering she's rocked bright blonde hair for years, and just last month, she refreshed her look with some long extensions and sun-kissed highlights, courtesy of Matt Rez at Mèche Salon and extensions expert Violet Teriti.
Spontaneous hair transformations seem to be the actress' specialty. In early 2017, she went an icy shade of platinum blonde just months before cutting her hair into a chin-length bob and dyeing it ash brown to better match her roots. Before that, she shocked fans by turning her hair bubblegum pink for her birthday. No matter the dye job or cropped length, Benson makes it work. She's a true hair chameleon.
Click HERE to read more from Refinery29


Loading ...