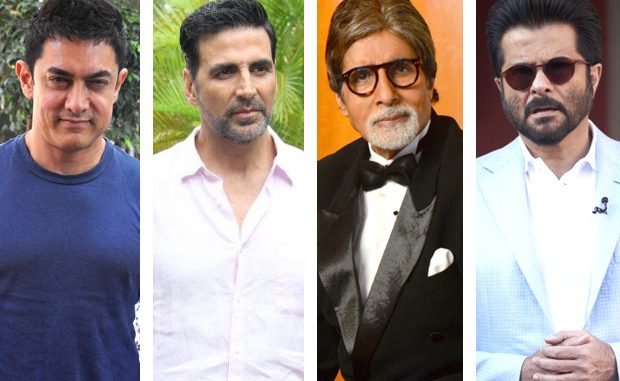 This article was last updated on April 16, 2022
Canada:

Oye! Times readers Get FREE $30 to spend on Amazon, Walmart…
USA:

Oye! Times readers Get FREE $30 to spend on Amazon, Walmart…
The immortal lyricist Anand Bakshi once said that "The real struggle of an artiste starts after he achieves fame!" Nevertheless, fame is also a matter of steps before an artiste "arrives". Some actors and actresses get instant fame, like Rishi Kapoor or Alia Bhatt from within the film fraternity, or Shah Rukh Khan and Deepika Padukone from outside. Time then to recall the success stories of 25 stars destined for big things who took baby steps towards stardom without getting much attention, before godmother Destiny and a godfather or two collaborated to make them what they are today.
Aamir Khan: Did you know that Aamir Khan had a supporting role in Ketan Mehta's Holi in 1984, in which he was billed as Aamir Hussein?  Qayamat Se Qayamat Tak only happened four years later!
Akshay Kumar: In the 1990 Mahesh Bhatt film Aaj (the film had been ready since 1987), Akshay Kumar played a fleeting role as a Karate instructor.
Amitabh Bachchan: Almost everyone knows that Amitabh Bachchan first gave a voiceover in Mrinal Sen's Bhuvan Shome in 1969. But he also was given a junior artiste's role in Bombay Talkie, the English-Hindi Merchant-Ivory production with Shashi Kapoor in the lead that released in India in 1972. It is said that Shashi was so impressed by this lanky newcomer that he had the scene deleted as it would harm his prospects because K.A. Abbas and Hrishikesh Mukherjee had signed him!
Anil Kapoor: Anil Kapoor's first appearance on the Hindi screen was in Umesh Mehra's Hamaare Tumhare as Raakhee's son. This was a full decade before Raakhee played his mother again in Ram Lakhan, when he was a topliner.
Feroz Khan: The future sultan of style had very humble beginnings as a leading man in modest films like Zamana (1957), Naukar, Didi, Ghar Ki Laaj, Mr India and Private Detective, and was usually billed as Feeroz! He even did a small cameo in Tarzan Goes To India (a Hollywood film) before his lead debut, Reporter Raju (1962).
Helen: Bibhuti Mitra's Shabistan, Raj Kapoor's Awara (the biggest hit of 1951) and M. Sadiq's Khazana were the 1938-born's three releases as a dancer—and she was just thirteen.
Irrfan Khan: He was a fairly popular name in television and theater circles, but Irrfan Khan opened his global film innings with a crossover film itself as debut—a cameo in Mira Nair's 1988 film Salaam Bombay.
Jackie Shroff: Dev Anand saw his hoarding as a model, and cast the man as the villain's sidekick in Swami Dada (1982). His latest assignment, Sarkar 3, also has Jackie Shroff as the principal antagonist. The Hero is now a versatile actor.
Jeetendra: Yes, we know he was a junior artiste in V. Shantaram's 1963 film Sehra, and the legend introduced him as hero in his 1964 jubilee Geet Gaya Pattharon Ne. But Jeetendra reveals that his true beginning was as one of the many princes in the song sequence 'Tu Chhupi Hai Kahaan' in the same filmmaker's 1959 Navrang!
Kamal Haasan: Kamal Haasan's maiden appearance came in the 1974 Aaina starring Rajesh Khanna and Mumtaz. As he said, "I did a one-scene role in it, but I could do anything for my mentor (in Tamil cinema) K. Balachander!"
Kishore Kumar: Ashok Kumar's younger brother Kishore Kumar not only was a first-time chorus singer in the former's 1946 film Shikari but also did a small role in it. It was 1951 before he got his first lead film in Andolan.
Mallika Sherawat: As Reema Lamba (her real name), Mallika Sherawat did a small role in the Tusshar-Kareena Kapoor film Jeena Sirf Merre Liye (2002), but later christened herself as Mallika Sherawat (the latter her mother's maiden name) and used 20-plus kisses to make a name with Khwahish (2003)!
Manoj Bajpayee: Shekhar Kapur's Bandit Queen, Mahesh Bhatt's Dastak and Ram Gopal Varma's Daud (1996 to '97) were Manoj Bajpayee's first few fleeting forays into films before RGV's Satya (1998) serenaded him into stardom.
Manoj Kumar: He started off playing a mendicant singing a patriotic song of sorts in his uncle Lekhraj Bhakri's Fashion, and also played small roles for a few years, often billed as 'Manoj'.
Mehmood: The legendary comedian had a long innings in minor roles, beginning with the Dev Anand-Madhubala film Nadaan (1951) when he was 19. The long wait for him to become the Mehmood stretched to the late '50s (Pyaasa, Parvarish).
Mithun Chakraborty: Ex-Naxalite Mithun-da faced the camera for an extra's role in the 1976 Do Anjaane starring Amitabh Bachchan and Rekha. He played their neighbour.
Mumtaz: Perhaps one of the most spectacular ascents in Hindi cinema, Mumtaz graduated from child artiste all the way to the Numero Uno heroine of the late '60s and early '70s before she quit after matrimony. Among her many early films in small roles were V. Shantaram's Stree, Sunil Dutt's Mujhe Jeene Do and Vishram Bedekar's Rustom Sohrab in 1963.
Nana Patekar: He was first noticed as the blackguard in B.R. Chopra's Aaj Ki Awaz (1984), but his debut actually was in Muzaffar Umrao Jaan Ali's 1976 Gaman in a tiny role.
Nawazuddin Siddiqui: Here was another long struggle—this man started out with the cameo of a suspected criminal in Sarfarosh (1999) where he starts weeping when cop Aamir Khan threatens to shoot him. Many more cameos and small roles were to come before Nawazuddin Siddiqui came to be known as an award-winning and versatile actor.
Raj Babbar: He was actually signed by Prakash Mehra first for a small guest role in his 1980 flop Jwalamukhi. Though he is soon bumped off in the film, he played Waheeda Rehman's fiancé! But his actual debut was to be in Kissa Kursi Ka's original version, which was destroyed during the Emergency in the mid-'70s!
Raj Kapoor: History has it that Raj Kapoor played several bit roles before Kidar Sharma introduced him in the 1946 Neel Kamal. However, among the small roles was one in a V. Shantaram film, for which the filmmaker paid him a comparatively big amount as he was Prithviraj's son! Raj's father admonished him for taking money from a legend, and they went to Shantaram to return the amount. When he refused to take it back, Raj invested the sum in land and built R.K. Studios on it!
Rajendra Kumar: Rajendra Kumar had a bit role in the 1950 Dilip Kumar film Jogan. Ironically, he went on to be called a Dilip Kumar clone in his serious films as a superstar.
Sadhana: Sadhana was a background dancer in the song 'Mud Mud Ke Na Dekh' in Raj Kapoor's 1955 blockbuster Shree 420. Her lead debut was in Love In Simla, a 1960 S. Mukerji hit directed by her future husband R.K. Nayyar, but it is said that she also did a small role in Raj Kapoor's Jis Desh Mein Ganga Behti Hai in the same year.
Shahid Kapoor: As a favourite of Shiamak Davar in his classes, Shahid Kapoor was part of the dancers in Yash Chopra's Dil To Pagal Hai (1997) and Taal (1999). And then Ramesh Taurani discovered the young man as hero material and launched him in Ishq Vishq (2003).
Shatrughan Sinha: The actress did a small but strong cameo as a constable in Mohan Segal's 1969 musical success Sajan. He was billed as S.P. (Shatrughan Prakash—his and his father's first name) Sinha in the credit titles! After this, he had one scene in Bhappi Sonie's Pyar Hi Pyar and a cameo as a Pakistani soldier in Dev Anand's Prem Pujari before hitting big time in L.V. Prasad's Khilona (1970).
Source: Bollywood Masala original article at Small debuts: 25 Stars destined for better things
You can publish this article on your website as long as you provide a link back to this page.