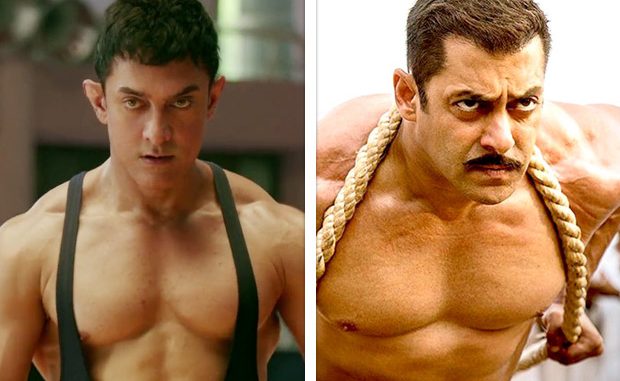 This article was last updated on April 16, 2022
Canada:

Oye! Times readers Get FREE $30 to spend on Amazon, Walmart…
USA:

Oye! Times readers Get FREE $30 to spend on Amazon, Walmart…
We watched Sultan some months ago—a realistically-made gripping story of a Haryana lad who turns wrestler to impress his objet d'amor—a wrestler's daughter who is a champ. He reaches great heights, inspired by his love, and turns world champion, while she sacrifices her ambitions later to become a mother. Trouble is, Sultan is now soaked in arrogance and the lust for more victories. He is abroad fighting a prestigious battle when his son is born with his own rare blood group, and needs life-saving blood transfusion. He dies, and husband and wife drift apart.
Sultan realizes that the real demons he has to fight are not his opponents but the blows given by life. And then he gets a chance at redemption, wins back his wife's love, and they both remain champion wrestlers and this time get a daughter whose aptitude shows that she will follow them into the ring.
What looked like a gender-equality social message in that film takes on a new dimension with the trailer release of Aamir Khan's much-awaited Dangal, his biopic on wrestler Mahavir Singh Phogat. This son of a wrestler fulfilled his unrealized (in his times) dreams to be an Olympic champion through his daughters Geeta, Babita, Sangeeta and Ritu, as well as his deceased brother's daughters Vinesh and Priyanka. Of these, Geeta and Babita shared several international medals, including at the Olympics, and participated even recently there.
The Parallels
While news about the making of Dangal was out in late 2014 around the release of PK, Sultan was announced in mid-2015. It would be fruitless to ponder now on which film was conceived first and written earlier. What we suspect is that writer (and director) Ali Abbas Zafar seems to have come across (or known) the story of Mahavir and taken it as the point of inspiration for writing his own fictional subject—a sports drama with the biggest star, Salman Khan, and the biggest banner, Yash Raj Films.
The first parallel is that both films are based in Haryana, the state with one of the worst sex ratios (879 in the year 2011) and a low literacy rate, apart from knowing no female wrestler worth its salt before the Phogat clan. In Sultan, Aarfa (Anushka Sharma's character) even battles boys in her same category—because there are no other girl wrestlers available.
This is exactly what Mahavir had to do when he was training his daughters with steely determination, and we also recalled Aarfa's revelation that her wrestler father wanted a son, but since he got her instead, decided to train her. This too is an echo with a twist of Mahavir's life, where he, according to what the trailer says, wanted a son who will become an Olympics Gold medallist before realizing that a prestigious honour does not recognize the gender of its winner! However, Mahavir's wife has been quoted as saying that he always wanted daughters, while it was she who wanted a son!
Mahavir was also influenced by his coach, Chandgir Ram, who had introduced his own daughters to wrestling several years ago, and whose Delhi-based Chandgi Ram Akhada was one of India's first to allow women wrestlers. Mahavir had admitted in an interview that his coach had told him that what he was doing for his girls would get him great happiness. "So keep doing it, don't be scared, face your difficulties like you face opponents, and be deaf to the criticism," his guru had advised him.
This echoed the sturdy stance in Aarfa's father's character, where Aarfa soon starts supervising even his other male students' progress.
The gender equality game goes on: we see a graphic scene in Dangal's trailer where two boys from the village are battered, and when their people come to complain and Mahavir (played of course by Aamir) smacks his nephew, is told that the battering was done by his two daughters!
Interestingly, it was in 2000, when Indian weightlifter Karnam Maleshwari became the first Indian woman to win an Olympic medal that Mahavir had decided to initiate his daughters into wrestling. This fact was revealed by Babita Phogat on Aamir Khan's show Satyamev Jayate and gives a distinct credence to the fact that Aamir must have been inspired earlier, with of course the piquant possibility that Ali Abbas Zafar might have watched the episode, been exposed to the story and thought of making an Indian sports-based drama next!
As he told me, Ali has grown up playing lots of sports in hometown Dehra Dun and later in Delhi, where he was in college. "I first made a romantic comedy (Mere Brother Ki Dulhan) because I wanted to play safe and be known as a hit director. I love period action, so I made such a film (Gunday) next. I have grown up on Rocky and Raging Bull and I then wanted to make a film on sports, but an Indian sport. Wrestling is known since our mythological texts. Our wrestlers win globally so many times, but they are not highlighted as it is not considered a 'cool' sport!"
This gender equality element was brought in cleverly by the director to merge with the standard sports drama plotline of the victory (or as in both films victories) of the underdogs—Sultan and Aarfa there, Geeta and Babita here!
The second parallel is significant but superficial: the trailer shows the Haryanvi dialect spoken in both films. Watch the trailer and you feel Sultan can step into Dangal in any scene, or even vice-versa!
And just for the record, Pritam, who scored the music of Dangal, was Aditya Chopra's first choice for Sultan too. We will not get into the reasons why he could not accept the latter film, but today, it makes sense! The difference between an entertaining fictional drama on wrestling and a wrestler's biopic, in this case, isn't all that much!
Whatever be the truth, Dangal and Sultan seem to be two sides of the same coin. Will we ever know, and will Ali reveal, why there is a sense of déjà-vu? And if we are right, then my respect for Ali Abbas Zafar as a storyteller goes up tenfold. After all, regardless of how Dangal fares, Sultan has become one of Hindi cinema's highest global grossers, and conceiving, writing and then making such a mix of fact, fiction and imagination is nothing short of brilliant.
As for Dangal, with another master—Nitesh Tiwari—at the writing and directorial helm, we are all set to watch a true life story of a wrestler and all the twists that came into his life. But the biggest twist, possibly, is Sultan, which released almost five months before it!
Source: Bollywood Masala original article at What the Dangal trailer says: Was "Sultan" a clever twist of Phogat's life?
You can publish this article on your website as long as you provide a link back to this page.