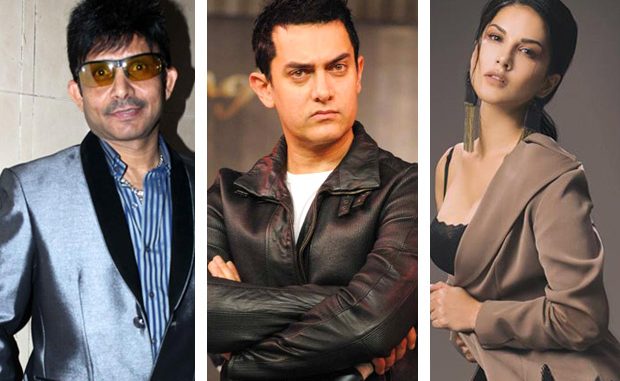 Kamaal R Khan, the self-proclaimed movie critic, has always tried to make sure that he stays in news by targeting celebrities and making unsolicited comments. Be it an actor, actress or a filmmaker, he never misses a single opportunity to gain the limelight.
Once again, KRK is in news but this time he has targeted Aamir Khan. As per the reports, Sunny Leone's film Beiimaan Love has apparently been banned in a UK theatre. The reason for ban is unknown but KRK took this opportunity to blabber about it and also dragged Aamir Khan into this. In a series of tweets, he poked fun at Sunny Leone after film was banned and reminded her about her porn star past. He made some unsavoury comments about Aamir and Sunny and called him a 'Besharam Insaan'.
UK Theatre owners refused 2release @SunnyLeone film #BaiimanLove Coz of her porn star status n Besharam @aamir_khan is promotng her in India
— KRK (@kamaalrkhan) November 6, 2016
Aamirkhan is doing wrong 2promote SunnyLeone 2prove himself secular in the eyes of Bhakts! He must know tat Bhakts will do #Dangal Pe Mangal
— KRK (@kamaalrkhan) November 6, 2016
I will not be surprised if Aamir Khan will divorce Kiran Rao to marry Sunny Leone 3rd time because such Besharam Insaan can do anything.
— KRK (@kamaalrkhan) November 2, 2016
Recently, KRK was also in the news after being accused for taking bribe from Karan Johar to bad mouth Ajay Devgn's Shivaay after Ajay had leaked a phone conversation between Kumar Mangat and KRK.
Source: Bollywood News original article at KRK calls Aamir Khan 'Besharam Insaan' for supporting Sunny Leone