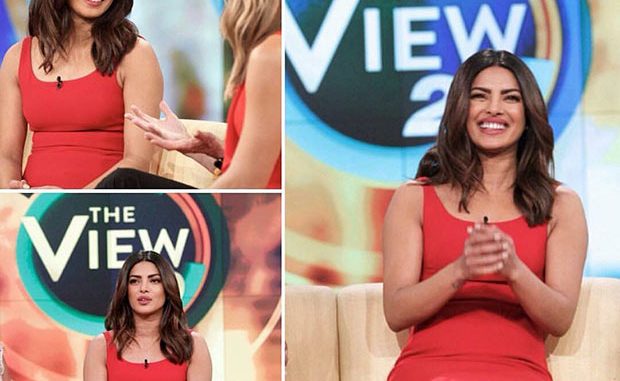 Priyanka Chopra has now become a household name across the globe and has even made to several coveted magazine covers, red carpets and talk shows internationally. On Friday, Priyanka Chopra appeared in one of the oldest talk shows, The View which is headlined by Meredith Vieira, Star Jones, Debbie Matenopoulos and Joy Behar.
On the show, Priyanka Chopra spoke about juggling between Hollywood and Bollywood, experiencing phenomenal success in the West and starring as a villain in Baywatch movie. She later moved on to an important topic about body shaming when one of the hosts addressed how a plus size model was recently body shamed online. She said, "It happens to all of us, especially in our business. You're supposed to look a certain way, to dress a certain way. You get the pressure from everyone around saying, 'You used to fit into the dress last month and not anymore'. You know people have reasons. Your body reacts a certain way."
Priyanka addressed the issue on how she deals with such people by saying, "It's such cowardice. And there's this beautiful button online called 'Block'. Just use it very often."
On the work front, Priyanka Chopra is currently starring in second season of her crime drama Quantico.

Source: Bollywood Masala original article at Watch: Priyanka Chopra addresses the issue of body shaming and gives advice to young girls



Loading ...