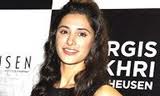 You can publish this article on your website as long as you provide a link back to this page.
This article was last updated on April 16, 2022

While Ranbir Kapoor was left to mingle with other guests at a certain bash at Grand Hyatt last week, his Rockstar co-star Nargis Fakhri was seen bonding beautifully with Deepika Padukone at the same party.
Post Rockstar, Nargis and Ranbir are no more interested in being perceived as a couple. On Wednesday night, at a party, when Nargis made her first formal appearance at a Bollywood do, she chose to be accompanied by a female friend. Ranbir came to the same party with his father Rishi Kapoor. Throughout the evening Ranbir and Nargis were in separate sections of the party. Says a source from the party, "Nargis and Ranbir hardly spoke to one another.
This was an important evening for Nargis, as it was her first appearance independent of the Rockstar events. And she made it clear that she was there at the party to meet the who's-who of the entertainment industry, something that she had not been allowed to do during the shooting and publicity of Rockstar."
According to the source, Nargis was at her charming best at the party trying her best to mingle with the guests – many of whom she didn't know – enjoying her maiden post-Rockstar appearance, leaving behind the team that she had been fastened to for the past one year, and that included Ranbir Kapoor. Says the source from Kwan, "This was clearly Nargis's evening. She made herself popular that evening spoke to a lot of people in the industry including yes, Deepika with whom she got along famously. She was clearly in her element with everyone including Rana Daggubati and Genelia D'Souza who were had flown in especially for the party from Hyderabad where they're shooting together for a Telugu film. Nargis was warm and inquisitive, eager to make the best of her first appearance outside the sheltered protective environment of the Rockstar team. And she blossomed under all the attention that she effortlessly got that evening."