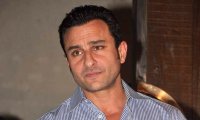 This article was last updated on April 16, 2022
Canada:

Oye! Times readers Get FREE $30 to spend on Amazon, Walmart…
USA:

Oye! Times readers Get FREE $30 to spend on Amazon, Walmart…

As the news of Saif Ali Khan assaulting NRI businessman Iqbal Sharma at Taj Hotel in Mumbai broke out, Saif started trending on Twitter. The micro-blogging site was flooded with jokes on the incident. Check out some really funny tweets on Chotte Nawab's famous punch.
@Ohfakenews: Saif ali khan beats up a guy named iqbal sharma in Wasabi restaurant in taj yesterday night who asked 'Is kareena your Daughter'. #bollywood
@MTVIndia: Next time you go to Wasabi, try the punch. Saif Ali Khan recommended it.
@BollywoodGandu: Saif beats up a guy in Wasabi restaurant after he was told he was being loud. This is what happens when you make it large. Repeatedly.
@kiduva: Saif Ali Khan always used to say that Sharukh khan was an inspiration to him. Who thought that was true!!
@dockydockrat: So the guy Saif Ali Khan hit in the Taj Hotel in Mumbai-Iqbal Sharma is South African. Makes him the first SA'n to be a hit in Bollywood:)
@creative_g33k: @ComedyCentralIn Saif Ali Khan punched Iqbal at The Taj because Iqbal refused to say "Wah! Taj.."
@fuzzhead045: I wonder what strategy would Saif Ali Khan come up with in a bar fight against Voldemort… You cant punch him on his nose man!!
@MTVIndia: So Saif Ali Khan punched some guy last night. Maybe he was trying to Pataodi his girlfriend.
@BewakOOf_Ladka Close: Saif Ali khan's favourite book "Punch-Thantra" #lrlr
@loveforlingerie: Maybe Saif Ali Khan was wearing a boxer yesterday #unhooked
@anirbanbhar: The Saif Ali khan case is being probed by an inspector named VINOD.
@thetanmay: So it's true what they say – Wasabi really hits you in the nose. #SaifAliKhan #re
@iambhavin: Saif Ali Khan punched Iqbal & broked his nose cos he said, mine is bigger than yours
@thetanmay: Know why Saif punched Iqbal Sharma so many times? Because no one can eat just one. #Sorry
@ranj_vktl: Saif Ali Khan to the PR team of #AgentVinod : "Have I made it large??"
@thetanmay: Iqbal Sharma is a weird name. One half of his name bowls damn well and the other half gets hit for a six by Javed Miandad off the last ball
@mojorojo: Saif didn't punch anybody. He walked out of the place, and his nose clocked someone. That'll happen.
@thebest_abhi: If you ever want to commit suicide, jump from Saif Ali Khan's Ego Level to Kareena Kapoor's IQ Level.