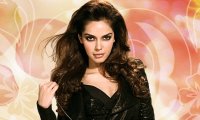 This article was last updated on April 16, 2022
Canada:

Oye! Times readers Get FREE $30 to spend on Amazon, Walmart…
USA:

Oye! Times readers Get FREE $30 to spend on Amazon, Walmart…

February 29, 1pm – Shazahn Padamsee sends me a text that reads – Can you make it home for lunch at 2pm? I am starving. What followed was a wild rickshaw ride to Bandra and thought bubbles such as – 'I hope there's not a lot of salad, I hope it's not bland, I hope there's dessert'. Too much to be thinking, isn't it? I reach the elevator and as I open the door I see the 'sexy' mother Sharon walking out. She looks at me from head to toe and said, "You look like junior Pacino from
Scarface
. Shazahn's waiting for you. Enjoy your interview." I am smiling in pride. It's a compliment coming from one of my many 'school-crushes'. Shazahn opens the door with a smile, a hug and a kiss. And before saying, "How are you?" she says, "How about some lunch now? I am super hungry." I ponder on my earlier thought bubbles and after being served some nice spicy 'chole', 'rotis' and sumptuous yellow 'daal', I wait for the dessert. Then I look at Shazahn who looked like an angel in her black pants and a blue vest… I completely forgot about the dessert. I preferred to regard it as I would imagine Shazahn: subtle, a little bittersweet, not blowsy and extrovert. Delicately made up, not highly rouged. Holding back, not exposing and, of course, with a flavour that lasts. And as I transcribe her, I check my watch. It's 1pm. It's lunch time. Can I call Shazahn again?
"I am one of those who will take time to reach the top. That'll be my success story"
Whatever little I have achieved today, I feel it's a huge milestone for me. Films were never on my mind, ever. I come from a theatre background. Both are completely different worlds. Whatever I have done so far is on my own merit. There are two kinds of success stories – the overnight superstars and the people who take their time to reach the top. I'd surely be going the latter route. I've had a blast so far in our industry. The way things are going is amazing.
"I also want to take time out to do theatre this year"
Right from the beginning I consciously chose to do films with big co-stars. Rocket Singh with Ranbir Kapoor was a great starting point that got me noticed. Then came Dil Toh Baccha Hai Ji with Ajay Devgn and now Housefull 2 with Shreyas Talpade. In between I did two South Indian movies with big stars too. I have no qualms in saying that I've worked damn hard. I also want to take time out to do theatre this year. It's time.

"Sajid Khan has gone ten times madder in Housefull 2"
Everyone knows that Sajid Khan is a crazy director. His Housefull was a super hit crazy comic caper. Here he has gone ten times madder. Can you believe it? I've seen Housefull five times and I think it's the funniest movie ever. These are the kind of films I've always wanted to do. It can't get commercial than this. Sajid knows his game. I am enjoying being in this mad set up. There is crazy comedy and lot's of mistaken identities and this film has me looking more like a Hindi Film heroine.
"My father doesn't want to do any movie after he did the Oscar winning Gandhi"
My onscreen father is a cutie pie but so is my off screen father. My father Alyque Padamsee will never do a Hindi movie (laughs). Actually, he'll never do any movie, be it Hindi or English. His last movie was Sir Richard Attenborough's Gandhi where he played the iconic role of Mohammed Ali Jinnah. He wants to be remembered with that one role all his life. He got offered two big Hollywood movies recently that he declined. I am not a big follower of Indiana Jones but my father was also considered for the part that Amrish Puri played in Indiana Jones and the Temple of Doom.
"To share screen space with Boman is dreamlike"
Boman is my on screen father. It was absolutely wonderful being Boman's daughter. He has known me since I was a kid. He did his first stage appearance in a play called Roshni that was directed by my father Alyque years ago. I used to be a little school kid running around back stage handing over the props to the artists. Now to act with Boman in a movie is surreal.
"Housefull 2 is more than just a paisa-vasool film"
To pull off a film with so many actors is not a joke. It's like you're paying to watch for one movie and you are getting double, triple, even more in return by seeing a gamut of stars in the film. From Akshay to John to Johnny Lever to Shreyas to Riteish to veterans like Mithunda, Rishiji, Randhirji. It's a dream come true for any individual. Housefull 2 will be more than just a paisa-vasool.

"Sajid Khan cracks one joke per second"
Sajid Khan cracks one joke per second. You cannot stand still on the sets. In a serious scene you have to laugh first and then act. He is a complete mad hatter. He has so much energy. By the way, never call him 'Sajid Sir' or he'll laugh out loud. That's him.
"With experience and expertise of Shreyas, he has got out the best out of me"
Shreyas is king of comedy. That's his genre. Having a good co-star is so important. I've been blessed with fantastic co-stars. The weaker your co-star, the weaker your performance. I am a struggler right now. I am a baby. But with experience and expertise of Shreyas he has got out the best out of me so far. He is simply superb as one of India's finest comic talents. I loved him in Golmaal too but Housefull will mark his best in comedy and I can guarantee you that.
"Ranbir is focused, Ajay is effortless and Shreyas has crazy comic timing"
What I've learnt from Ranbir is quite rare. I barely had ten days of shoot with him. I am addicted to his focus. He has a tunnel vision. He is like a horse with blinkers on. To have two personalities on sets is amazing. Ajay Devgn has been my favourite. He is so effortless. I just never felt that he acts. Ranbir too is like that actually. I learnt comic tricks and tips from Shreyas in Housefull. His forte is his comic timing.
"Sajid Nadiadwala should act in movies"
Not many people know this but Sajid Nadiadwala is a great actor. He should act. Someone should cast him in a comic role. He is creatively gifted, breathes cinema and one night we all played 'charades'. That's the time I got to know that he is a great actor. He is super animated guy with a hidden talent.

You can publish this article on your website as long as you provide a link back to this page.