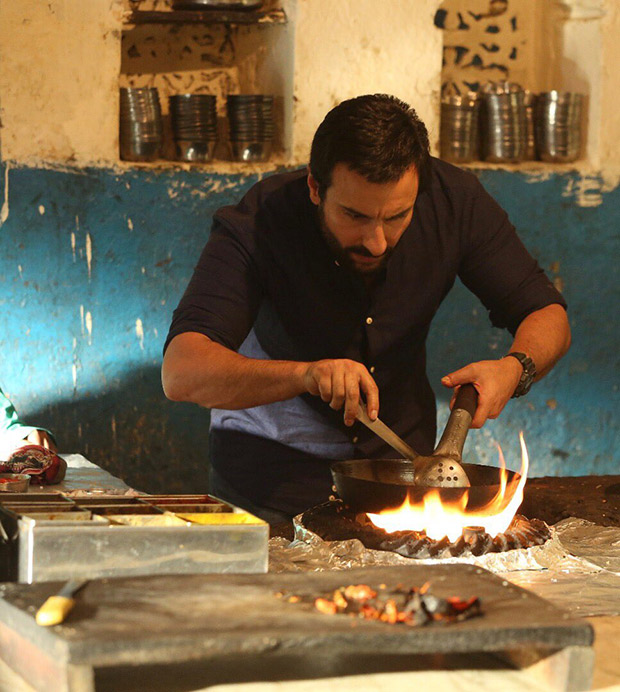 The trade and industry is in a state of shock after the Saif Ali Khan-starrer Chef opened to disastrous collections at the box office. The film looked niche but there were still some expectations, considering Saif is a popular actor and the film is directed by Raja Krishna Menon, who charmed last year everyone with Airlift. The reviews were positive and again, it was expected that the film would show a growth over the weekend. But the opening was very poor and it showed no growth over the weekend. The first week's collections of Chef stood at Rs. 4 crore and the film might not even cross Rs. 8 crore.
We spoke to the trade to ask what went wrong with Chef and all of them agreed that the film was at a disadvantage due to its niche feel and moreover, Judwaa 2's success also played spoilsport. Harveen Singh, distributor from Rajasthan said, "The collections of Chef are really very, very bad. They are less than even a non-starrer film. I can't really figure out why it happened. Despite having Saif Ali Khan in the star cast, it had like less than 10% occupancy. And those who have seen it are saying that it's not that bad. Maybe the film didn't collect because of the title. After all, it plays an important part." Leading distributor Rajesh Thadani stated, "The promos of the film were not exciting and hence the hype was not there among the audiences. Also, the success of Judwaa 2 and the strong second week of the Varun Dhawan-starrer also had an impact on the collection of Chef."
Girish Johar, film trade and business analyst, made some interesting observations. He opined, "The very slow start of Chef was unexpected. I was personally expecting some start at the box office because of Saif Ali Khan and he has excelled in this space before. Also, Chef is the official remake of a Hollywood film. The Hindi remake of the film was made for those high-end multiplex audiences who had already seen the English original. So for them it was a repetitive viewing." He further added, "The film has a backdrop of Saif being a chef but essentially it's a father-son story. The film also went a little off-track on this aspect. I am not saying it's bad but it gave confusing signals at the end of the day."
Judwaa 2
, but even the not-so-profitable pre-Diwali period spoilt the chances of
Chef
further. He said, "When a big film does very well, which in this case is
Judwaa 2
, the film that releases in the next 2-3 weeks always gets affected heavily. There are exceptions, like
Baahubali
releasing during
Bajrangi Bhaijaan
's release and doing extremely well. But such exceptions are rare. Moreover, the pre-Diwali period is quite
'thanda'
, as it's called in trade circles. And anyways,
Chef
was targeted only for the high-end multiplex audiences. It was never an out-and-out commercial film. Yet, we expected more numbers to come in. We thought it might do Rs 4 crore in one day but it achieved a similar figure only after three days!" Atul Mohan also felt that Saif's casting doesn't attract audiences in hordes. "Saif Ali Khan is not a big draw nowadays. Previously,
woh
solo films
mein thoda bahut chal jaata tha
."
Trade analyst Taran Adarsh believed that the film itself had some problems that probably affected its prospects. He stated, "I won't say Chef is a bad film but it was too simple and ordinary to leave a mark. Yes, Saif Ali Khan does very well and certain moments are definitely good. But it was a bland experience in terms of entertainment. It didn't compel me to say 'Wow' anywhere. Moreover, the Judwaa 2 wave is still going strong and that was the first choice of moviegoers."
Taran emphasized that nowadays, a film has to provide high-qualitative entertainment to get viewers. He reasoned, "In today's times, it is very expensive to go to theatres. Moreover, there are so many options for entertainment today. During the weekend, there was Baahubali 2 – The Conclusion and 'Bigg Boss 11' on TV which had more appeal than Chef. And I have been saying this since a long time that we need to make films that has a pan-India appeal. We can't be making a film for select multiplex and cities. The producer has to recover his cost in the weekend itself because in the second week, a new film will release and take over the shows."
Trade expert Komal Nahta minced no words in sharing his views, "Everything went wrong with the film. I am shocked that so many journalists gave Chef 3 and 3 ½ stars. It's such a bad film that I am not at all surprised at its performance at the box office. It has such a bad screenplay and it just doesn't touch your heart. It just doesn't make any impact"
Click HERE to read more and view the original source of this article.

Loading ...