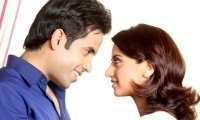 This article was last updated on April 16, 2022
Canada:

Oye! Times readers Get FREE $30 to spend on Amazon, Walmart…
USA:

Oye! Times readers Get FREE $30 to spend on Amazon, Walmart…

Don't ask who's who, what's what, and why things happen here. And your life will be much easier while watching this utterly scrambled comedy. A homage to those magnificent maestros of mirth David Dhawan, Anees Bazmee and Rohit Shetty,
Chaar Din Ki Chandni
(CDKC) takes the theme of outrageous festivity to a new high.
Characters, all 27-28 of them, are screaming, guffawing, burping or performing one or the other bodily functions that we are squeamish about when not watching a boorish comedy.
So what's this Chandni about? There's a wedding at the centre of the bustling canvas. As in Karnik's earlier comedy Yamala Pagla Deewaana you'd be well-advised to focus hard on that wacky wedding because that's where the army of characters, some loud others cacophonic, congregate in a combustion of comic compulsions.
Be warned. If you are allergic to toilet humour then you might find Karnik's comedy a pain in the you-know-what. To his credit Karnik doesn't let go of the sur of chaotic satire from the first to the last blast. His actors too are completely soaked in the hilarity. Anupam Kher and Om Puri as the two patriarchal heads of two demoniacally dysfunctional families go through the motions of free-falling slapstick without tripping over the jokes.
The rest of the vast cast features some surprising actors, like Chandrachur Singh and Anita Raj both of whom return after quite a gap. Regrettably the tightly-packed canvas allows no room for any actor to shine beyond the cheesy lines written by Amit Masurkar and Nishant Hada.
Miraculously, the love story between the star-crossed couple survives. Tusshar and Kulraj are no Romeo and Juliet. But then this is no epic love tale. The pair here is entertaining. Tusshar's Sardar act is amusing. The packaging and presentation of the comic ambience throws forward a certain quicksilver quality of humour that isn't meant for all tastes.
If you like your humour ladled out on a wide palate pickled with lowbrow punch lines that don't quite make it into the realm of rollicking entertainment then gives this one a try.
As far as ensemble comedies in Bollywood goes Char Din Ki Chandni is spunkier more energetic than what you've probably seen in the other recent ha-ha-thons.
You can publish this article on your website as long as you provide a link back to this page.