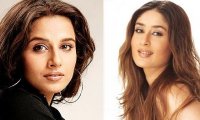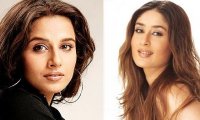 Vidya Balan is living by the thumb rule of 'entertainment, entertainment & entertainment' and an actress who could well be closely watching this progress is none other than Kareena Kapoor. While there have been a series of money spinners delivered by Kareena in the recent past, what would now sit at the top of her wish-list is an award winning act.
Though she didn't quite mind Vidya's winning streak when it came to her bagging all the awards for The Dirty Picture right till the recently announced National award, Kareena would certainly want her Heroine to count in a big way this year. With Vidya's Kahaani winning her accolades all over again, it is going to be interesting times for the two actresses all over again.
This is quite evident considering the fact that Kareena's Heroine is being pitched as a film that would fetch commercial as well as critical acclaim. With National Award winning director, Madhur Bhandarkar at the helm of affairs, one does expect some exceptional performances from its lead actors.
"Let's not forget that right from Tabu in Chandni Bar to Priyanka Chopra in Fashion (who went on to win a National Award for the film), Madhur's leading ladies have delivered their career best performances with him", says an insider, "For Kareena too it is an unwritten commitment that there would be fireworks all over again with Heroine. Moreover since it is a heroine centric role, Kareena too has been going all out for the film. Now that Vidya's performance is being talked about so much for Kahaani, it is clear that the Kareena's author backed role in Heroine would be talk of the town in a few months from now."
Though it is yet to be seen whether Vidya goes on to win yet another National award for her terrific performance in Kahaani, it is clear that she has already earned a nomination at the least for all the awards that would be announced for 2012. On the other hand other actresses like Rani Mukerji (Aiyaa), Priyanka Chopra (Barfii) and Deepika Padukone (Cocktail) may well have a surprise or two in store once their films release.
With a horde of actresses upping the ante, one now does expect Kareena to 'make it large'. We are sure Saif will approve!