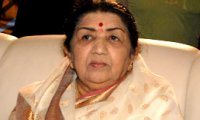 This article was last updated on April 16, 2022
Canada:

Oye! Times readers Get FREE $30 to spend on Amazon, Walmart…
USA:

Oye! Times readers Get FREE $30 to spend on Amazon, Walmart…

The Nightingale and the Little Master go back a long way. Though jubilant about Sachin Tendulkar's 100th 100, Asia's Nightingale Lata Mangeshkar is not at all happy with the pressure that was put on the star-cricketer to score that last century.
"Why do we do this to the best of our artistes and sportspersons?" asks Lataji angrily. "Why do we place so much performance anxiety on them? People think it's been smooth-sailing all the way for me. But I've gone through a rough patch in my career. There was a time when I was ready to quit. I fought back. And so did Sachin."
Lataji derides the pressure that was put on Tendulkar to score the 100th 100. "It was as if the other 99 hundred runs ceased to matter. I have to say we as a nation do not respect our greatest treasures. Sachin was going through a rough patch. Fortunately he never gave in to the pressure to score. He continued to go out there and play because he loves the game. I understand that. I too never did what I do because I had to perform. I sang without thinking of how well it would turn out."
Lataji flares up at the mention of retirement for Sachin. "Why should he retire? Who decides to retire a singer or a sportsperson? Sachin will retire when he wants to."
About the clinching game on Friday, Lataji says, "I had a premonition that this could be it. I somehow saw the century coming. I wasn't surprised when it happened."
Reminiscing about her long association with Sachin, Lataji says, "I first saw him play at Sharjah. I remember a sandstorm hit the stadium. But Sachin stood his ground. He sat there with his cricket togs on waiting for the storm to pass. In him I saw the determination to excel that I always admire. I remember a few years ago on Sachin's birthday on 24th April I was invited to his friend Raj Thackeray's home to meet him. I had taken a figurine of Sai Baba because I got to know Sachin is a Sai bhakt."
A huge cricket fan, Lataji's love for the game goes back to her childhood. "My father Pandit Dinanath Mangeshkar was a cricket fan. I guess I inherited his love for the game. I remember I watched my first live cricket match at the Brabourne Stadium when I was 15. I sat in the the cheapest stalls with a family friend and clapped like crazy. Later many of the cricketers like Veenu Mankad, Vijay Hazare and Sunil Gavaskar were family friends. They'd come home for meals. I remember once just before a big match I had invited the Indian cricket team home. I had made gajar ka halwa for them. After they won the match, Dilip Vengsarkar came to my building on Peddar Road and shouted up to my flat that the gajar ka hawla had worked."
Says Lataji, "I am very fond of many cricketers especially Sunil Gavasakar and Sachin Tendulkar. Among the international cricketers Gary Sobers was always my favourite. He would be so confident about his performance that he'd be making plans for after the match even before playing."
Ponders the Nightingale, "Sadly we steal our sportspersons' confidence by demanding too much from them."
You can publish this article on your website as long as you provide a link back to this page.