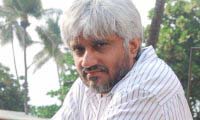 You can publish this article on your website as long as you provide a link back to this page.
This article was last updated on April 16, 2022

It was on March 20, 1992 that Vikram had begun his filmmaking journey with Rahul Roy and Pooja Bhatt starrer
Jaanam
. That was his first day of shooting for the film which was produced by Mukesh Bhatt. Now 20 years later, life has come back full circle for Vikram who is directing a film again for the Bhatts. As he directs Emraan Hashmi and Bipasha Basu for
Raaz 3
today, Vikram gets all nostalgic.
"Vikram and Bhatt brothers were a great team and they gave quite a few superhits like Ghulam, Kasoor and Raaz together. However, they had a fallout post Inteha and Footpath (which was incidentally the launch pad for Emraan Hashmi). They stayed away from each other for full eight years before making an emotional reunion with Raaz 3", informs a close family friend of the Bhatts.
Now that Vikram is back on sets for a Bhatt film and shooting exactly 20 years after beginning his Bollywood journey, the filmmaker feels that he has seen it and done all.
"In the last two decades I have made some good, bad and indifferent movies", confesses Vikram, "Still, it is a great feeling to be standing on the wicket for 20 long years. Frankly, it has taken a lot out of me as a person. There has been a lot of pain, suffering, euphoria, annihilation and joy."
He is understandably nostalgic about his journey because his post-fallout days with Bhatts were hardly productive, especially as he saw a career low of nine flops in a row. After Footpath and Inteha, some of his other notable box office disappointments were Aetbaar, Elaan, Deewane Huye Paagal, Ankahee, Life Mein Kabhie Kabhiee, Red and Speed. Though he did receive critical acclaim for a few films, commercial success eluded him till 1920, Shaapit and Haunted – each of these being horror affairs – got him back in the reckoning. Though none of these were with Bhatts, there was a call of homecoming with Raaz 3.
"In fact I was talking to (Mahesh) Bhatt saab and Mukeshji that there is nothing that I have not seen in these 20 years", says Vikram, "I have seen good reviews, bad reviews, tantrums, good stars, bad stars, honest stars, good producers and bad producers. There is nothing left for me to see something out of the ordinary."
Well Vikram, never say never. You never know what could possibly be in store in years to come.