Of late, we have been getting several glimpses of Janhvi Kapoor and Ishaan Khatter shooting for Dhadak. The newbie actress recently resumed work after the sudden demise of her actress-mother Sridevi. Now that the shooting has started in full swing so that the makers can keep up with their deadline, a new problem cropped up. A video from the sets of the film went viral on social media. In order to prevent these incidents, the makers decided to ban phones on the sets of Dhadak.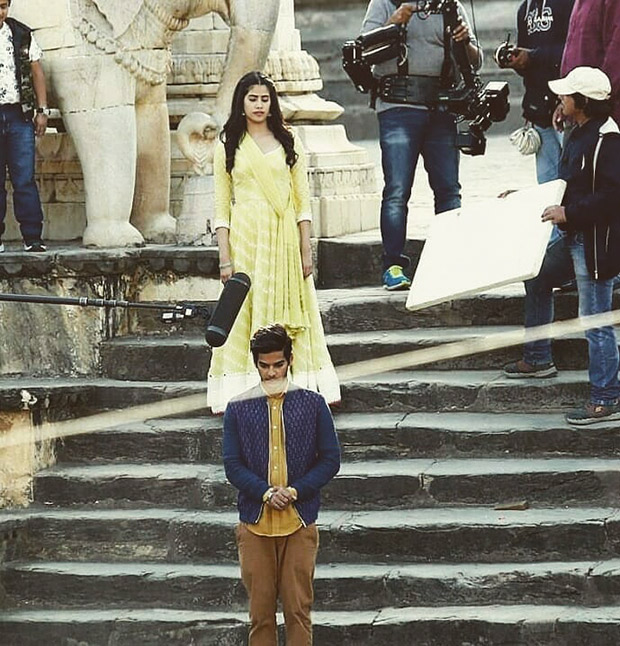 The video in question featured Janhvi Kapoor looking beautiful in a yellow anarkali whereas, Ishaan looked stylish in a shirt and ethnic jacket. It also featured them interacting with their onscreen friends in the film. The video was shot from their Jaipur schedule which was completed about a month ago. This left makers of the film Dhadak miffed. The makers were making every attempt to keep Ishaan and Janhvi's looks under wraps but looks like they were unsuccessful in doing so.
Obviously, the video leak has left the filmmakers angry over the social media frenzy and they even approached the network to take down the video. Alas! They haven't been completely successful. Although they managed to pull down the main source, the fan clubs seem to have berserk sharing this video all over and the makers have been unable to stop it from going viral. In fact, we too found remnants of the said video that are currently being spread through fan clubs.
A post shared by Ishaan khatter ? (@ishaankhatter656) on Mar 12, 2018 at 12:06am PDT
Hence in order the makers are currently striving to prevent any more mishaps. Speaking on the same, Shashank Khaitan recently commented on the incident saying that all they can do is ban mobile phones in order to protect their product. They have been shooting in a lot of outdoor locations and hence, he stated about these difficulties being faced by them considering that everyone around them have camera phones. And he reasoned that they won't be able to stop anyone and everyone. Hence, he believes that there are many people who have extended their support to his plea.
The video, we hear, were leaked out by fans who had queued up outside the sets to catch a glimpse of the shoot. Considering that Dhadak is a remake of Sairat, the plotline is something that many are aware of. However, the makers want at least the mystery of their looks and other details alive. However, shooting on outdoor locations and the menace caused due to camera phones is making it increasingly difficult for them.
Also Read : Post Sridevi's demise, Janhvi Kapoor resumes the shoot of Dhadak in Mumbai
Click HERE to read more and view the original source of this article.

Loading ...