Priyanka Chopra is an inspiration to us mortals and that even her detractors can't deny this. Among other things, she also is a Goodwill Ambassador for UNICEF. Recently, she went to Bangladesh to visit Rohingya refugee camps and came back with a lot of sad stories and urged masses to help rehabilitate the kids in the camps. She shared some pictures from her visit which is a mirror to the heart breaking reality which these kids face everyday. PC urges us to help make their tomorrow better and shares a heartfelt post on Instagram. She writes, "I'm in Cox's Bazar, Bangladesh today for a field visit with UNICEF, to one of the largest refugee camps in the world. In the second half of 2017, the world saw horrific images of ethnic cleansing from the Rakhine State of Myanmar(Burma). This violence drove nearly 700,000 Rohingya across the border into Bangladesh – 60% are children!"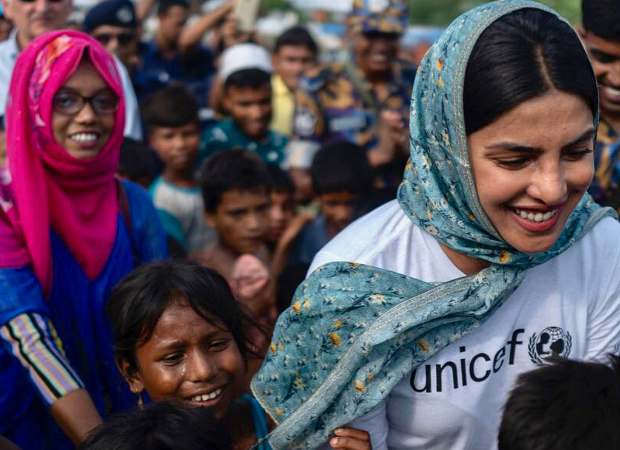 www.supportunicef.org
."
On professional front, Priyanka Chopra will make a comeback in Bollywood with Salman Khan's Bharat. She will also be performing at IIFA Awards which will be held in Bangkok next month.
I'm in Cox's Bazar, Bangladesh today for a field visit with UNICEF, to one of the largest refugee camps in the world. In the second half of 2017, the world saw horrific images of ethnic cleansing from the Rakhine State of Myanmar(Burma). This violence drove nearly 700,000 Rohingya across the border into Bangladesh – 60% are children! Many months later they are still highly vulnerable, living in overcrowded camps with no idea when or where they will ever belong…even worse, when they will get their next meal. AND…as they finally start to settle and feel a sense of safety, monsoon season looms…threatening to destroy all that they've built so far. This is an entire generation of children that have no future in sight. Through their smiles I could see the vacancy in their eyes. These children are at the forefront of this humanitarian crisis, and they desperately need our help. The world needs to care. We need to care. These kids are our future. Pls Lend your support at www.supportunicef.org #ChildrenUprooted @unicef @unicefbangladesh Credit: @briansokol @hhhtravels
A post shared by Priyanka Chopra (@priyankachopra) on May 21, 2018 at 6:27am PDT
Also Read: Tabu joins Salman Khan, Priyanka Chopra in Bharat and this will be her role
Click HERE to read more and view the original source of this article.

Loading ...