Alia Bhatt is a steadfast force at the box office. Her film choices, acting chops and pan India relevance is what keeps her at the top. But her success comes with a strong sense of self awareness and that's what keeps her going. Her latest film Raazi, directed by Meghana Gulzar, has entered the coveted Rs 100 crore club and she is ready to floor us with Ranveer Singh's Gully Boy and Bramhastra with Ranbir Kapoor. She turns a cover girl for Open magazine which calls her a Wonder Girl, and of course she is. All of 25, she has scaled great heights of popularity and success and that sure makes her some kind of a super woman!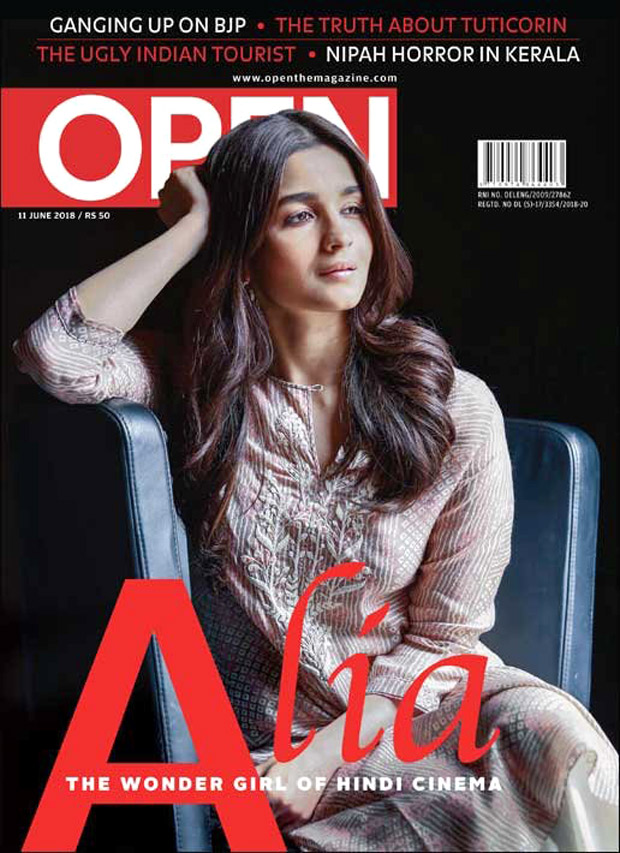 Alia Bhatt reveals that she is working round the clock and gets only about 45 minutes for herself and what she choose to do in that time? Well, she just unwinds and does something extremely unlike for a filmstar. She says, "I read a book or do something completely not film related in that time. I need to feel the difference. When you're playing the character all day, you need to come home and unplay it. That's very important."
Alia also reveals her process behind playing Sehmat, the lead protagonist of
Raazi.
She says, "The grace and simplicity of holding back but still having respect for everything and everyone is something I had to learn in this film. Respect can be given in two ways, one in your heart truly, and one in body language. We in today's generation may have respect for people, but our body language may be a little casual. What I needed to do with this film is control that. It gave me a new perspective on how a girl can be."
On personal front, she has newly started dating Ranbir Kapoor and looks happy in her relationship! Stay tuned to know more about the actor.
Also Read: SCOOP: Alia Bhatt – Sanjay Leela Bhansali to team up?
Click HERE to read more and view the original source of this article.


Loading ...