Ranbir Kapoor is coming up with a biopic on Sanjay Dutt this month and it would be an understatement to say that there is huge hype around the movie. Since its teaser and trailer launch, public interest has piqued to see him in the garb of Bollywood's original bad boy. Ranbir's fan base sure is excited for his movie but more than that, Dutt's stranger than fiction life has got people interested. Ranbir Kapoor spoke to Bollywood Hungama exclusively and spoke about the way he brought Sanju's rockstar like character to life for Rajkumar Hirani's directorial. He said that before he read the script of Sanju, he knew Dutt as a family friend and had made him some kind of role model, because even as a kid he was impressed with his larger-than-life personality. But it was a different challenge altogether to translate all of these nuances professionally on screen.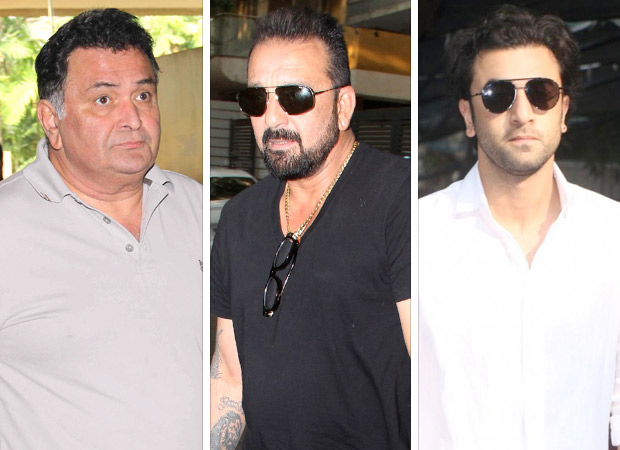 Ranbir Kapoor revealed, "We knew about Sanju Sir's drug stories, girlfriend stories, but when I read the script it was totally shocking. I kept questioning – Is this true, did this happen!" He also admitted that he has been a
Sanju
fan. He then revealed that Dutt is their family friend as he has worked a lot with dad Rishi Kapoor and has been very fond of Neetu and Ranbir. Ranbir said, "Sanju sir bought me a bike (Harley Davidson) six years ago, he made me buy cars. He suggested that I buy a sports car and the white Audi that I has been designed by him." He further stated that this indulgence is not taken well by Rishi who has been a strict parent to Ranbir. He said, "My father calls him (Dutt) shouts and abuses and tells him not to spoil me. But he enjoys it. His life is amazing. He has fallen down many times due to his own mistakes and immaturity (If I can use that word) and to rise in industry like this where there is certain heaviness and spotlight on you, is a big deal. To fall so many times and rise again, this is a story of a true boxer."
Sanju will release on June 29. Along with Ranbir Kapoor, it stars Sonam Kapoor, Anushka Sharma, Paresh Rawal, Vicky Kaushal and Manisha Koirala in important roles.
Also Read: Sanjay Dutt is impressed by Ranbir Kapoor after watching Sanju trailer
Click HERE to read more and view the original source of this article.


Loading ...