Always known to follow her own path and steering clear of convention actor and musician Shruti Haasan proves yet again why she's referred to as the "rule breaker". Under her production banner Isidro Media, Shruti is all set to produce and present the latest works of director Jayprakash Radhakrishnan – The Mosquito Philosophy.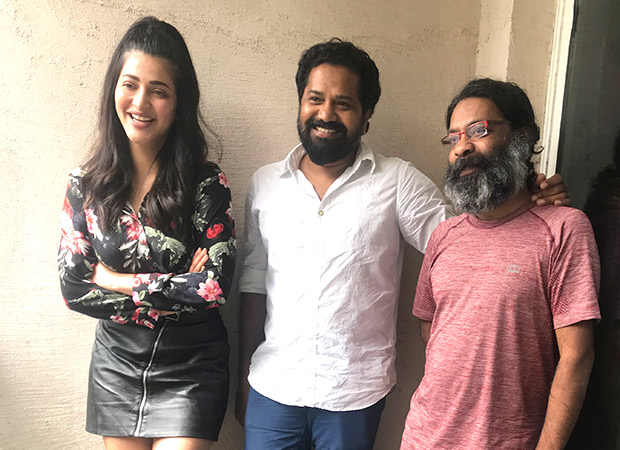 JP, as the director is fondly called, has been the man behind one of the most talked about features titled Lens which traveled the festival circuit and created tremendous buzz around it. All set to raise the bar with his next, JP will be seen showcasing a film defined by the idea of minimalism and basic filmmaking and storytelling techniques.
Despite being in Tamil, the film's story has universal appeal with a very real scenario at its core and is shot with basic storyline, no scripted dialogues and bare minimum equipment and crew to ensure the most real showcase of life is replicated on screen.
Talking about his next film, director JP says, "Filmmakers over the world have struggled hard to make films that are as close to reality as possible to ensure the art they create connects seamlessly with the audience. The Mosquito Philosophy, born out of the quest to showcase a real life and real time narrative, is an interrogation of a society caught between the throws of tradition and modernity seen through the story of 4 friends. The film is shot with a basic idea of conversation without scripted dialogues in the most minimalistic way. Through the process of making this film I realized the power of spontaneity; it makes even the smallest moments alive and truthful"
Ask him about associating with Shruti Haasan and Isidro Media and he says, "It's almost surreal when I think of how this happened. One minute I was talking to Sarikaji about life in general and this film and next thing I know, Isidro Media comes on board to present my film. I'm so happy to have partnered with a team that believes in my talent and my vision and have contributed to being a part of the change in the cinematic language of India and the world. Together, we look forward to taking Mosquito Philosophy across the globe and share our journey with audiences the world over."
Talking about presenting JP's latest work of unique art as a producer, Shruti Haasan says, "Our belief at Isidro is to present extremely interesting, edgy and different kinds of content. It can be content across various formats just as long as they further the creative process and make it possible for people to experience world-class storytelling. When we saw The Mosquito Philosophy and after having seen JP's last works especially his much-acclaimed film Lens, we knew we had found the right person to associate with. He has a very edgy vision to creatively showcase even the simplest stories. It's fantastic to work with someone who is courageous in offering new content that challenges conventional thinking. We are really excited to present this film under the Isidro banner and hope this is the start of a long term working relationship."
Meanwhile, Shruti Haasan is the currently shooting untitled gangster drama helmed by director extraordinaire Mahesh Manjrekar. The film stars Vidyut Jammwal in the lead.
Also Read: Sarika visits daughter Shruti Haasan on the sets of her next film by Mahesh Manjrekar
Click HERE to read more and view the original source of this article.


Loading ...