The entire world is celebrating International Yoga Day today. People around the globe have been sharing pictures and videos doing Yoga poses. Bo-town celebrities have opted for Yoga that has changed their lives. From Kangana Ranaut to Shilpa Shetty, Karisma Kapoor to Malaika Arora, everyone has shared their yoga stories and how it has completely changed the way they live their lives.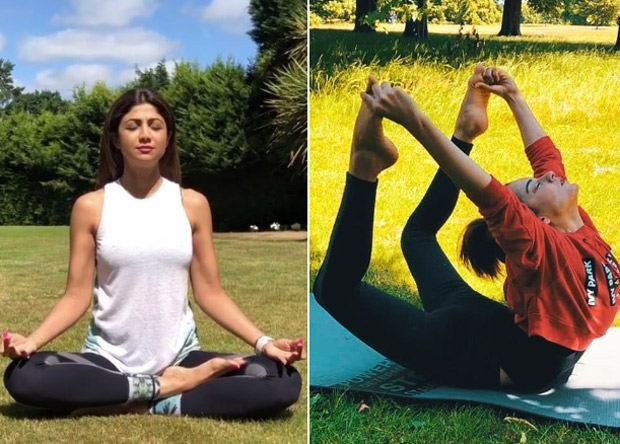 Kangana Ranaut:
The very heart of Yoga practice is 'Abhyaasa'- Steady effort in the direction you want to go to. #Yoga is a journey of the self, through the self, to the self. #KanganaRanaut doing Abhyaasa of #dhanurasana this #InternationalYogaDay2018. #WorldYogaDay #YogaDay2018
A post shared by Kangana Ranaut (@team_kangana_ranaut) on Jun 20, 2018 at 8:14pm PDT
#KanganaRanaut practicing the ancient science of #Yoga this #InternationalYogaDay2018 The key to practice Yoga is patience & stillness #YogaDay2018 #WorldYogaDay #Chakrasana #suryanamaskar #adhomukhasvasana
A post shared by Kangana Ranaut (@team_kangana_ranaut) on Jun 20, 2018 at 7:34pm PDT
Shilpa Shetty:
Dear Instafam , Pranayama: Prana means life (no life without breath), Ayama means practice/control. So when you practice control over breath you WILL have control over your LIFE and MIND. It not only cleanses 72000 nadis/channels, your mind and blood ,but that cleansing process translates into energy.. SHAKTI.. This power helps you positively manifest your AURA, RELATIONSHIPS,SELF-AWARENESS and GOALS. This International Yoga day start with Pranayama.. Welcome the NEW you. Inhale the future, Exhale the past..Enjoy the present. A big thankyou to @narendramodi ji who leads and inspires by example.???? and @ra_rathore for keeping the momentum going so passionately #humfittohindiafit With gratitude Shilpa Shetty Kundra #internationalyogaday #yogini #power #shakti #gratitude #startyoga #swasthrahomastraho #benefits #pranayama #breathe #yoga
A post shared by Shilpa Shetty Kundra (@theshilpashetty) on Jun 20, 2018 at 1:00pm PDT
Karisma Kapoor:
#happyinternationalyogaday???????? #yogalove #yogalife #stayfit???????? #applewatchfeels #traveldiaries #london #summer2018☀️
A post shared by KK (@therealkarismakapoor) on Jun 21, 2018 at 3:31am PDT
Manisha Koirala:
????????करें योग रहें निरोग???????? *चतुर्थ योग दिवस की अनंत शुभकामनाएं…#yogainternationalday
A post shared by Manisha Koirala (@m_koirala) on Jun 21, 2018 at 4:01am PDT
Twinkle Khanna:
A few asanas a day keep my inner werewolf at bay #throwback #yogaday
A post shared by Twinkle Khanna (@twinklerkhanna) on Jun 21, 2018 at 4:27am PDT
Soha Ali Khan:
Why I'll always choose yoga over the latest fitness fad https://www.vogue.in/content/international-yoga-day-2018-soha-ali-khan-reveals-how-yoga-helped-her-through-her-pregnancy/?utm_source=facebook&utm_medium=social
A post shared by Soha (@sakpataudi) on Jun 20, 2018 at 11:31pm PDT
Malaika Arora :
Introducing Diva Yoga- a one of kind transformation program for a woman's overall well being. Are you ready to awaken the Diva in you? Find out more – Link in bio @sarvesh_shashi . . . #DivaYoga #BeingaDiva #DivaPower #Divainyou #SoulfulDiva #Mindfulness #Flexibilitydrills #Strengthtraining #Staminabuilding # Coretraining #Divaexperience #Yogatherapy #Yogaeveryday #Yogachallenge #Yogacommunity #Yogagoals #Yogajourney #Yogaholic #Yogainspiration #Internationalyogaday
A post shared by Malaika Arora Khan (@malaikaarorakhanofficial) on Jun 20, 2018 at 8:31pm PDT
Adah Sharma:
How many handstands did I manage to do in a minute ? . So to burn of Pani puris from the previous minute madness challenge …. Here are #handstands !!! Don't judge poise and grace …only numbers matter in this video ???????????????????????????? . I begin all workouts with handstands .they are my favouriteee .. so for #internationalyogaday ❤️ . I try as much as I can to have fun with the workouts I do …other than if I'm working on splits ! Then I curse and swear and crib ???????? . . #AdahMinuteMadness #AdahMadness #handstandseverywhere
A post shared by Adah Sharma (@adah_ki_adah) on Jun 21, 2018 at 12:26am PDT
Also Read: Varun Dhawan, Karan Johar, Sushant Singh Rajput and Saiyami Kher join Rajyavardhan Singh Rathore's fitness challenge
Click HERE to read more and view the original source of this article.

Loading ...