Sanjay Dutt – the actor, the superstar, the lawbreaker – everything comes with him. The actor carries a lot of baggage from his past which is one of the many reasons he has a biopic made on him. Rajkumar Hirani is gearing up for the release of Sanju and many aspects of Sanjay Dutt's life will be shown on the big screen with Ranbir Kapoor in the lead. He was not only the son of two legendary actors Sunil Dutt and Nargis, but he himself became a star and had an insane life.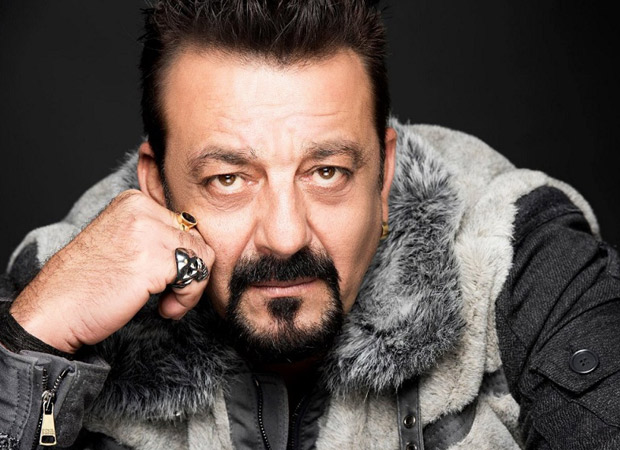 Author Yasser Usman's unauthorized book 'Sanjay Dutt: The Crazy Untold Story of Bollywood's Bad Boy' makes some interesting revelations about Dutt's life.
1. Sanjay Dutt's first on screen appearance was at the age of 12 when he featured as a qawwali number, 'Zaalim Meri Sharaab Mein Yeh Kya Mila Diya' as a background qawaal with the main qawwal, Sudhir Luthra.

2. While shooting Rocky, Sanjay Dutt lost control one evening after being jilted by Tina Munim and started shooting randomly around his mansion. He was arrested by the police for his irresponsible behaviour.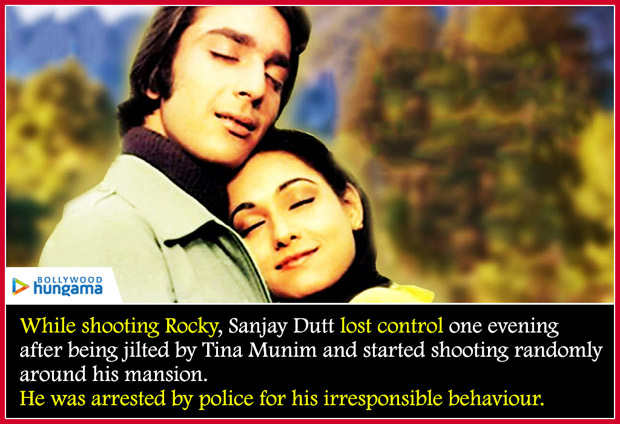 3. When Sanjay was six, he saw his father smoking, and wanted to do the same. After throwing a tantrum Sunil Dutt decided to let Sanjay try smoking thinking that a 6 year old wouldn't be able to smoke and would instead burn his finger. But to Sunil Dutt's surprise Sanjay ended up smoking the entire cigarette.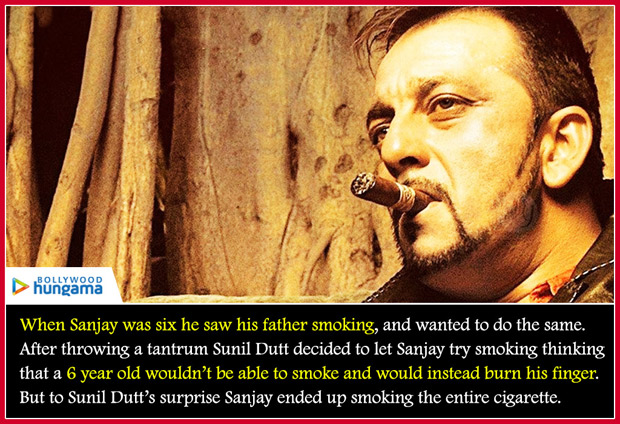 4. Sanjay Dutt was named 'Sunjay' by birth through crowdsourcing? The popular film and culture Urdu magazine Shama, in November 1959 asked readers to suggest names for Sunil Dutt and Nargis Dutt's son.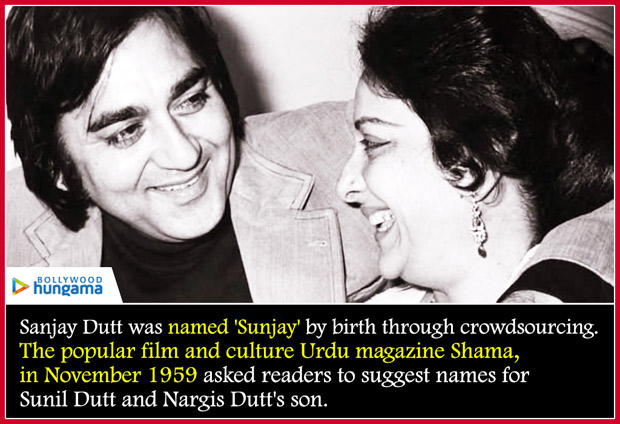 5. Sanjay Dutt wanted to get into acting soon after getting admitted into Elphistone College because he did not want to study and found acting easier in comparison.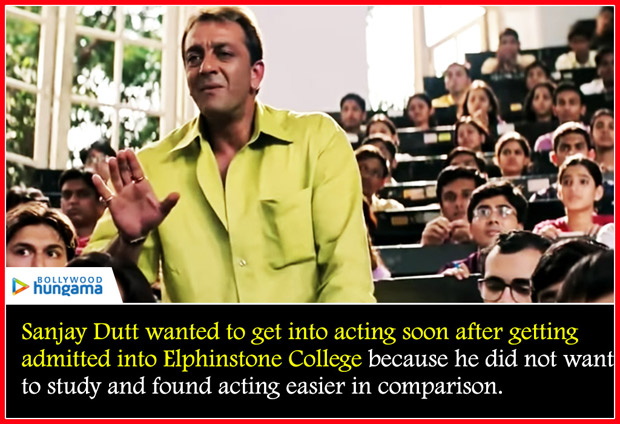 6. Once while filming Rocky, an onlooker on the set made an obscene gesture at Tina, who Sanjay was dating at that time. Seeing this enraged Sanjay to no end and in anger, he rushed to the man, tore all his clothes and tied him in his vanity van, NUDE, for about an hour before he let him go!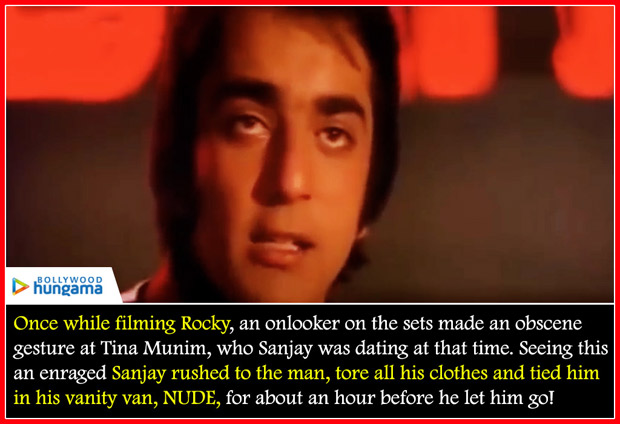 7. While filming Karz, there were rumours that Rishi was getting intimate with Tina off camera, which enraged Sanju who in turn marched off to beat Rishi up. But luckily, Rishi Kapoor's fiancée and now wife Neetu Kapoor was present there and she somehow convinced Sanju that there was nothing going on between Rishi and his then girlfriend Tina Munim
.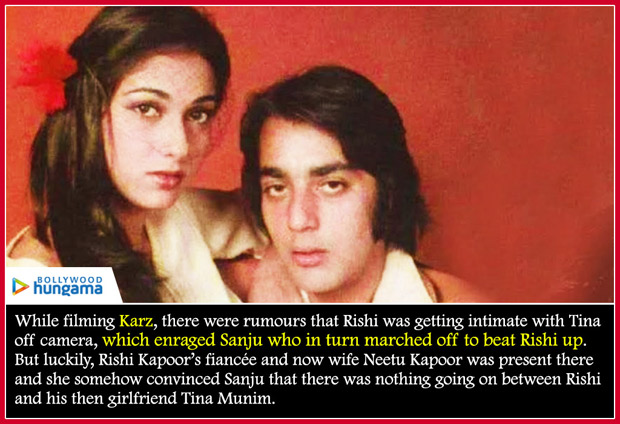 8. Sanjay Dutt once was so high on LSD that he imagined that his father – veteran actor Sunil Dutt's head was on fire and he screamed for help. This was when he was shooting for his much talked about Bollywood debut Rocky.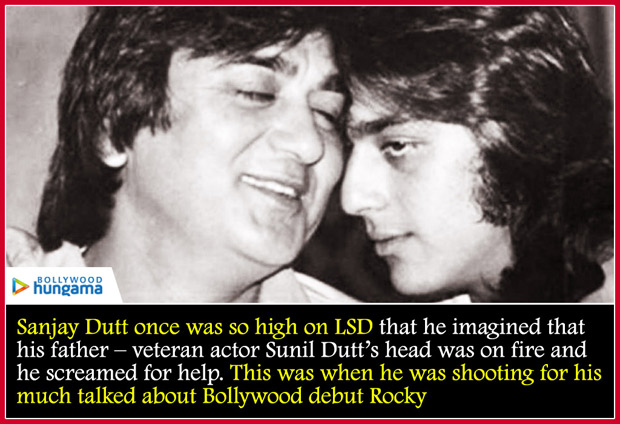 9. Post the success of Naam, Sanjay Dutt was in a serious relationship with Kimi Katkar. There were times when he used to go over to Kimi's Colaba flat and savour the dishes that Kimi's mother cooked especially for him.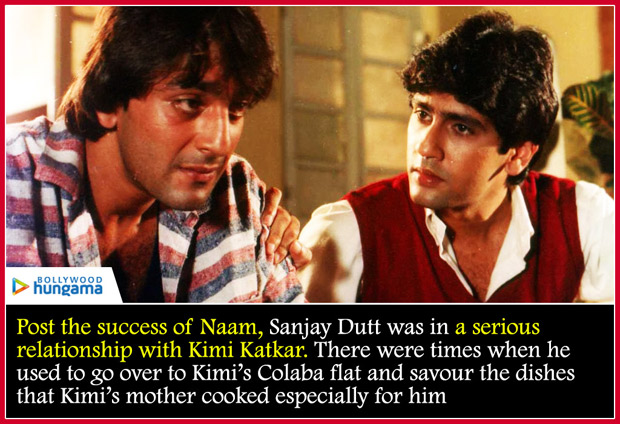 10. Sanjay Dutt was caught with a girl [for playing a game with a girl at night] in boarding school and was beaten up by a teacher. He was slapped twice by the headmaster. He was also asked to put a rifle on his shoulder and crawl like a worm for 15 days.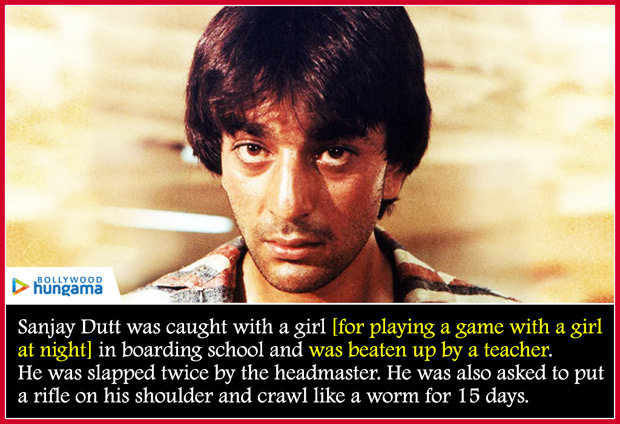 11. Sanjay Dutt was allegedly introduced to 1993 blasts' mastermind Dawood Ibrahim during the Dubai schedule of Yalgar.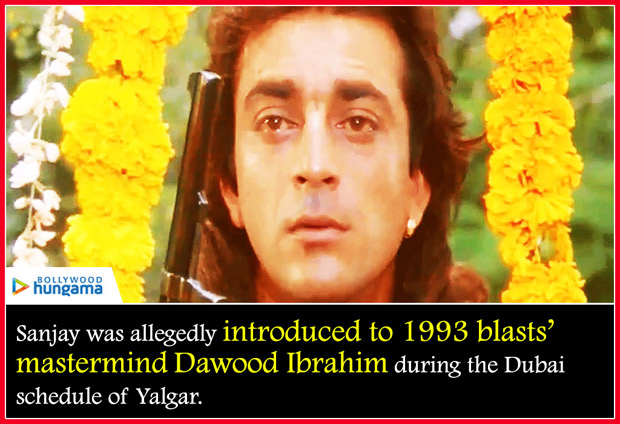 12. When Nargis Dutt was hospitalized, Sanjay was in such a bad state that he was even disallowed to donate blood for his mother because he was constantly under the influence of drugs.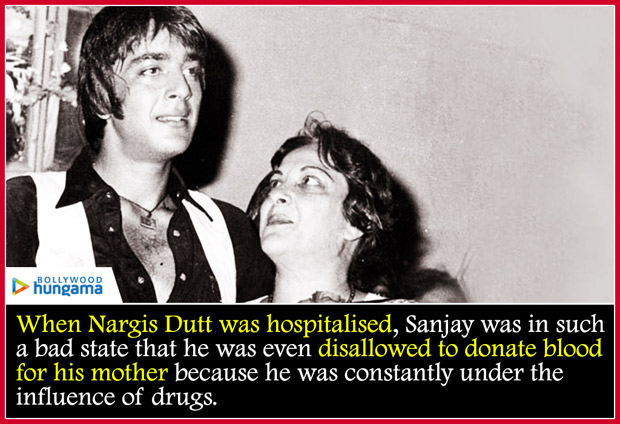 Also Read: SANJU – Ranbir Kapoor to host a special screening of the film for Sanjay Dutt
Click HERE to read more and view the original source of this article.


Loading ...