There have been times when two filmmakers unintentionally (or sometimes intentionally) end up making films on identical subjects or issues, and even release around the same time. In this regard, the most shocking instance was when two films on the martyr Bhagat Singh released on the same day! These two films were Rajkumar Santoshi's The Legend Of Bhagat Singh and Bobby Deol and Sunny Deol-starrer 23rd March 1931 Shaheed and they hit the screens on June 7, 2002! And that's not all. A week prior to this clash, the third film on the freedom fighter, titled Shaheed-E-Azam, was released, with Sonu Sood in the lead role! Last year, trade and industry was shocked to see that Lucknow Central and Qaidi Band had the same plot – a bunch of people in the jail start a band as a ticket to freedom! In 2016, when the trailer of Aamir Khan's Dangal was unveiled, everyone was surprised to see that it seemed similar to Sultan, which had released the same year and starred Salman Khan. Despite talking about wrestling in Haryana and overweight male protagonists, Dangal thankfully turned out to be quite different from Sultan and both were big hits.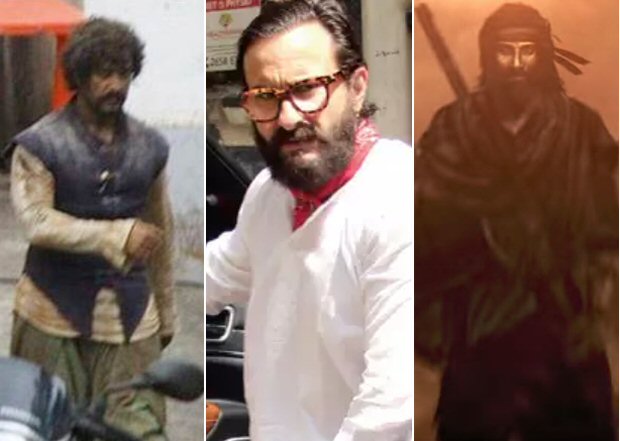 And now Bollywood seemed to have been bitten by the period dacoits bug! In the next two years, three films are all set to release which are not just period entertainers but the protagonist is a daaku. Thankfully, the gap between each of these films is quite a lot. But it's interesting to see how no other film, at least in recent times, dealt with this combination of thugs wreaking havoc during the British era, and now suddenly not just one or two, but three films will be dealing with it.
The first one to come out is Thugs Of Hindostan. It is the big Diwali release of the year and directed by Vijay Krishna Acharya, who last made the blockbuster Dhoom 3. This biggie stars Aamir Khan, Amitabh Bachchan, Katrina Kaif and Fatima Sana Shaikh and as the title suggests, it is a story of a gang of thugs. Since it's an Aamir Khan film and on top of that produced by Yash Raj Films, the plot and look have been closely guarded. However, a few months ago, Aamir at an event spilled the beans and shared exciting details. Revealing that the plot revolves around Fatima Sana Shaikh, he added that his character has a lot of shades and can't be trusted. He stated that his character has no morals and can even sell his mother for money!
2019 will see the release of a film, tentatively titled
Hunter
and directed by
NH10
director Navdeep Singh. It stars Saif Ali Khan and Manav Vij and is produced by the versatile Aanand L Rai. A few weeks earlier, Saif spoke in length about the film. He opened up that it's based in 1780 Rajasthan and that he plays a failed Naga Sadhu who is out to take revenge! From what he has said, it seems his character is also an expert swordsman and like an animal, who goes against the system to fight for his rights. So this character too is like a
goonda
and whether his role is a positive one or a negative one remains to be seen.
Finally, on July 31, 2020, Ranbir Kapoor will be seen in Agneepath director Karan Malhotra's action entertainer Shamshera. Nothing was known about this film until a few weeks ago, Ranbir emphasized that it's a film set in 1800s and is about a daaku tribe, fighting for their rights. Interestingly, Shamshera is produced by Yash Raj Films, who have also backed Thugs Of Hindostan. Sanjay Dutt plays the ruthless villain while Vaani Kapoor essays the role of the most desirable and sought after travelling performer from heartland India.
Apart from films on period thugs, another such instance is about to unfold. Karan Johar is producing Kesari, based on the epic Battle of Saragarhi of 1897. It has Akshay Kumar as the leading role in this biggie slated to release on Holi 2019. On the other hand, Rajkumar Santoshi is also making a film on this episode, titled Battle of Saragarhi, and it has Randeep Hooda in the role of Havildar Ishar Singh. A TV series by the name of '21 Sarfarosh – Saragarhi 1897' was also aired between February and May this year. How such topics remain untouched for years and then suddenly entices filmmakers to come up with it, despite knowing that somebody else is working on it and can lead to losses, is very amusing and bewildering!
Also Read: Thugs of Hindostan: An elaborate set with two massive ships weighing 2 lakh kgs has been built!
Click HERE to read more and view the original source of this article.


Loading ...