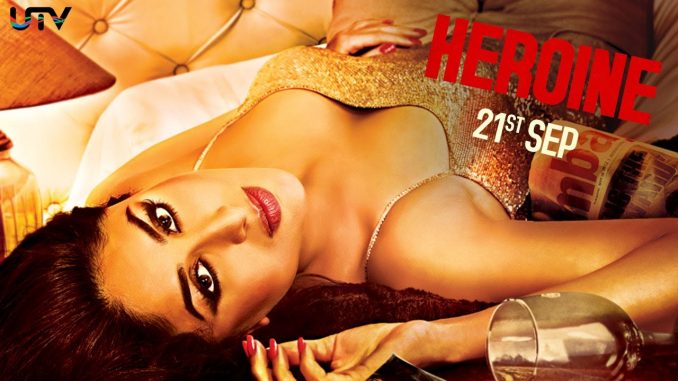 The ardently awaited sneak-peek and official trailer of Madhur Bhandarkar's magnum opus "
Heroine
" was brought out into the open on Wednesday by UTV Motion Pictures.
As promised, Kareena looks cosmically beautiful and this one is surely giving a big time boost to Kareena's career. The trailer begin's with a baritone voice , voicing and adjectiving Mahi [Kareena] as moody,sanki [eccentric], overemotional" and then a female voice-over justifies that be it Hollywood or Bollywood, Heroines have always uplifted the banner of such tantrums and traits.
The trailer further progresses showcasing the sheer mannerism of an actress, in media, on red carpet, among fans, during photoshoots, etc.
The trailer also brings on the upfront amorous and bawdy scenes between Bebo and hot-shot Arjun Rampal , who dons the character of Bhandarkar, a superstar with mixed shades of grey. There are also steamy scenes with even more sexier Randeep Hooda, who plays a cricketer.
The clipping shows Kareena as even more confident and she delivers varied expressions throughout. The intensity she puts into delivering these lines is marvelous and unlike Kareena,
"Aap media waalo ko film-scripts likhni chaie,
Heroine ne gaadi li toh businessman ne gift kardi,
Diamond kharida toh engagement hogai,
Hospital gayi check-up ke liye toh abortion ho gaya,
LA gai toh plastic-surgery karwa li ,
Aur God Forbid Dubai gayi, toh uska rate card ban jata hai."
The assiduously awaited "Halkat Jawani" choreographed by Ganesh Acharya, who even made Katrina shake her booty on Chikni Chameli, is raunchy, perky, catchy and infectious. The clip portrays Kareena doing "Halkat Jawani" and even the epic lascivious lip-biting, which she solidly and perfectly well.

The lyrics of Halkat Jawani is surely going to get caught like a rage, as the brisk, zappy and zippy number, sung by Sunidhi Chauhan, is very catchy and fun to listen to.The music duo Salim-Sulaiman, have done the magic to the track and the track is spreading to every lip in milli-seconds.

"Night ki naughty Kahaani, yeh Halkat Jawani, yeh Halkat Jawani,

Meetha yeh namkeen paani, yeh Halkat Jawani, yeh Halkat Jawani,

Night ki naughty Kahaani, yeh Halkat Jawani, yeh Halkat Jawani,

Hui main hui paani paani, yeh Halkat Jawani, yeh Halkat Jawani."

The trailer has been in controversies regarding Kareena doing a Vidya Balan in "Heroine" making it the next "The Dirty Picture". To this our very own Bebo commented that she likes to be in her own shoes and doesn't want to get into someone else's. neither would let anyone get into hers. Madhur Bhandharkar also revoked by the comparisons said that their one is more modern and is totally different from Ekta's Dirty Picture.He also enlightened the fact that there had been films which were based on underworld or cops like Dabangg and Singham, but none compares them,then why their film.

The first poster which was out even was in controversies regarding it being a replica of Mariah Carey's photos shot for promotional intent for her The Emancipation of Mimi album.

Whatever be the case, 'Heroine" is certainly going to shake the B-Wud and reinvent Kareena is a whole new, never seen before avatar.

Watch the official trailer here

Video Copyright : UTVMotionPictures

http://www.youtube.com/watch?v=ZWB_h91HqP0

Click HERE to read more