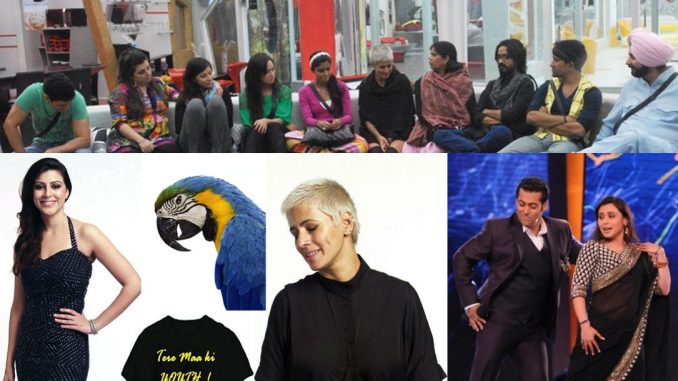 Bigg Boss 6 returned with Salman Khan promising a cleaner parivarik (family) show on prime time. But from what we've seen in the first two days, is cheesy, corny and controversial. Though it is quite Alag Che with the parrot and the fishes!
Apart from that, not much seems to have changed with Bigg Boss! The opening episode saw contestant Sapna Bhavnani bring in a T-Shirt with the words 'Teri maa ki youth' (whatever that meant), while Salman cheekily showcased it to the audience! Lol.
The megastar followed that up with some naughty dance steps with Rani Mukerji, who graced the BB6 launch to promote Aiyyaa, her upcoming comedy with sexual overtones.
Later on Day 1 inside the House, Sapna refused to participate in a task she termed "nanga naach" (naked dance) while highlighting her derrière. During the discussion, she rudely said "Shut up" to the 'common man' Kashif Qureshi.
Surprisingly, the other contestants just stood there helplessly watching her! No one seemed to have the guts (or should we say, balls) to object to the scandalous brouhaha Sapna's tone and language caused.
Then came the typical BB-style dances. And the ladies, especially Karishma Kotak, proved that she can wear one of the most figure-hugging outfits, accentuating her breasts and buttocks. What's more! Karishma's voluptuous bottom-shaking act almost surpassed pornstar Sunny Leone's antics on Bigg Boss 5 last year.
Don't get us wrong, we aren't complaining – just wondering whatever happened to the so-called parivarik concept! Gee!
All this also reminds us, what Bollywood PR guru Dale Bhagwagar quipped last month. "Bigg Boss has always been about drama and eyeballs, and I will change my name if there are no controversies," he'd winked and remarked. So true! The reality show did not even take 48 hours to prove that the celebrity publicist can safely keep his name.