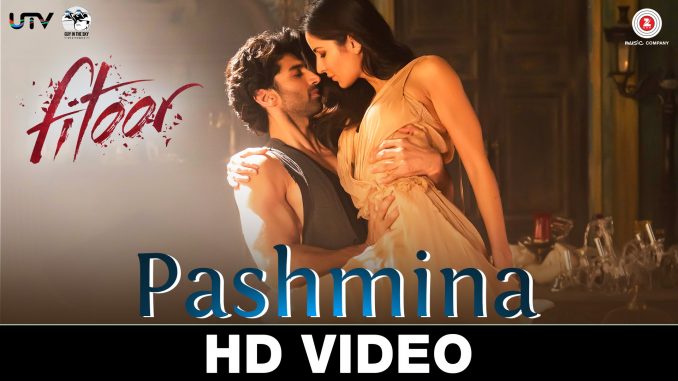 The video of Pashmina, the second song from Abhishek Kapoor's Fitoor is out and has been garnering tremendous positive response.

Pashmina features Aditya and Katrina performing a contemporary dance form against the backdrop of soulful music composed by Amit Trivedi.

The visuals of the song feature a sensuous chemistry between Aditya and Katrina who are seen sharing some intense moments throughout the song.

While Aditya leads Katrina as a dance partner flaunting his chiseled body, Katrina outshines in the part where she performs solo.

Compliments have been flowing in for both the actors, who have not only delivered a beautiful song by looking enchanting, but also for nailing a contemporary form of dance.

Both the actors are in the best of shape and give life goals to couples with their breathtaking chemistry.

Here is how the industry has reacted to Pashmina from Fitoor.

Bollywood's dancing superstar, Hrithik Roshan says, "This song has a moment that just took my breath away!

http://goo.gl/fb/X3pSR2

Knockout!! @Abhishekapoor #katrina #AdityaRoyKapur Bravo!!!!!"

Karan Johar tweeted, "Stunning song!! #Pashmina and Katrina nails the contemporary dance form and is spectacular!

http://goo.gl/fb/X3pSR2

#fitoor"

Anushka Sharma complimented, "How hot and fit is #Katrina in the new #Fitoor song .Nailed the dance ! Lovin it !"

Bollywood's newest discover, Harshvardhan Kapoor shared,"So aesthetic , great vocals , and #KatrinaKaif @Abhishekapoor" Not having nough of the song, the soon to debut actor once again took to social media to say, "How amazing is everything about this song , #Fitoor #pashmina "

Filmmaker Nikhil Advani said, "Now that's how you shoot a song. Congrats @GuyInTheSkyPics @utvfilms #Pashmina #Fitoor

http://goo.gl/fb/X3pSR2

"

Lyricist, screenwriter, director, Swanand Kirkire says, "The song I was waiting for ….Its looking gorgeous !"

Produced by Sidharth Roy Kapur and Abhishek Kapoor, Directed by Abhishek Kapoor, Fitoor is all set to release on February 12, 2016.