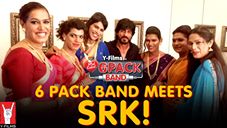 You can publish this article on your website as long as you provide a link back to this page.
This article was last updated on April 16, 2022

Shah Rukh Khan's love for his fans is known to be as strong as the love of his fans for him. This was evident when, in a first, the exclusive gates of Yash Raj Films Studio were opened to thousands of fans for the launch of the theatrical trailer of his next release Fan. And as he was prepping for the launch in his greenroom, there was knock on the door from some unexpected fans: India's 1st Transgender Band, the 6-Pack Band, which was launched by YRF's youth wing, Y-Films.
The band, on hearing of his presence, had requested for a meeting with Shah Rukh, to give him their blessings along with a special message. SRK, as always, was kind enough to not only pull out time to see them, but as they sang 'Jabra Fan' and one of their own original songs to him, he joined them for an impromptu dance, hugging each one of them and wishing them luck in return. Needless to add, the band was over the moon.
One hopes that everyone can learn from a superstar like Shah Rukh Khan to be as gracious towards everyone in general, and most certainly the transgender community to make them feel as accepted, respected and loved. They're most certainly his fans for life now!
The 6-Pack Band is India's 1st Transgender Band. Their first 3 music videos including a cover of Pharrell's chartbuster as 'Hum Hain Happy' and collaborations with Sonu Nigam 'Sab Rab De Bande' have clocked over 7 million views. They have 3 more videos in the pipeline including a collaboration with legend Asha Bhosle's granddaughter Zanai Bhosle that releases in March.
(function(d, s, id) { var js, fjs = d.getElementsByTagName(s)[0]; if (d.getElementById(id)) return; js = d.createElement(s); js.id = id; js.src = "//connect.facebook.net/en_US/sdk.js#xfbml=1&version=v2.3"; fjs.parentNode.insertBefore(js, fjs);}(document, 'script', 'facebook-jssdk'));
6 Pack Band Meets SRK!

6 Pack Band had the perfect FAN moment when they met Shah Rukh Khan Watch the video to know more.

Posted by Y Films on Monday, March 7, 2016