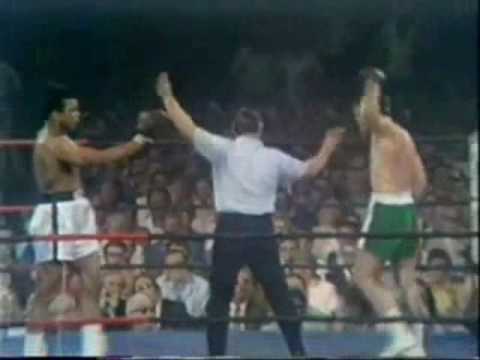 The news of the demise of the 74 year old legendary American boxer Muhammad Ali has taken the world by a storm. Amidst several fans who are expressing their grief on social media, Bollywood celebrities too took to Twitter to share their condolence messages. Here are a few tweets:
Alia Bhatt:
The definition of greatness!!! #RIPMuhammadAli #GreatestOfAllTime
Varun Dhawan: Rip #MuhammadAli. The real champ. His story and struggles have motivates us all and will continue to do so.
John Abraham: "Float like a butterfly, sting like a bee" sad sad sad day #MuhammadAli
Abhishek Bachchan: Rest in peace legend @MuhammadAli #FloatLikeAButterfly #StingLikeABee #GOAT. Crushed! @MuhammadAli was the 1st sportsman I was told about by @SrBachchan. He was inspirational and an idol.
Anushka Sharma: RIP Muhammad Ali
Arjun Rampal: The greatest, the fearless poet .He floats like a butterfly, stings like a bee. Muhammad Ali. U shook up the world. RIP #thegreatest
Arshad Warsi: He said it and he did it… RIP Muhammad Ali, the Greatest fighter on and off the boxing ring…
Rishi Kapoor: RIP. Muhammad Ali. Was at a function with him in Bahrain think early 80's. He was unwell and he called me "pretty boy"
Farhan Akhtar: @MuhammadAli Never before-Never again. RIP Champ.
Randeep Hooda: "Float like a butterfly, sting like a bee." #RIPMuhammadAli #TheGreatest doesn't pass on, he lives on
Ayushmann Khurrana: "I'm so fast that last night I turned off the light switch in my hotel room and was in bed before the room was dark." – #RIPMuhammadAli
Anil Kapoor: His personality was as exemplary as his sportsmanship… his spirit will always dare us to dream bigger & soar higher! #RIP #MuhammadAli
Dia Mirza: Thank you for the strength. My childhood would have been incomplete without your inspiration. #RIPMuhammadAli
Aditi Rao Hydari: #Legend #RIP #MuhammadAli
Soha Ali Khan: He wasn't just the world's greatest boxer, he was simply the greatest. RIP Muhammad Ali
Sophie Choudry: RIP #MuhammadAli ..True inspiration & champion for billions around the world! What a life, What a legend #respect
Vivek Oberoi: RIP Muhammad Ali…The Greatest of all Time
Mallika Sherawat: He who is not courageous enough to take risks will accomplish nothing in life- Muhammad Ali
Elli Avram: 'I am the Greatest, I said that even before I knew I was' #MuhammadAli rip. What a legend

Sooraj Pancholi: "I am the greatest, I said that even before I knew I was" RIP #MohammedAli
Pulkit Samrat: #RIPMuhammadAli
Rana Daggubati: We lost the #GreatestOfAllTime #MohammedAli #RIP
Bipasha Basu: Rip #muhammadali
Remo D'Souza: #RIP : REST IN POWER MuhammadAli
Sangeeth Sivan: #RIP Mohammed Ali … End of an Era ….
Saiyami Kher: "I am going to show you how great I am." And he sure did! Really sad when true greats are no more. #RIP #MuhammedAli
Neha Dhupia: RIP #muhammadali the world jus lost one of its greatest … #cassiusmarcellusclay
Diana Penty: "To be a great champion you must believe you are the best. If you're not, pretend you are." #Muhammad Ali
Lisa Ray:
Cassius Clay. You taught that the greatest fight is simply to be yourself. #RIPMuhammadAli
Kunal Kapoor: The greatest – inside and outside the ring. Rest In Power champ #heartbroken #MuhammadAli
Amit Sadh: #RIP The Greatest, #MuhammadAli
Yo Yo Honey Singh: RIP @MuhammadAli #TheGreatest #Legend #Consummate #Badass #MuhammadAli
Mahesh Bhatt: If your dreams don't scare you, they aren't big enough – Muhammad Ali
Aanand L Rai: "It isn't the mountains ahead that wear you down. It's the pebble in your shoe."-muhammad ali RIP CHAMP
Kunal Kohli: #MuhammadAli #rip the greatest boxer n sportsman. Celebrate his life n achievements #inspiration
Vivek Agnihotri: "Catch me if you can… I am Muhammad Ali' RIP
Maheck Chahal: Float like a butterfly, sting like a bee. He who is not courageous enough to take risks will accomplish nothing in life. RIP MUHAMMAD ALI
Sanjay Suri: The Man TheChampion TheInspiration TheGreat #MuhammadAli #rumbleinthejungle #swingslikebutterflystinglikeabee Sing https://youtu.be/KW5qF9fheXw #RIP
Sherlyn Chopra: #RIPMuhammadAli
Javed Jaafri: "Mohammed, Mohammed Ali He floats like a butterfly and stings like a bee" RIP to my greatest sports hero (and continued to post photographs of the legendary boxer)
Anubhav Sinha: Life is so temporary that even Mohammed Ali dies. RIP King…..
Ali Abbas Zafar: One of the most inspiring man with most inspiring life Muhammad ali passes away May Allah rest his soul in peace. You'll be greatest forever
Arjun Kapoor: He did float like a butterfly and stung like a bee Mohammad Ali was an inspiration to all of us RIP
Dino Morea: Muhammad Ali. No words can match his greatness. RIP
Sushmita Sen: indeed a gorgeous life..WELL LIVED!!!! Rest in peace #MuhammadAli greatness in a punch!!!