Falling in love in India comes with its share of major problems. This is especially true when the lovers belong to diverse castes or religions or regions. Honour killing is still prevalent in many parts of India and so many cases have been reported and talked about so openly in media that it doesn't even shock us anymore. Yet, when Nagraj Manjule presented his 2016 Marathi film SAIRAT to the audiences, it left the audiences deeply impacted. But at the same time, they were thoroughly entertained too! The film became a craze in Maharashtra and also got noticed pan-India. Shashank Khaitan, who has proved his worth with films like HUMPTY SHARMA KI DULHANIA [2014] and BADRINATH KI DULHANIA [2017] decided to take up the task of remaking this flick in Hindi. Titled DHADAK, the film is significant as it marks the long-awaited debut of Sridevi's elder daughter Janhvi. So does DHADAK manage to turn out as entertaining as or better than the Marathi original? Or does it fail to live upto the expectations? Let's analyse.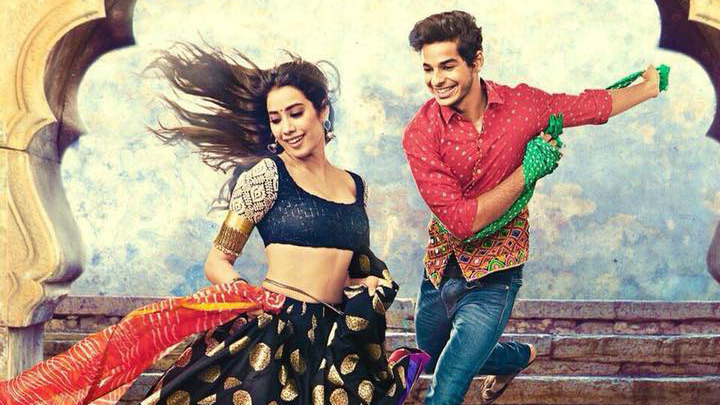 DHADAK is the story of two young souls who fall in love against the restrictions of caste hierarchy. Madhukar Bagla (Ishaan Khatter) belongs to a lower caste in Udaipur, Rajasthan. He's smitten by Parthvi Singh (Janhvi Kapoor), the daughter of the high-caste politician Ratan Singh (Ashutosh Rana). Parthvi has an intimidating personality but that doesn't stop Madhukar from making her known that he has feelings for her. Parthvi gets impressed by Madhukar's bravado and love blossoms between the two. Trouble arises when at the birthday celebration of Parthvi's brother Godaan Kumar (Roop Kumar), Ratan Singh catches Parthvi and Madhukar together. Madhukar and his friends Shridhar Watsar (Purshottam) and Gokul (Ankit Bisht) are taken into police custody while Parthvi is grounded at home. Parthvi however reaches the police station and manages to free Madhukar and his friends. Madhukar and Parthvi escape to Kolkata where they try to start their life afresh. What happens next forms the rest of the film.
DHADAK is adapted from SAIRAT (written and directed by Nagraj Popatrao Manjule). Shashank Khaitan's story is on the same lines as the Marathi blockbuster with minor tweaks. Shashank Khaitan's screenplay is very effective. One of the best things about the screenplay is that it's shorter than SAIRAT. However the impact is more or less the same. In the second half, the film gets a bit slow but then it was necessary to show the hardships. Shashank Khaitan's direction complements the script well. He keeps the film very rooted and also tells a very relatable story. In some sequences, he takes the film on another level. For instance, the scene where Madhukar and Parthvi have a showdown on the streets of Kolkata is very well handled. Also he shines in the climax. Shashank Khaitan's dialogues are simple and funny and even acidic as required.
Though DHADAK is an official remake of SAIRAT, one should not expect the former to be a scene by scene reworked version of the latter. As a result, there are quite a many changes. Hence even those who have seen SAIRAT will be in for a surprise. The film begins on a nice note with the food eating competition sequence turning out to be quite interesting. The manner in which Madhukar and Parthvi's love story develops will surely put a smile on the faces of the viewers. Two sequences stand out here – Madhukar meeting Parthvi at her mansion at night and Madhukar singing an English song for Parthvi. The film goes on a high as soon as Ratan Singh learns about their romance. Post interval, the film switches tracks as the lovers realise that love is not a bed of roses. But the best is reserved for the finale. It's a shocker to say the least!
Ishaan Khatter had already proved his worth with BEYOND THE CLOUDS and with DHADAK, he proves that he's definitely here to stay. He's very confident and looks so endearing in scenes where he's head over heels in love, especially in the song 'Pehli Baar'. In the emotional and dramatic, he's equally efficient. Janhvi Kapoor also does extremely well and exudes lot of confidence. She handles this difficult role with so much ease and that's a feat for a newcomer. Definitely, a star is born! Ashutosh Rana is a natural when it comes to negative roles and this one is no different. Shridhar Watsar is extremely hilarious and contributes a lot to the humour quotient. He's going to be loved by the youth and single screen audiences. Ankit Bisht is fair but gets overshadowed by the presence of Ishaan and Shridhar. Godaan Kumar is good in the villainous role and leaves a mark in the scene when he's asked to apologise to the college professor. Aditya Kumar (Devilal) gets limited scope. Ishika Ganeja (Ambika) looks lovely and gets noticed. Govind Pandey (Bhagwandas) is decent as Madhukar's father. Shalini Kapoor (Ashadevi) and Aishwariya Avinash (Gayatri) are fair as the mothers of Parthvi and Madhukar respectively. Manish Verma (Arvind Mama) is passable while Kharaj Mukherjee (Sachin Bhowmick) is very adorable and would be loved. Shubhadevi Harshal Choksey (Promila Bhowmick) looks beautiful and is confident. Balaji Gauri (Sulekhaji Goenka) makes a mark in a cameo. Vishwanath Chatterjee (Inspector Shekhawat) looks convincing.
Ajay-Atul's music is melodious. The title song has a soothing feeling. 'Zingaat' is already a rage and should grow after the film's release. 'Pehli Baar' is soulful and well shot. 'Vaara Re' is neatly relegated to the background. John Stewart Eduri's background score is brilliant and enhances the impact. Vishnu Rao's cinematography is one of the best things about the film. The locales of Udaipur have been captured like never before. Shashank Tere's production design is convincing as well as appealing. Monisha R Baldawa's editing is slick. Manish Malhotra, Natascha Charak, Nikita Mohanty's costumes are impressive.
On the whole, DHADAK is a simple tale told in a beautiful way. Despite being a remake of an iconic film, it manages to stand up on its feet and entertain the audiences thoroughly. At the box office, the youth is going to savour this flick big time which will ensure commercial success.
Click HERE to read more and view the original source of this article.


Loading ...