Bollywood filmmakers have used blindness as an interesting aspect in their movies and most of these films have turned out to be interesting fares. In recent times, films like KAABIL [2017], AANKHEN [2002], BLACK [2005], FANAA [2006], LAFANGEY PARINDEY [2010] etc featured blind characters and it gave a distinct touch to the film. Now, Sriram Raghavan, known for his crime thrillers, uses this aspect in his latest fare, ANDHADHUN. So does it turn out to be a thrilling flick? Or does it fail? Let's analyse.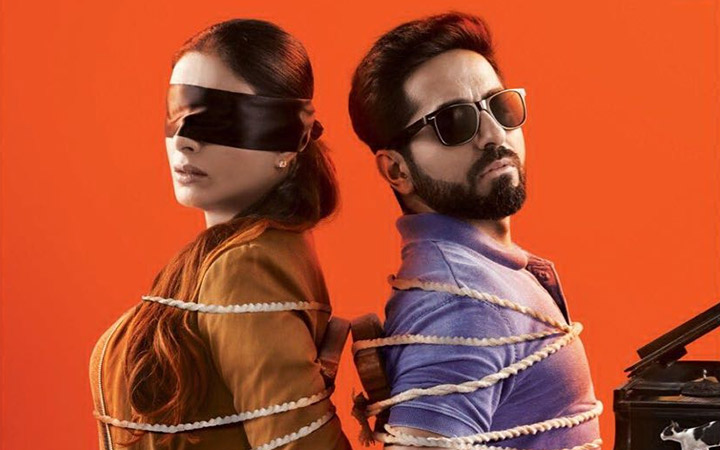 ANDHADHUN is the story of a creative artist who gets involved in a crime scene. Akash (Ayushmann Khurrana) is a blind piano player based in Pune. While crossing the road, he one day accidentally bumps into Sophie (Radhika Apte), who along with her father runs a restaurant named Franco's. Impressed with his piano skills, she hires Akash to play at Franco's. Akash impresses the guests with his performance and also Sophie. Both start a love affair. A frequent customer at Franco's is yesteryear actor Pramod Sinha. He has retired from films and is now into real estate. Three years ago, he married Simi (Tabu), who is his second wife. He has a daughter from the first wife, Dani. Pramod loves Akash's performance and is also moved by the fact that he is able to recognize Pramod by his voice. It's his marriage anniversary the next day and he asks Akash to come to his house for a private concert for him and Simi. The same night, he tells Simi that he's going to Bengaluru the next day for work purposes. He purposely lies as his plan is to surprise Simi and then have a concert by Akash. The next day, Pramod reaches his residence but he's shocked to find Simi sleeping with her lover, Inspector Mahendra (Manav Vij). In the madness that ensues, Pramod is shot dead. Minutes later, Akash arrives for the concert. What happens later forms the rest of the film.
Sriram Raghavan, Arijit Biswas, Yogesh Chandekar and Pooja Ladha Surti's story is inspired from the French short film L'ACCORDEUR [writer and director: Olivier Treiner]. However, a lot of changes have been done and it's praiseworthy. Sriram Raghavan, Arijit Biswas, Yogesh Chandekar and Pooja Ladha Surti's screenplay is flawless in the first half and is bound to leave viewers stunned. The second half becomes a bit routine and unrealistic. Sriram Raghavan, Arijit Biswas, Yogesh Chandekar and Pooja Ladha Surti's dialogues are sharp and witty.
Sriram Raghavan's direction is terrific. In the past, he has made some great urban thrillers like EK HASINA THI [2004], JOHNNY GADDAAR [2007] and BADLAPUR [2015]. ANDHADHUN is more in the JOHNNY GAADAAR zone and he treats the plot very well. The dark humour element comes out beautifully and that helps the film from becoming too gory or disturbing. Also, his love for the 70s Hindi cinema comes to the fore and it adds to the film's charm. If only he had done something about the glitches in the second half, ANDHADHUN would have been a game changer!
ANDHADHUN's first half is simply out of this world! The introduction of the characters is great and soon, the plot begins to unfold. There are surprises after every 10-15 minutes. The real fun however begins when Pramod Sinha gets murdered and Akash reaches his residence. This scene is seen to be believed! All scenes from hereon take the film to dizzying heights – whether it's the scene at the police station or Manohar visiting Akash's residence or Akash visiting Pramod's residence the second time or the prayer meeting. The intermission point raises tension levels significantly. The second half begins with a bang and even a shocker. Although this hour also keeps the viewers gripped, the film begins to drop and get unconvincing. The proceedings become far-fetched which is not the case in the first half. Newer characters are added while a significant character from the first half gets sidelined. In fact, the first and second halves seem like two different films. The climax is interesting and watch out for the final scene!
Ayushmann Khurrana has done unconventional but mostly light films till now. ANDHADHUN is his first intense flick and he excels. This is a very challenging role as his character has lot of shades and a secret to hide. But he puts up an excellent act. He's unforgettable in the sequence where Pramod Sinha is killed and also in the scene immediately after intermission. Ayushmann already has a wonderful filmography and this flick will add a lot of weightage. Tabu delivers a bravura performance as expected. The manner in which she plays the mind games and tries to manipulate the situations at various points is quite fun. Radhika Apte plays a chirpy character and delivers a fine performance. Sadly, she has very little to do in the second half. Anil Dhawan is terrific and leaves a mark. Manav Vij's entry scene is chilling and notice how he conveys a lot merely with his eyes. A first-rate performance! Ashwini Kalsekar (Rasika) is too good and rocks in the scene wherein she's discussing the murder of Pramod Sinha. Zakir Hussain (Dr Swami) is quite quirky and contributes to the fun quotient. Gopal Singh (Sub inspector) is fine. Chhaya Kadam (Maushi) is an actor to watch out for. Kabir Sajid (the kid) is too good and too funny. The actors playing Murli, Mrs D'Sa are nice.
Amit Trivedi's music is melodious and suits the narrative well.
'Naina Da Kya Kasoor'
is the best of the lot and is quite foot-tapping.
'Laila Laila'
comes next despite coming immediately after
'Naina Da Kya Kasoor'
.
'Oh Bhai Re'
is quite quirky while
'Woh Ladki'
is played at a crucial juncture. Daniel B George's background score has a very important part to play and enhances impact in several scenes. The piano pieces are excellent. K U Mohanan's cinematography gives the film a captivating feel. Also, ANDHADHUN is a rare film shot almost entirely in Pune and captures the city like never before. Snigdha Pankaj and Anita Donald's production design is quite rich and appealing, especially Pramod and Simi's residence. Anaita Shroff Adajania and Sabina Haldar's costumes are also eye-catching, especially the ones worn by Radhika Apte. Parvez Khan's action is realistic. Pooja Ladha Surti's editing is razor-sharp.
On the whole, ANDHADHUN is a thriller par excellence. Very rarely does Bollywood deliver a thriller that shocks and stuns you so well. Although the second half does drop, the impact is made and this would surely result in a good word of mouth. Recommended!
Click HERE to read more and view the original source of this article.


Loading ...