The stock market is the most important aggregation of India's financial centre, Mumbai. The updates of the rising and falling stocks always makes it to the news regularly. Yet, hardly any film has been made on this subject. In the last decade, Samir Hanchante's GAFLA [2006] sank without a trace, although it was a decent attempt and inspired from the stock market scam of 1992. Now, Nikkhil Advani and debutant director Gauravv K Chawla unveil BAAZAAR, probably Bollywood's first big film on stock market. So is BAAZAAR an interesting and worthy entertainer? Or does it turn out to be a dampener? Let's analyse.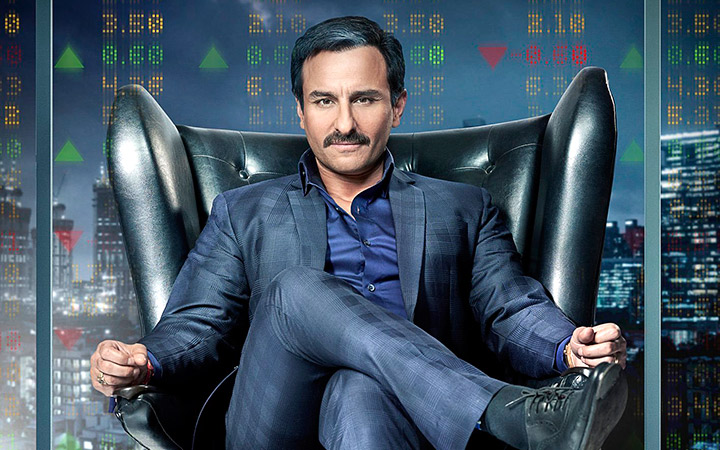 BAAZAAR is the story of hunger, greed and power. Rizwan Ahmed (Rohan Mehra) is a small time stock broker in Allahabad. He's not happy with the paltry earnings and hence, comes to Mumbai. His ultimate aim is to work with the dynamic business tycoon Shakun Kothari (Saif Ali Khan). He first manages to get a chance to work with Kishore Wadhwa (Denzil Smith) in his trading company. Here, he befriends Priya Rai (Radhika Apte) and both later get into a relationship. Once, both go for a high profile event where Rizwan finally manages to come face to face with Shakun. Rizwan impresses Shakun by correctly predicting an upcoming market development which nobody is able to foresee. Shakun hence opens his trading account with Rizwan and slowly both become very close. On the other hand, a SEBI official Rana Dasgupta (Manish Chaudhari) is aware of Shakun Kothari's misdealings but doesn't have enough evidence. Realising that Shakun and Rizwan have become close friends, Rana now starts to closely monitor Rizwan as well. What happens next forms the rest of the film.
Parveez Shaikh's story is quite interesting and promising. There's no similarity to the Hollywood flick WALL STREET (1987) as such. Parveez Shaikh and Aseem Arora's screenplay is effective and engaging in the first half. In the post interval portions though, it goes downhill heavily and becomes cumbersome. Aseem Arora's dialogues are sharp and impactful.
Gauravv K Chawla's direction is quite good for a first timer. Some scenes are exceptionally handled especially in the first half. However he makes a mess in the second half. The script had loopholes and he couldn't cover it well. Moreover, too many technical terms are used in the film which a layman may not understand. So it'll be difficult for them to comprehend the proceedings. This restricts the appeal of the film to a great extent.
Saif Ali Khan delivers an outstanding performance and this would rank as one of his best acts. Right from the first scene, he's in his element. He sounds cunning as well as funny, depending on the situation, when he mouths Gujarati dialogues. Rohan Mehra makes a confident debut and is quite promising. He got a great role to essay in his first film and makes good use of it. Radhika Apte looks quite glamorous and charming and as expected, delivers a fine performance. Chitrangda Singh gives a great performance but has very less screen time. Manish Chaudhari is hardly there in the first half. He is effective overall. Denzil Smith, who impressed everyone recently in HAPPY PHIRR BHAG JAYEGI, is fine in a small role and convincing. Sonia Balani is adorable. Pawan Chopra (Zulfiqar Ahmed) and Abhishek Gupta (Anwar) are okay in their special appearances. Vikram Kapadia leaves a huge mark. Utkarsh Mazumdar (Chheda), Danish Hussain (Dubey) and Sahil Sangha (Vineet Mehra) are okay. Elli AvrRam is hot in the 'Billionaire' song.
Music is not memorable. Only song that works is the catchy 'Kem Cho'. 'La La La' comes next. 'Adhura Lafz' and 'Chhod Diya' are forgettable while 'Billionaire' fails to make an impact. John Stewart Eduri's background score however is terrific and heightens impact in several scenes. Swapnil S. Sonawane's cinematography is great and the lensman captures the high rises and glitz and glamour of Mumbai very well. Shurti Gupte's production design is rich. Natascha Charak and Nikita Mohanty's costumes are very appealing and glamorous especially the ones worn by Saif Ali Khan and Radhika Apte. Maahir Zaveri and Arjun Srivastava's editing is very slick and stylish but in a few places in the second half, it's a bit abrupt.
On the whole, BAAZAAR has a brilliant first half but the unconvincing and convenient second half hampers the impact heavily. Moreover, the subject is such that only the multiplex audiences in the urban areas would find it appealing.
Click HERE to read more and view the original source of this article.

Loading ...