Hollywood has churned out many biopics or films based on real-life politicians and ministers. In this regard, Bollywood has been lagging quite a bit. We have had political flicks but they often get fictionalized in order to avoid any trouble. THE ACCIDENTAL PRIME MINISTER hence is a rare film in this regard. It doesn't attempt to take pseudo names but boldly mentions the real identities of some important members of Indian politics. Moreover, the controversy regarding whether this is an agenda-driven film has added to the curiosity. Notwithstanding these factors, does THE ACCIDENTAL PRIME MINISTER turn out to be an engaging entertainer? Or does it turn out to be a case of all-hype-no-substance? Let's analyse.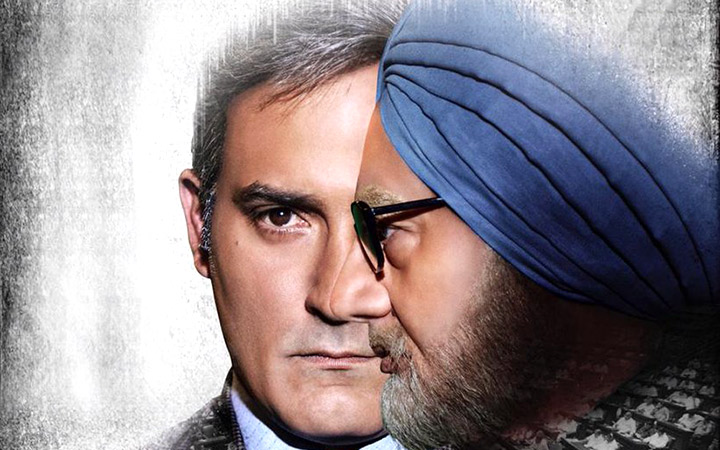 THE ACCIDENTAL PRIME MINISTER is the story of the ex-Prime Minister of India. In 2004, the United Progressive Alliance (UPA), which has Indian National Congress as the principle party, wins the Lok Sabha elections. Sonia Gandhi (Suzanne Bernert), president of Congress and chairperson of UPA, is all set to become the Prime Minister. But the opposition protests against this development since she's not a natural born citizen of India. Hence Sonia decides to find someone capable and who also enjoys the confidence of the allies, to take up the post of Prime Minister. After careful deliberation, she asks Dr. Manmohan Singh (Anupam Kher) to be India's next PM. Dr. Singh does so and soon realises that all the major decisions would be taken by Sonia Gandhi herself and her subordinate, Ahmed Patel (Vipin Sharma). Dr. Manmohan Singh meanwhile asks journalist Sanjaya Baru (Akshaye Khanna) to be his media advisor. Sanjaya knows Dr. Singh since more than a decade and has utmost respect for him. He tries his best to strengthen his image in the media and continuously tells him to make himself heard. Dr. Manmohan Singh however is too soft spoken and has no qualms in letting others take credit for his work. He also agrees to be remote controlled by Sonia Gandhi and her son Rahul Gandhi (Arjun Mathur), the latter poised to be India's next Prime Minister. What happens next forms the rest of the film.
THE ACCIDENTAL PRIME MINISTER is based on the book of the same name by Sanjaya Baru. The book must have been quite detailed but Mayank Tewari, Vijay Ratnakar Gutte, Karl Dunne and Aditya Sinha's story is very weak. Same goes for Mayank Tewari, Vijay Ratnakar Gutte, Karl Dunne and Aditya Sinha's screenplay. The film just jumps from one scene to another and in many scenes, back stories are not even provided, so the viewer has no context. As a result, many questions are left unanswered. Mayank Tewari, Vijay Ratnakar Gutte, Karl Dunne and Aditya Sinha's dialogues are good but not memorable.
Vijay Ratnakar Gutte's direction is amateurish. The subject no doubt is fascinating and also appealing to the audiences. But at the same time, it needed someone better and far more experienced to handle the difficult subject. Vijay Ratnakar Gutte sadly makes a mess out of the plot in hand with his incoherent execution. He also tries to make the scenes light-hearted by adding a funny background score but that doesn't help. Thankfully, he managed to handle few scenes well like Dr. Singh remembering his earlier days while passing through the corridors of the PMO, Sanjaya explaining to Dr Singh about 'Que Sera Sera' and Sanjaya and Dr. Singh's last meeting.
THE ACCIDENTAL PRIME MINISTER's biggest problem is that things are explained in the film without context. The makers assume that viewers will easily recall every political development of the last 15 years. However, that's not the case. As a result, a lot of sequences in the film go over the head. Right from Dr. Singh appointing Sanjaya Baru as his media advisor despite his 1991 blunder, to Rahul Gandhi tearing down the ordinance, to Dr. Manmohan Singh discussing Balochistan, to Natwar Singh not being allowed in George W Bush's cabin, to Narasimha Rao being cremated in Hyderabad and many more such scenes will be difficult to comprehend. Moreover, certain dialogues and terms have been muted. A few of them could have been avoided altogether by simple editing but the makers didn't do so for reasons best known to them.
Anupam Kher and Akshaye Khanna drive the film with their exceptional performances. Anupam Kher gets totally into the skin of the character and looks every inch Dr. Manmohan Singh. His mannerisms, way of talking, body language etc. are spot on. Akshaye Khanna gives a tremendous performance and nails the part. His way of talking and smiling will be loved. Suzanne Bernert leaves a mark in a small role. Arjun Mathur too gets his act right. Aahana Kumra's make-up and look are great but her screen time in negligible. Vipin Sharma is dependable. Divya Seth is fine. Ram Avtar Bharadwaj (Atal Bihari Vajpayee) hams. Vimal Verma (Lalu Prasad Yadav), Avter Saini (Lal Krishna Advani), Anil Rastogi (Shivraj Patil), Ajit Satbhai (P. V. Narasimha Rao), Shiv Subrahmanyam (P Chindambram) and Sunil Kothari (APJ Abdul Kalam) are okay. Prakash Belawadi (Mike) and the others from the PMO don't have much to do.
Sudip Roy and Sadhu S Tiwari's music has no place in the film. The only song 'Om Shabd' is shown during the end credits. Sumit Sethi and Abhijit Vaghani's background score is subtle but gets too loud in the opening credits. Sachin Krishn's cinematography is neat. After Studios's VFX is disappointing. The view of the Lutyens' Delhi from Dr. Singh's room looks unreal. Also, use of too many stock footage could have been avoided. In one scene, Anupam Kher's face is superimposed on that of the real Dr Manmohan Singh and it is badly done. Paul Rowan and Tarpan Shrivastava's production design is rich. Shrikanth Desai's make up design deserves praise as its quite convincing. Praveen KNL's editing is haphazard.
On the whole, THE ACCIDENTAL PRIME MINISTER rests on a great premise but the faulty and flawed screenplay and direction ruin the show. At the box office, the controversy surrounding the film might help it initially but the film is bound to crash.
Click HERE to read more and view the original source of this article.


Loading ...